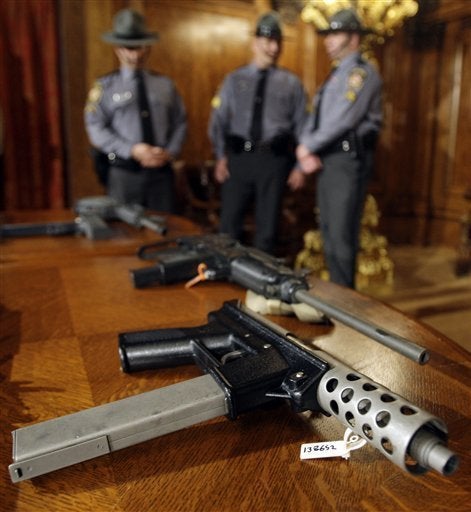 If the champagne being quaffed by consumer groups and others in the wake of House passage of a bill aimed at limiting deceptive and abusive credit card practices has a slightly bitter aftertaste, it's probably because they're sharing a magnum with the National Rifle Association. In its ongoing efforts to open up every possible space in America to gun toting, the NRA succeeded in attaching to the credit card bill legislation allowing loaded guns in National Parks and Wildlife Refuges (legislation passed on the Senate side contained similar language).
College presidents. Business owners. City mayors. Now you can add park rangers and other national park employees as the latest additions to the list of those whose knowledge and expertise have been trampled in the wake of the NRA's bullying efforts to remake America in its own image. After all, as the NRA's Wayne LaPierre says, and a majority of Congress seems to agree, "the guys with the guns make the rules."
This dangerous provision will put park park rangers, visitors, and wildlife at extreme risk. Don't believe me? Listen to the people who actually work every day to protect our nation's parks and their visitors.
One should ask, what do guns have to do with credit cards? We are disappointed that congress chose to disregard the safety of U.S. Park Rangers, the most assaulted federal officer, and forgo the environmental process set up by them to assure the protection of our national parks. If signed by Obama, this will clearly be a change in the president's rhetoric towards taking better care of our environment and protecting federal employees.
We are disappointed in the members of the House and Senate who allowed this amendment to pass, as well as President Obama. By not taking a stand to prevent this change, they have sacrificed public safety and national park resources, in favor of the political agenda of the National Rifle Association. This amendment had no hearing or review, and will increase the risk of poaching, vandalism of historic park treasures, and threats to park visitors and staff.
Passage of this legislation that would allow firearms of all kinds in national parks is an absolute travesty. There is simply no need for it, given the extremely low risks that visitors face in national parks compared with everywhere else. Legislators who voted for this Amendment now have to live with the fact that they have, in fact, increased the risk to visitors and employees, as well as the risk to wildlife and some cultural resources. Moreover,they've just contributed to diminishing the specialness of this country's National Park System. We hope the American people register their disappointment in the actions of these legislators.
Sorry guys. You didn't get the memo. The guys with the guns make the rules.
Popular in the Community