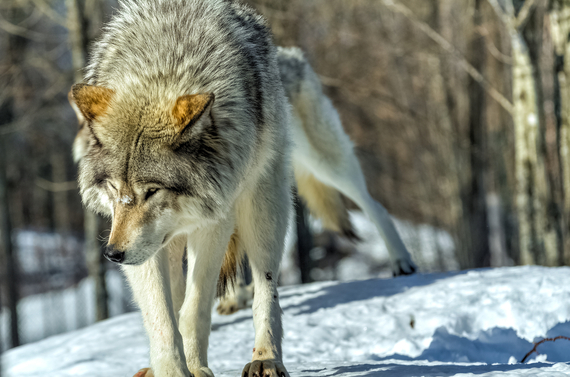 (David Boutin/Shutterstock)
Written by Marjorie Mulhall, Legislative Counsel for Earthjustice who works to defend and strengthen the Endangered Species Act.
The current U.S. Congress is a minefield for all of our core environmental protection laws, including the Endangered Species Act. More than 80 bills and amendments have already been introduced this year in the U.S. House and Senate to weaken this vital law. And now some members of Congress and their corporate special interest backers are working to eliminate Endangered Species Act protections for certain species through must-pass spending legislation.
The Endangered Species Act is one of the strongest, most effective wildlife protection laws in the world. It was passed with overwhelming bipartisan support more than 40 years ago to protect species that are in danger of disappearing forever. In the years since it was enacted, the Endangered Species Act has prevented 99 percent of the species under its care from going extinct. That's an astonishing record of success. This act has prevented the extinction of the bald eagle, the American alligator, the California condor and thousands of other species.
Legislative Counsel Marjorie Mulhall and Managing Attorney Tim Preso discuss Earthjustice's efforts to safeguard the Endangered Species Act.
Because the act is so effective at protecting imperiled species and 90 percent of American voters support it, those who oppose the Endangered Species Act are resorting to shady, backroom deals to undermine this law by adding "riders," – provisions relating to policy, not funding levels – to must-pass spending legislation.
Over the next few weeks, Congress and the Obama administration are expected to finalize a spending deal to fund the federal government. More than 100 anti-environmental riders are in play, including 13 anti-Endangered Species Act riders that were included in House and Senate bills to fund the Department of the Interior and other agencies. There is a very real threat that some of these anti-species riders could become law, unless President Obama and Democratic leaders in Congress stand firm in rejecting them.
These anti-Endangered Species Act riders threaten imperiled species in a variety of ways, including:
Removing Federal Protections for Gray Wolves
This rider would strip wolves in Wyoming, Minnesota, Michigan and Wisconsin of existing federal protections. The rider does this by overriding two federal court decisions (including an Earthjustice victory for wolves in Wyoming) that found these states' management plans do not sufficiently protect wolves. This wolf rider would also block judicial review of these court decision overrides, stripping citizens of their ability to further challenge these wolf delistings in court.
Blocking Federal Protections for the Greater Sage Grouse
This rider would prevent the U.S. Fish and Wildlife Service from even considering protecting the greater sage grouse—a species whose population has plummeted by as much as 90 percent due to development, including mining and drilling operations. The Obama administration recently announced that it would not list the greater sage grouse under the Endangered Species Act, citing conservation plans and agreements that are underway to help the bird. However, this rider still threatens the sage grouse by interfering with science-based decision making about what to protect under the Endangered Species Act.
Removing Federal Protections for the Lesser Prairie Chicken
The U.S. Fish and Wildlife Service listed this unfortunately named, but actually magnificent bird as "threatened" under the Endangered Species Act in 2014, citing a "rapid and severe decline" in its population. This rider would strip away existing federal protections for the bird, taking decision-making about this species out of the hands of biologists at the U.S. Fish and Wildlife Service and handing it to Congress instead.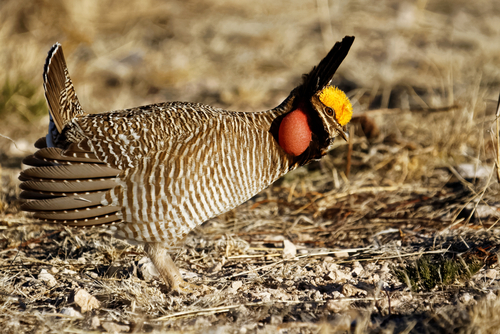 A lesser prairie chicken in eastern New Mexico. (D. Longenbaugh/Shutterstock)
Those are just a few of the 13 riders that threaten imperiled species and the Endangered Species Act itself. The good news is that a chorus of voices is coming together to convince President Obama and other key decision-makers to reject all of these anti-Endangered Species Act riders. Recently, 92 members of the U.S. House, 25 U.S. Senators and more than 150 conservation groups wrote to President Obama, urging him to nix all spending riders that undermine the Endangered Species Act.
Related
Popular in the Community