WASHINGTON -- Congress is finally responding.
Over 14 years after terrorists hijacked planes to strike the United States on Sept. 11, 2001, lawmakers on Capitol Hill cut a deal Tuesday to provide effectively permanent health care for the thousands of Americans who are now sick and dying because they came forward to help that day.
After remarkably difficult negotiations that prompted critics to create a #WorstResponders hashtag for Congress, legislators finally agreed to an $8.1 billion reauthorization of the James Zadroga 9/11 Health and Compensation Act, and attached it to the massive omnibus spending bill that will have to pass in order to fund the government.
The spending bill was expected to be posted online imminently Tuesday night, said a senior Republican aide who confirmed the 9/11 bill is included.
"This agreement is incredible news for our 9/11 heroes and their families, and it is a testament to the extraordinary power that Americans can have when they raise their voice and demand action," said Sen. Kirsten Gillibrand (D-N.Y.).
About $3.5 billion will be designated for the World Trade Center Health Program, guaranteeing that more than 72,000 known responders and survivors will always have access to treatment, including more than 33,000 who already have 9/11-linked illnesses. The program will last 75 years, until 2090.
Another $4.6 billion will go to extend the 9/11 Victims Compensation Program for five more years, and fill an approximately 50 percent funding shortfall in the original program passed in 2010.
"Now those who rushed to the towers will know that if they get sick because of their bravery, the federal government will be there for them the way they were there for us," said Sen. Chuck Schumer (D-N.Y.) on Tuesday. "It took too long, but Congress finally rose to its responsibility to help our heroes."
A separate standalone bill, which would have permanently funded both programs, attracted more than 270 sponsors in the House and 69 sponsors in the Senate. But it was never brought forward for its own vote.
Instead, committees in both chambers of Congress decided to put together their own measures, which subsequently got bogged down in horse-trading and political negotiations.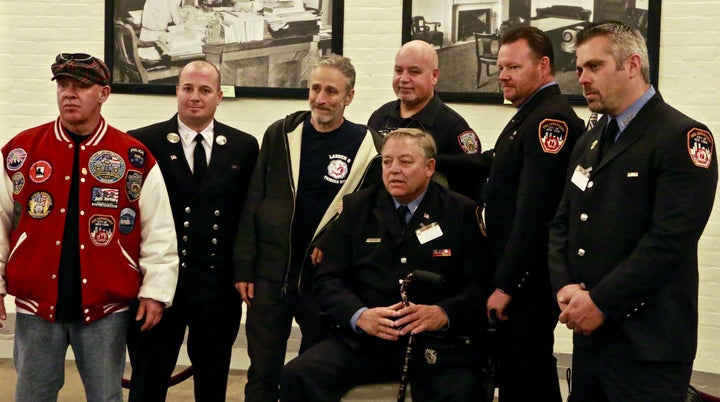 One of the funding streams used for the 9/11 compensation fund will also provide over $1 billion to compensate U.S. victims of the Iran hostage crisis, the 1983 attacks on the U.S. Marine barracks in Lebanon and the 1996 bombing of the Khobar Towers in Saudi Arabia. That was a key goal of House Judiciary Chairman Bob Goodlatte (R-Va.).
The authorization for the trade center health program expired at the end of September, leaving it to operate on leftover funds while responders suffering physical and psychological effects from their service had to wait and see whether Congress would fail them.
Advocates and the ailing responders themselves had to make more than 20 trips to Capitol Hill, spending over two months visiting Washington in total. They also had to enlist the backing of former "Daily Show" host Jon Stewart to shame the nation's legislature into action. Stewart made two lobbying trips to Congress along with responders toting oxygen tanks and wheelchairs.
"Our 9/11 first responders never should have been forced to travel to Washington and walk the halls of Congress -- legislation this important shouldn't have needed so much convincing," said Gillibrand, the measure's lead sponsor in the Senate. "They finally got the job done and convinced Congress to fulfill its moral obligation to our 9/11 heroes. I'm proud to represent them, and I'm grateful for their efforts."
The major battles were focused on the question of how the bill would be paid for, with a number of the sponsors' offers being rejected. Ultimately the bill used funding that had been earmarked for other measures that were running into opposition.
Congress still has to pass the spending bill, but Republican leaders expect that to happen by Thursday.
"It has been a tough fight, and it has been a long fight, but it has been worth it," said Rep. Carolyn Maloney (D-N.Y.), who has been working on 9/11 legislation since the 2001 attacks.
"We will never fully repay the sacrifice these men and women made following Sept. 11," she said. "All they ask of us is that we never forget their sacrifice -- and Congress is now sending a clear message back: We haven't."
For readers who are familiar with the old program, here are some of the changes in the new version. According to a fact sheet on the measure, the legislation:
- Adds a requirement that the Administrator provide for an independent peer review of the scientific and technical evidence prior to adding a condition to the List of WTC-Related Health Conditions.

- Changes the deadline for the Administrator to act on petitions to add health conditions to within 90 days.

- Sets yearly caps for funding for the health program for the first 10 years and then ties future increases to the Consumer Price Index for all urban consumers.

- Allows any unexpended funding in each year to be available for use in future years.

- Requires a Government Accountability Office report every five years to ensure program integrity.

- Incorporates other technical changes.
The extended Victim Compensation Fund will see the following changes:
- All applicants that received an award determination letter before the day of enactment will receive the full amount of their award.

- The Special Master is required to re-evaluate the policies once a year to ensure that spending and award determinations prioritize those suffering from the most debilitating conditions.

- The following caps and limits will apply to any applicant that has not received an award letter by the day of enactment:

1. Codification of the legal definition for the exposure area: the area will be the same as that used by the current VCF program but would take an act of Congress to expand the area in the future.

2. Non-economic loss awards for cancer claims are capped at $250,000.

3. Non-economic loss awards for non-cancer claims are capped at $90,000.

4. The yearly salary maximum for the calculation of economic awards is capped at $200,000 per year.

5. Minimum payments will no longer be provided.
Matt Fuller contributed reporting.
We'll Never Forget These Heart-Wrenching Images Of 9/11
Support HuffPost
The Stakes Have Never Been Higher
Popular in the Community