WASHINGTON ― When M. Reese Everson landed a Congressional Black Caucus fellowship in her mid-20s, she considered it a huge break.
Everson could skip over years of junior Hill jobs and, once finished with the fellowship, potentially end up in a lawmaker's office with a senior position. About seven months into the internship, however, Everson's experience took an unwelcome turn.
She had noticed before that the member of Congress whose office she was working in would often make physical contact with her, letting his hands linger longer than an accidental brush. "I was like, 'There's no way that this guy is coming on to me,'" Everson told HuffPost. "I would repeatedly dismiss it."
But one day, Everson was in the lawmaker's office working on a speech with him when the conversation turned to whether she would be joining an upcoming work trip. "And he said to me, 'If you come, are you going to be good?'" Everson recalled.
Confused, Everson answered that, yes, she would. The member kept pressing.
"'No, are you going to be good?' he said. 'And I was like, 'Yeah.' He was like, 'Then what's the point of you coming if you're going to be good?'"
Everson still seemed confused, so the lawmaker asked her if she was going to flirt with him. When Everson's answer was less than enthusiastic, he turned angry. "I realized, 'Oh my God, you just stepped into a huge pile of horse crap, and you just pissed off a sitting member of Congress. That was the dumbest thing you can do.'"
Everson eventually tried to report the incident to the Office of Compliance, perhaps the closest thing Congress has to a human resources department. But she learned that, as a fellow, the office couldn't do anything for her. She ended up filing a complaint with the D.C. Office of Human Rights, where it remains.
Frustrated by her experience, she wrote a book ― The B.A.B.E.'S Guide to Winning in the Workplace ― giving tips to young women who may experience discrimination and harassment, and she now advocates on the topic. She is also a registered lobbyist for JM Burkman & Associates, a firm headed by Jack Burkman, who has pushed conspiracy theories about Democrats.
After weeks of stories detailing dozens of such sexual harassment incidents on Capitol Hill ― most involving unnamed lawmakers ― two things are clear: Congress has an abuse problem, and Congress is not sufficiently dealing with it.
If you have experienced sexual harassment on Capitol Hill, HuffPost would like to talk to you. We are committed to telling your story in a responsible way. You can reach out to Matt Fuller at matt.fuller@huffpost.com or Amanda Terkel at aterkel@huffpost.com.
'It Can End Up Doing More Harm Than Good'
House lawmakers recently held a hearing on the issue, leading to some female members saying they're aware of current House colleagues who have sexually harassed staffers. Rep. Barbara Comstock (R-Va.) told of a member having a female staffer bring work materials to his residence, answering the door in a towel, and then exposing himself.
In response to the flood of these types of stories, House Speaker Paul Ryan (R-Wis.) has mandated that members and staffers go through harassment training.
But this online course, which consists of a 22-minute video and quiz that HuffPost watched, hardly addresses the issue. In some cases, the quiz has led staffers to, in the words of one female Hill employee, "second guess" what is sexual harassment.
"It can end up doing more harm than good, making victims feel like what's happening to them isn't enough to report," said this staffer, who shared her own story of feeling pressured to sleep with a more senior aide who once drunkenly walked her home when she was an intern. (She declined.)
The staffer also said she believed the video had the unintended consequence of teaching people how to "walk the line" of sexual harassment ― to hit on fellow staffers while not completely crossing into a legally precarious position.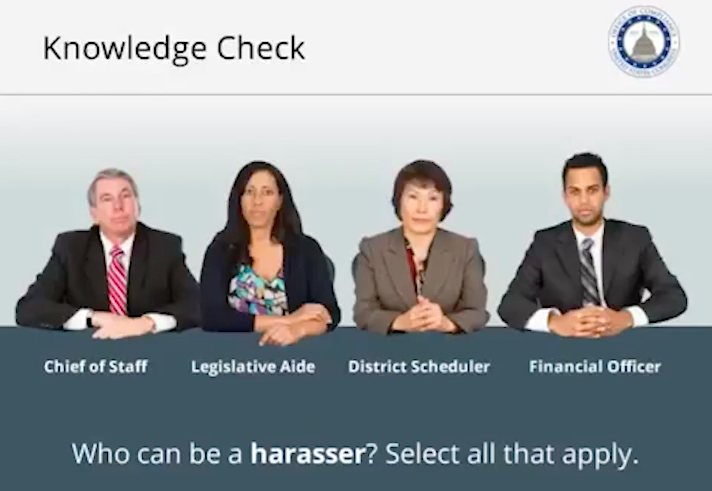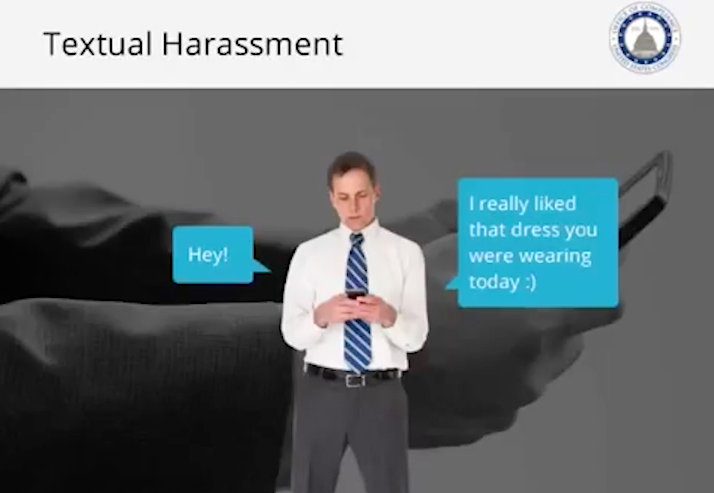 In the video, members and staff also learn that the Congressional Accountability Act prevents discrimination on the basis of race, national origin, color, sex, religion, age and disability. What is conspicuously missing from that list is sexual orientation and gender identity. That's because those federal protections for lesbian, gay, bisexual, transgender and queer people don't exist in Congress or at the Supreme Court.
President Barack Obama added sexual orientation and gender identity to the list of prohibited discrimination for federal civilian employees through an executive order, meaning the legislative and judicial branches weren't covered.
"I'm lucky enough to work in an office where our policy is to not discriminate on the basis of sexual orientation," one Hill staffer, who is gay and has inquired about the policy, told HuffPost. "But if I were to switch offices, I couldn't do so without the possibility of being fired for being gay."
This staffer was told by a House administrator that a supervisor couldn't call him "a sissy," for instance, because that could imply gender discrimination, but calling him "a faggot" and firing him would be perfectly fine.
The video doesn't get into those types of issues, but it does detail specific types of inappropriate behavior ― like quid pro quo sexual harassment. Those discussions can be helpful, but some staffers who saw the video felt less clear about whether they had endured sexual harassment after it covered issues of severity and pervasiveness. The less severe an instance is, the more pervasive it needs to be ― and vice versa, the video claims ― for something to actually be sexual harassment.
Another female aide, who said she endured months of abuse from her supervisor in a lawmaker's office after their roughly year-long relationship went sour, told HuffPost that, after watching the video, she was glad she never went to the Office of Compliance. "Because I'm not sure they would consider what I went through a hostile work environment," she said.
"I went back through my emails from that time in my office and reading them was pretty shocking," she said. "But the video makes me question if the [office] would find them shocking."
She said she dealt with repeated instances of her boss/ex-boyfriend criticizing her work during the day, threatening to write her up for being late to the office or being on Gchat, and then calling her in the middle of the night to say they should get back together.
HuffPost confirmed through interviews and employment records that the supervisor was eventually promoted to chief of staff, found another girlfriend in the office, and began firing other aides who were close to his ex. Within a year, he had promoted his new girlfriend from a legislative correspondent to deputy chief of staff.
The lawmaker was alerted to these actions by staff, but did nothing. The harassed aide now works for a different member of Congress.
Even before the mandate from Ryan, some individual offices have required their staff members to undergo the training on harassment. But it can often create uncomfortable situations.
"When I was in an office where I actually experienced the worst harassment by far by a staffer, I had to sit through that training with my harasser sitting right across from me," said a senior House Democratic staffer. "It was the most uncomfortable thing at that point in my career."
'As Bad As It Was, He's Indebted To Me'
Dozens of women ― and, in a few cases, men ― have told HuffPost stories in recent weeks ranging from clear-cut sexual assault to more subtle cases of harassment. There have been stories of creepy interactions, with unclear intentions and uncomfortable implications. Stories of inappropriate communications with lawmakers and other staffers, of unwanted touching, and, sometimes, seemingly consensual acts that were improper by virtue of the power dynamic between a junior staffer and a member of Congress.
In almost every case, however, victims did not want to be named. Nor did they want to name the lawmaker or staffer who victimized them. That's partly because a key feature of Capitol Hill is maintaining a relationship with your old bosses.
"As bad as it was, he's indebted to me," one former staffer told HuffPost.
This is the toxic mentality of Capitol Hill. You put thousands of people in their 20s and 30s in a competitive environment ― one that thrives on relationship-building and alcohol ― and you let individual offices make their own rules with little oversight. You reward staffers who show discretion ― "loyalty" ― and you blackball those who speak out. And where oversight does exist, it seems to prioritize protecting the accused over protecting the victims.
The byzantine process for making an official complaint shows just who Congress aims to protect:
To make an official complaint, a sexual harassment victim has to call the Office of Compliance to get a password to fill out an online form. This is an office that, based on a survey by Roll Call in mid-2016, many women working on the Hill didn't know existed. And victims must register a complaint within 180 days of when the harassment occurred.

Once formal complaints are made, those filing them are forced to get professional counseling for up to 30 days.

After counseling, they have 15 days to decide whether they'll drop the issue or move forward.

Those moving forward must sign a temporary confidentiality agreement and begin 30 days of mediation.

The accused is given a lawyer at taxpayer expense, the accuser has to pay for one.

If agreements aren't reached during mediation, there's another 30-day "cooling-off period" before complainants can request an administrative hearing or go to federal court.

If agreements are reached, the complainants will likely have to sign a non-disclosure agreement in order to receive money from a hush fund at taxpayer expense.
And remember: interns or those working on the Hill through a fellowship are on their own. This process isn't open to them.
On Monday night, BuzzFeed News published an explosive report detailing how Congress had come to four separate agreements with staffers over sexual harassment by the longest-serving current House member ― and the top Democrat on the chamber's Judiciary Committee ― Rep. John Conyers of Michigan.
Spokesmen for House Minority Leader Nancy Pelosi (D-Calif.) and former Speaker John Boehner (R-Ohio) told reporters that neither of their bosses were aware of the settlements that Conyers paid out with tax dollars. The congressional hush fund has paid out more than $17 million over the last 20 years for employment abuse like sexual harassment. But Conyers, in at least one case, opted to pay an employee out of his staff budget, meaning the total paid out to keep victims of sexual harassment in Congress quiet could be much higher.
The secrecy of these settlements ensures that members never face any real repercussions. Non-disclosure agreements limit the public from knowing, and the office apparently does not alert congressional leaders of issues. Harassers ― sometimes ones as prominent as a ranking member of a committee ― just go on with their careers, while taxpayers foot the bill.
Some lawmakers have been forced to resign over sexual misconduct, but even in those instances they are often spared the worst indignities. Rep. Eric Massa (D-N.Y.) ― who became known as "the tickling congressman" ― resigned in mid-2010 so that an Ethics Committee report would not come out detailing the abuse to which he subjected his staff. One former Massa staffer told HuffPost that Massa often inappropriately grabbed staffers and would tell certain men in the office that he thought of them while masturbating.
Massa did not return a request for comment.
Rep. David Wu (D-Ore.) also resigned, in August 2011, to prevent an ethics panel investigation after he was accused of "an unwanted sexual encounter" with an 18-year-old girl who was the daughter of a friend and campaign donor.
A Hill staffer who did not work for Wu but came in contact with him shared emails with HuffPost that he had sent her in 2009, including one titled "Hello," sent at 1:35 a.m., that ends with him asking for a BlackBerry lesson and typing out a smiley face.
The staffer said she later encountered Wu at a Capitol Hill bar (Tune Inn) and he forcibly danced with her. Then-Rep. Gene Taylor (D-Miss.) stopped the interaction and sent Wu home, according to the women.
Wu, who did not return a request for comment, continued to be a presence in Capitol hallways for years afterward, meeting with members while advising foreign corporations.
Even as some egregious cases of sexual misconduct by members of Congress become public, it's clear many don't, according to women staffers as well as female lawmakers. And even less likely to become known are the instances where a staffer is the abuser ― which seem far more prevalent, based on comments to HuffPost, as are the more subtle forms of harassment and discrimination.
A number of women who spoke to HuffPost complained about general misogyny on the Hill, as well as a system of promotion they said directs females to less important, more administrative roles.
Some women keep with it, deciding it's not worth it to burn bridges with complaints. Some move to offices headed by female lawmakers, which may be better places to work. And others leave Capitol Hill altogether, disillusioned by the people and work they once revered. While there may be numbers on how much taxpayers have paid to settle harassment cases, there's no accounting for the impact of these losses.
"Do I now, at this point, desire to go back and serve in Congress?" asked Everson, the Congressional Black Caucus fellow. "It would have to be a very different Congress ― and I'd have to be a Member."
UPDATE: On Dec. 15, Everson held a press conference and publicly named Rep. Bobby Scott (D-Va.) as the member who had harassed her. Scott immediately denied the accusations, saying he has never sexually harassed anyone.
If you have experienced sexual harassment on Capitol Hill, HuffPost would like to talk to you. We are committed to telling your story in a responsible way. You can reach out to Matt Fuller at matt.fuller@huffpost.com or Amanda Terkel at aterkel@huffpost.com.
CORRECTION: This piece originally said Everson filed a lawsuit in D.C. court. She filed a complaint with the D.C. Office of Human Rights.