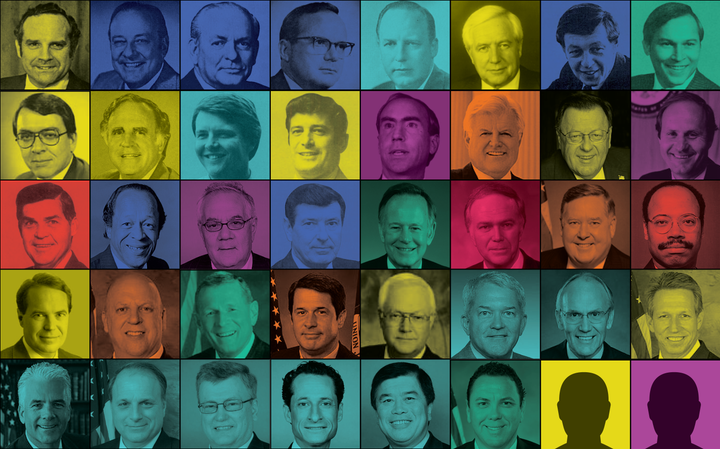 WASHINGTON ― At 2 a.m. on Oct. 7, 1974, a police car near Washington's Tidal Basin pulled up behind a parked vehicle with its lights turned off. Inside the car sat Rep. Wilbur Mills (D-Ark.), the powerful chairman of the House Ways & Means Committee. He had blood and scratches on his face and Annabelle Battistella, a burlesque performer who went by the stage name Fanne Foxe, was by his side. She quickly jumped out of the car and fled into the water.
It was a baptism, of a kind, initiating a new era of scrutiny into the personal lives and sexual misconduct of U.S. politicians. Nearly two months later Mills appeared on stage with Foxe at one of her striptease performances at a Boston theater on a Saturday night. The next day, when he was at the theater again with her, he told the press, "All I'm trying to do is to launch her career."
"My wife's in on it," he added.
It would come out that Mills carried on a 17-month affair with the married Argentinian dancer, which led to a pregnancy and abortion. He had won re-election in November 1974, but was removed as chairman of the chief tax-writing committee when the next Congress convened. In 1975, he announced he would not run for re-election.
Before Foxe fled into the Tidal Basin, politician's sex lives were largely off limits for reporters. But that swiftly changed. After a wave of sexual misconduct and corruption revelations following the Tidal Basin incident, Congress created ethics committees for each chamber and formal processes for reprimands, censures and expulsion. Mills' decision to end his political career amid the negative press coverage of his affair also demonstrated that powerful lawmakers could face consequences for their sexual misdeeds ― even if they were just consensual affairs.
Congress is currently grappling with how to respond to a new wave of sexual misconduct allegations. The effort is occurring amid a national outcry over accusations that powerful men ― not only in politics, but the media and the entertainment world ― abused their positions to harass, assault and rape women, girls, men and boys.
Sen. Al Franken (D-Minn.) on Thursday was accused of kissing radio news anchor Leann Tweeden against her will, and he was photographed groping her while she slept in 2006. On Monday night, news broke that 88-year-old Rep. John Conyers (D-Mich.) allegedly made repeated sexual advances to women on his staff. He reportedly settled in 2015 a wrongful dismissal complaint filed by one of them.
Several women have alleged that Alabama Republican Senate candidate Roy Moore either sexually assaulted them, kissed them or made unwanted advances while they were teenagers and he was in his 30s. Rep. Jackie Speier (D-Calif.) last week told a congressional hearing investigating how Congress responds to accusations of sexual misconduct that she has heard about two sitting lawmakers accused of sexually harassing staffers.
Absent an imminent election, the public sector has few levers available for ousting a lawmaker from Congress (or a president from the White House, for that matter) for sexual misconduct — fewer, certainly, than the private sector has at its disposal for dealing with miscreant CEOs and the like. No lawmaker has ever been expelled for sexual misconduct, and many facing such accusations have simply declared that they would not seek re-election.
But more and more, lawmakers accused of sexual misconduct are resigning from office. A survey of past cases by HuffPost determined that six of the 11 resignations from Congress since the mid-1970s that stemmed directly from sexual misconduct have occurred since 2006. This trend began after a second watershed moment in Congress' history of dealing with sexual misconduct.
In late September of 2006, ABC News reported that Rep. Mark Foley (R-Fla.) had engaged in sexually explicit instant message conversations with male teenage congressional pages. At least 10 men came forward to allege that Foley had sexually harassed them or made inappropriate sexual comments to them when they were underage pages. Foley ultimately admitted he had a consensual sexual relationship with a former page once the page was of age.
Foley quickly resigned from office, but the true scandal was not just about the personal failings and misconduct of an individual. Foley's pattern of abusive behavior toward underage pages was known by powerful congressional leaders and staffers, and they swept it under the rug. That's where it stayed, until the instant message conversations leaked to the press.
If the Fanne Foxe affair ushered in an era in which the sexual deeds and misdeeds of politicians were fair game, the Foley scandal spotlighted an institution that protected its members from punishment for political reasons.
Then-Speaker Dennis Hastert (R-Ill.) was at the center of the Foley cover-up. After the Republicans lost the House and Senate in the 2006 midterm elections in the wake of the Foley scandal, Hastert resigned his leadership position and later his seat. Nine years later, Hastert would be revealed as a serial pedophile who molested boys on the wrestling team he coached in the 1970s, before he served in Congress.
Since the Foley scandal, congressional leaders from both parties have increasingly called for ethics investigations of lawmakers facing accusations of sexual misconduct and pressed accused members to resign or not seek re-election.
But Congress may be hamstrung in dealing with some of the new wave of scandals, particularly if they occurred before lawmakers were elected to a particular office. When the Senate Ethics Committee was asked to investigate then-Sen. David Vitter (R-La.) over his relationships with prostitutes, it dismissed the complaint by stating it did not have standing to investigate or punish actions that occurred prior his time in the chamber (Vitter was a House member when he made calls to a Washington escort service). This precedent will no doubt come up when the ethics committee investigates Franken's misconduct. A second accusation against Franken, however, surfaced Monday and occurred after the senator took office in 2009.
Because so many gray areas remain, a third watershed moment in the history of congressional sex scandals might just be upon us, this one focused on consequences. The barriers against revealing abusive behavior have eroded, and social media platforms help victims reach a mass audience and tell their own stories. As more accusers come forward, Congress will need to determine how to respond.
"I think the culture in this country has been awakened to the fact that we have a serious epidemic in the workplace, in all professions, in all walks of life and it's incumbent on those who are in authority to address it and address it swiftly," Speier said in her committee testimony.
To get a sense of how the norms surrounding sexual misconduct in Congress have changed, HuffPost has compiled a list of scandals and their outcomes (Franken is not included, since the repercussions to his career of the allegations against him remain uncertain). For the most past, we haven't included scandals that involved a consensual affair with no other accusation of abuse. The only consensual affairs included involved staffers or, in the case of one doctor, patients ― situations that hold the potential for abuse of position. The list also does not include accusations made against lawmakers after they left office.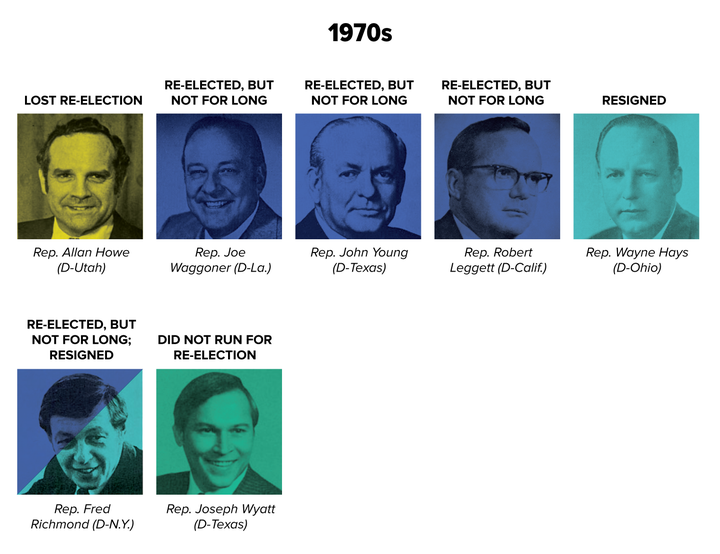 Rep. Wayne Hays (D-Ohio) | 1976 | Resigned
Hays employed his mistress as his congressional secretary even though she had no qualifications to hold the job. Elizabeth Ray, the 27-year old staffer and mistress, told the Washington Post in 1976, "I can't type, I can't file, I can't even answer the phone." Hays resigned from office four months after the scandal broke.
Rep. Joe Waggoner (D-La.) | 1976 | Re-elected, but not for long
Waggoner was arrested after soliciting sex from female undercover police officers in 1976. He won re-election that year, but decided not to run again.
Rep. John Young (D-Texas) | 1976 | Re-elected, but not for long
Young was accused by a former campaign worker of forcing her to have sex with him to keep her job. Young denied the accusations and charges were never brought by the police. He won re-election in 1976, but lost in his party's primary in 1978. His wife committed suicide in 1977.
Rep. Robert Leggett (D-Calif.) | 1976 | Re-elected, but not for long
Leggett admitted in 1976 to fathering two children with his congressional secretary and also carrying on an affair with another congressional staffer. Leggett was re-elected that year but did not seek another term.
Rep. Allan Howe (D-Utah) | 1976 | Lost re-election
Howe was arrested for soliciting prostitution in 1976 and lost re-election that year.
Rep. Fred Richmond (D-N.Y.) | 1978 | Re-elected, but not for long
Richmond was arrested after he solicited sex from a 16-year-old boy in 1978, but avoided prosecution by entering counseling. He was re-elected that year and again in 1980. In 1982, Richmond was charged with campaign finance violations and using his staff to purchase marijuana. Richmond resigned his seat as part of his plea agreement.
Rep. Joseph Wyatt (D-Texas) | 1979 | Did not run for re-election
Wyatt was arrested twice in the late 1970s on murky charges of forcible sex with a man and in a child molestation case. It does not appear that he faced prosecution for either. He did not run for re-election in 1980.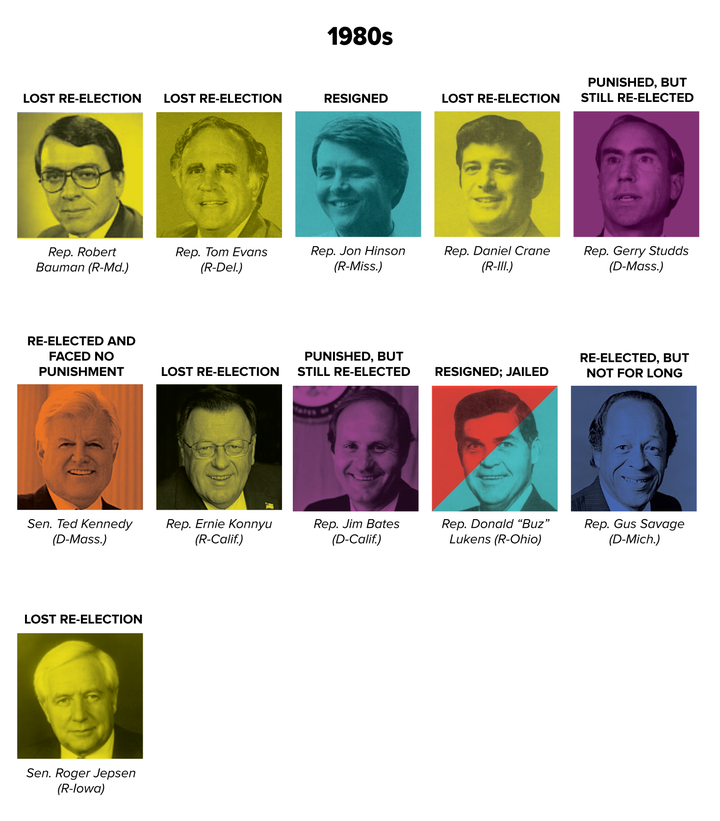 Rep. Robert Bauman (R-Md.) | 1980 | Lost re-election
Bauman was arrested for soliciting sex from a 16-year-old male prostitute in 1980. He lost re-election that year.
Rep. Jon Hinson (R-Miss.) | 1981 | Resigned
Hinson was arrested for sodomy after being caught performing oral sex on a male Library of Congress employee in a House bathroom in 1981. At the time, same-sex relations were illegal. Hinson resigned his seat and became a prominent LGBTQ rights activist.
Rep. Tom Evans (R-Del.) | 1981 | Lost re-election
Evans shared a house with female lobbyist Paula Parkinson, who was rumored to trade sex for legislative favors from lawmakers, and two other congressmen in 1981. Parkinson implied a sexual relationship with Evans occurred. He lost re-election in 1982.
Rep. Daniel Crane (R-Ill.) | 1983 | Lost re-election
Crane had a sexual relationship with a 17-year-old female congressional page in 1983. The House Ethics Committee recommended Crane be reprimanded and the full House voted to censure him. He lost re-election in 1984.
Rep. Gerry Studds (D-Mass.) | 1983 | Punished, but still re-elected
Studds had a sexual relationship with a 17-year old male congressional page. Studds was censured by the House after the chamber's Ethics Committee recommended he be reprimanded. Studds became the first openly gay member of Congress and was re-elected until he retired in 1996.
Sen. Roger Jepsen (R-Iowa) | 1984 | Lost re-election
Jepsen admitted in 1984 to frequenting a prostitution house in 1977. News reports showed that Jepsen had signed a membership card for the paid sex club. He lost re-election that year.
Sen. Ted Kennedy (D-Mass.) | 1985 | Re-elected and faced no punishment
Kennedy reportedly sexually assaulted a waitress at the La Brasserie restaurant in Washington in 1985. Then-Sen. Chris Dodd (D-Conn.) was also involved, as Kennedy had thrown the waitress on top of him. No charges were filed in the incident. Kennedy had previously faced scandal when, in 1969, a car he was driving plunged off a bridge in Massachusetts and his passenger, Mary Jo Kopechne, drowned. The crash and death were ruled accidents. Kennedy was re-elected until he died from cancer in 2009.
Rep. Ernie Konnyu (R-Calif.) | 1987 | Lost re-election
Konnyu was accused of sexually harassing female congressional staffers and lobbyists in 1987. He lost his party's primary race in 1988.
Rep. Jim Bates (D-Calif.) | 1988 | Punished, but still re-elected
Bates was accused of demanding hugs from female staffers and making sexual comments about staffers' lips and breasts in 1988. "Have the rules of the game changed?" Bates said when questioned about the allegations. He was re-elected that year. After the House Ethics Committee issued a note of reproval for his conduct, Bates lost his next election in 1990.
Rep. Gus Savage (D-Mich.) | 1989 | Re-elected, but not for long
Savage tried to force himself on a female Peace Corps worker in Zaire in 1989, but the House Ethics Committee dropped an investigation after he wrote a letter of apology. Savage won re-election in 1990, but lost his party's nomination in 1992.
Rep. Donald "Buz" Lukens (R-Ohio) | 1989 | Lost re-election, resigned, jailed
Lukens was convicted of contributing to the unruliness of a minor for having sex with a 16-year-old girl in 1989. Lukens initially refused to resign from Congress but was defeated in the Republican primary in 1990. The House Ethics Committee sought to investigate him for further allegations that he sexually assaulted an elevator operator in the Capitol. He then resigned, which ended the investigation. Lukens ultimately served just nine days of his 30-day jail sentence.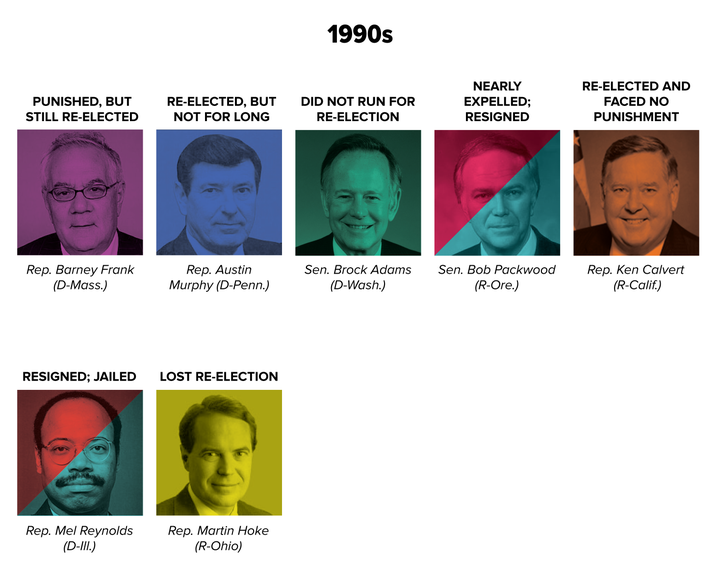 Rep. Austin Murphy (D-Pa.) | 1990 | Re-elected, but not for long
Murphy was videotaped leaving his mistress' house in 1990 and later admitted to fathering a child with her. Murphy won re-election three more times, but resigned in 1995 after facing other ethics accusations.
Rep. Barney Frank (D-Mass.) | 1990 | Punished, but still re-elected
Frank was reprimanded by the House in 1990 for using his office to fix parking tickets for a male escort who lived in his home. Frank was not openly gay at the time and came out of the closet during the scandal. He was re-elected and served in Congress until he retired in 2013.
Sen. Brock Adams (D-Wash.) | 1992 | Did not run for re-election
Adams was accused by eight women of a range of abusive behavior, from sexual harassment to rape, in a 1992 Seattle Times article. Adams denied the allegations, but did not run for re-election in 1992.
Sen. Bob Packwood (R-Ore.) | 1992 | Nearly expelled, resigned instead
Packwood was accused by 10 women ― former staffers and D.C. lobbyists ― of sexual harassment and assault immediately after his 1992 election to a fifth term. While Packwood denied the allegations, another nine women came forward with accusations of sexual assault. Some of these assaults were documented in Packwood's diary. A Senate Ethics Committee investigation charged him with sexual harassment, assault, obstruction of justice and destruction of evidence and recommended his expulsion. Packwood resigned his seat before the Senate could vote to expel him in 1995.
Rep. Ken Calvert (R-Calif.) | 1993 | Re-elected and faced no punishment
Calvert was stopped by police with a prostitute in his car in 1993. He claimed they were "just talking," but later admitted to having sex with her. He was not charged with a crime and remains a sitting member of Congress.
Rep. Mel Reynolds (D-Ill.) | 1995 | Resigned, jailed
Reynolds was convicted of sexual assault, statutory rape, solicitation of child pornography and obstruction of justice in 1995, charges stemming from his sexual relationship with an underage campaign worker. He resigned his seat a few months after his conviction. Reynolds was later convicted of bank fraud and campaign finance violations. He served jail time for the convictions. After serving 42 months for the non-sexual assault-related charges, President Bill Clinton commuted the rest of his sentence. This September, he was found guilty of misdemeanor tax charges.
Rep. Martin Hoke (R-Ohio) | 1996 | Lost re-election
Hoke was being affixed with a microphone by a female producer from an Ohio television station following the 1996 State of the Union presidential address when he turned to a fellow congressman and remarked on the woman in an exaggerated Italian accent, "She's got ze beega breasts." His microphone was on and the recording leaked. Hoke lost re-election that year.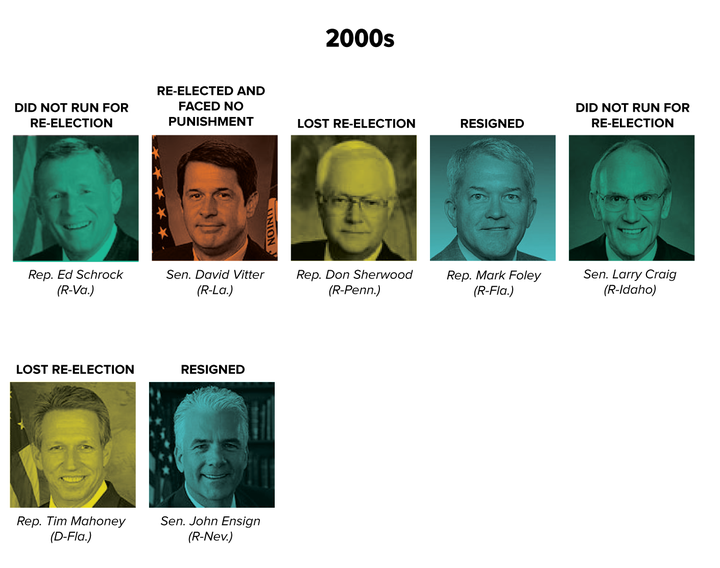 Rep. Ed Schrock (R-Va.) | 2004 | Did not run for re-election
Schrock, a conservative gay rights opponent, was allegedly caught on tape soliciting sex from male prostitutes from a telephone service in 2004. Earlier that year, the blogger Mike Rogers had outed Schrock as part of his campaign to reveal anti-gay congressmen who were closeted. Schrock did not seek for re-election.
Rep. Don Sherwood (R-Penn.) | 2005 | Lost re-election
Sherwood was sued by his former mistress in 2005 for a string of assaults he allegedly committed against her, including strangulation, during the course of their relationship. Sherwood lost re-election in 2006.
Rep. Mark Foley (R-Fla.) | 2006 | Resigned
Foley resigned the day after the story broke that he had sent sexually explicit online messages to an underage male congressional page. It was later reported that another House member and the House clerk had warned him in 2005 about that the chamber's GOP leadership had known about some of Foley's inappropriate behavior and take no action against him. Reps. Tom Reynolds and Sue Kelly, both New York Republicans, were among those who lost re-election in part due to the scandal.
Sen. David Vitter (R-La.) | 2007 | Re-elected and faced no punishment
Vitter admitted in 2007 to a previous relationship with a prostitute. He won re-election in 2010. Rather than seek another term in 2016, he sought Louisiana's governorship in 2015. He lost.
Sen. Larry Craig (R-Idaho) | 2007 | Did not run for re-election
Craig was arrested in a Minneapolis airport bathroom in June of 2007, initially accused of soliciting sex from a male undercover police officer. After initially pleading guilty to a lesser charge of disorderly conduct, Craig attempted to take back his admission of guilt and proclaimed at a press conference: "I am not gay. I have never been gay." He also said he would resign from the Senate, but changed his mind and served out his term, which ended in early 2009.
Rep. Tim Mahoney (D-Fla.) | 2008 | Lost re-election
Mahoney in 2006 won the seat Foley had given up. Shortly before Election Day in 2008, the press revealed that he had paid a six-figure sum to a former staffer with whom he'd been sleeping to keep her quiet. Mahoney also acknowledged other affairs, and his wife quickly filed for divorce. He was defeated after his single term.
Sen. John Ensign (R-Nev.) | 2009 | Resigned
Ensign was discovered in 2009 to have had an affair with a staffer on his political action committee. His mistress was also married to Ensign's close friend who served on his Washington staff. Ensign was accused of getting the husband a job as a lobbyist to try and keep him quiet. Ensign resigned from his Senate seat in 2011.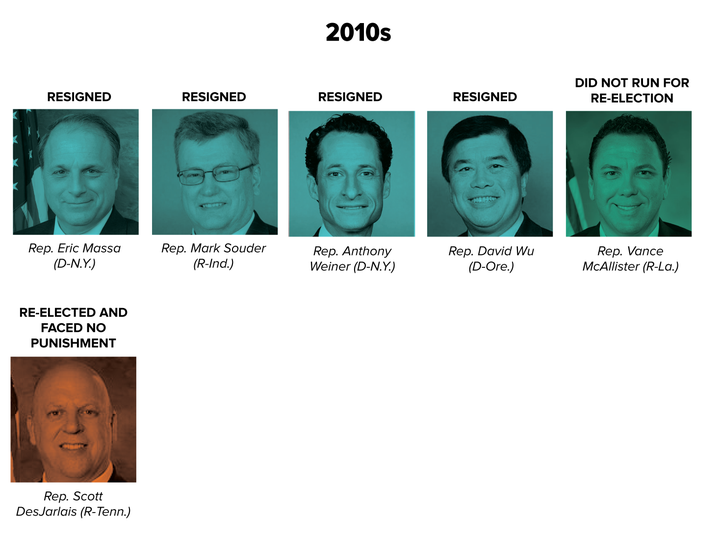 Rep. Eric Massa (D-N.Y.) | 2010 | Resigned
Massa was accused in 2010 of sexual harassing male staffers in his congressional office, including engaging in unwanted tickling. He resigned his seat after the House Ethics Committee opened an investigation.
Rep. Mark Souder (R-Ind.) | 2010 | Resigned
Souder admitted in 2010 to an affair with a female staffer who worked part-time in his office. He resigned his seat immediately.
Rep. Anthony Weiner (D-N.Y.) | 2011 | Resigned
Weiner accidentally posted pictures of his erect penis to Twitter before quickly deleting them in 2011. After initially claiming that he had been hacked, the conservative blogger Andrew Breitbart revealed more pictures Weiner had sent to other women. Weiner admitted to sexting with various women. Weiner resigned in 2011 after a leaders from both parties recommended a House Ethics Committee investigation. In 2016, Weiner was again caught sexting, this time with a teenage girl. He was sentenced to 21 months in prison in 2017.
Rep. David Wu (D-Ore.) | 2011 | Resigned
Wu was accused of sexually harassing the 18-year old daughter of a political donor in 2011. He resigned less than a month later after both parties called for an ethics investigation.
Rep. Scott DesJarlais (R-Tenn.) | 2012 | Re-elected and faced no punishment
DesJarlais, a doctor and an opponent of abortion rights, dated his patients while still married to his first wife and pressured one of them to get an abortion in 2000, a HuffPost report revealed in 2012. He won re-election that year and remains in the House.
Rep. Vance McAllister (R-La.) | 2014 | Did not run for re-election.
The married McAllister was recorded kissing a married staffer in 2014. He declared he would not seek re-election that year.
This article has been updated with sexual misconduct allegations surfacing against Rep. John Conyers (D-Mich.).
Popular in the Community