In 1997, facing a crisis where 1 in 7 children had no health insurance coverage in the United States, a Republican-led Congress worked with President Bill Clinton to pass bipartisan legislation creating the Children's Health Insurance Program (CHIP) - a federal-state partnership that offers health insurance coverage to over eight million children in working families.
As a result, since its inception, CHIP has, in tandem with Medicaid, successfully cut the uninsured rate for children in half (from 13.9 percent in 1997 to 6.6 percent in 2012), so that parents who work for a living are able to take their children to the doctor when they are sick.
However, with the creation of the Affordable Care Act (ACA) Marketplaces or exchange plans at the beginning of the year and the fact that CHIP funding is currently scheduled to expire shortly September 30, 2015, questions about CHIP's future are being asked. For example, if CHIP funding were allowed to expire - either purposely or due to congressional inaction - millions of children that currently rely on CHIP's coverage of their asthma, vision, dental, or cancer treatment would become uninsured unless they are able to obtain alternative coverage through some alternative source, such as Medicaid, the exchange plans, employer coverage, or the individual market.
In analyzing the question of what would happen to the health coverage for millions of children if CHIP were allowed to expire, the Medicaid and CHIP Payment and Access Commission (MACPAC) issued a report in June which "found that many children now served by the program would not have a smooth transition to another source of coverage" and that the "number of uninsured children would likely rise...."
One of the major factors, according to researchers at the Urban Institute, is that "as many as half of the children with Medicaid or CHIP coverage and family incomes above 138 percent of poverty might not qualify for Marketplace subsidies if CHIP were not reauthorized." This is because the law precludes families from receiving exchange subsidies to purchase coverage if they are made an offer of "affordable" employer-sponsored coverage to an individual employee, even if the cost of health coverage for the entire family is "unaffordable." This is referred to as either the "family glitch" or "kids' glitch" in the ACA.
But, even for those that would be able to make the leap from CHIP to the qualified health plans (QHPs) in the Marketplaces, the Wakely Consulting Group, on behalf of the Robert Wood Johnson Foundation, compared the actuarial value and benefits offered by CHIP plans to QHPs in 35 states.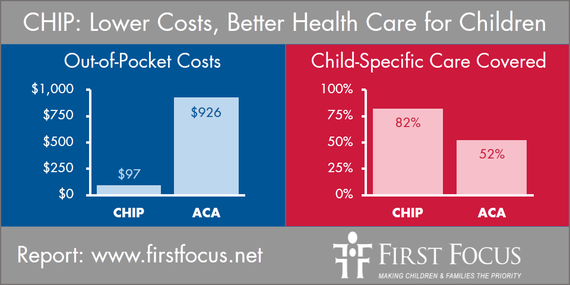 In their report entitled "Comparison of Benefits and Cost Sharing in Children's Health Insurance Programs to Qualified Health Plans," they found that children are currently offered excellent and superior pediatric-focused coverage through CHIP than they could obtain through the Marketplaces. The report's findings include:
•Average Cost Sharing: In every state, children covered by CHIP would have significantly lower levels of cost sharing than through plans offered on the exchanges. For example, Wakely found that the average cost sharing for a child in CHIP is estimated at $97 for households with incomes at 210 percent of the federal poverty level (FPL) compared to $926, which is 955 percent higher, for a child in the exchanges. In every single one of the 35 states studied, CHIP cost sharing is much lower than the level of cost sharing required in QHPs through the exchanges. CHIP is superior
•Total Out-Of-Pocket Costs: Children with special health care needs that are currently served by CHIP would be hardest hit by a transition to QHPs. In some states, children with special health care needs could go from paying $0 in cost sharing in CHIP to over $5,000 in annual out-of-pocket expenditures in the exchange plans. CHIP is superior
•Coverage of Benefits and Services: CHIP covers more child-specific services and benefits with fewer limits than QHPs. For example, CHIP covers more child-specific services and benefits, such as pediatric dental, vision, hearing, autism services, habilitation, etc., than QHPs in the exchanges.
As an example, on the issue of pediatric dental coverage, QHPs can exclude dental benefits if a stand-alone dental plan is available in that state. As a result, only 40 percent of QHPs that were reviewed offer pediatric dental as an embedded benefit in the QHP. In more than half of the states studied, children moving from CHIP plans into QHPs would likely need to purchase separate stand-alone dental plans in order to have comparable coverage, which means that families would face additional costs for the separate premium required in a stand-alone dental plan. CHIP is superior
•Benefit Limits or Caps: Even with respect to benefits that are provided through both CHIP and QHPs, Wakely found that CHIP plans have fewer limits or caps that are imposed on that coverage.
For instance, with respect to physical, occupational, and speech therapy, the Wakely study found that both CHIP and QHPs cover all of these services. However, four-fifths, or 80 percent, of QHPs impose utilizations limits and caps for these services, which is in sharp contrast to 42 percent of CHIP plans. CHIP is superior
In all 35 states studied and analyzed by Wakely Consulting Group, if children were transitioned from CHIP to exchange QHPs, they would face significantly higher out-of-pocket costs and have fewer child-specific benefits covered. In short, millions of children would be left worse off if Congress fails to extend CHIP.
•Child-Centered Networks: But, even beyond the lower cost-sharing and stronger benefits, CHIP is important to protect because it is, by definition, child-focused and recognizes that they have unique health care needs. As Senator Charles Grassley of Iowa said during Senate Finance Committee consideration of the Children's Health Insurance Program Reauthorization Act (CHIPRA), "There is no A (for adults) in CHIP." He emphasized that it is a program designed for and specific to children.
In fact, because CHIP covers only children and pregnant women, the health provider networks in the program are made up largely with doctors, nurses, and hospitals that have pediatric and maternal child health expertise. They are educated and trained to recognize and treat the unique array of physical, mental, social, and emotional developmental needs of children as they grow from infancy through adolescence.
This focused attention and expertise in addressing children's special needs stands in sharp contrast to the situation in other types of adult-centered coverage where children's coverage can sometimes be an afterthought. For example, while a CHIP quality review panel's time is spent almost entirely reviewing and discussing ways to improve child health, child advocates have found it difficult to even get even one pediatric expert to be named to such a panel in adult-centered networks or to get time focused on the needs of children. According to analysis by the Urban Institute, just 1-2 percent of all spending in the health reform Marketplaces is projected to be due to children, so attention to the cost and quality of care for kids will not be a top priority. CHIP is superior

Although the ACA holds great promise in its coverage of millions of Americans, especially uninsured adults who otherwise lack an affordable care option, much would need to be improved in the exchanges before Congress should consider moving children from CHIP to the exchanges. As my colleague Lisa Shapiro writes:
...more work is needed to ensure that new coverage options, eligibility rules, enrollment systems, policies and procedures, benefits, plan and provider networks are able to meet the unique health and developmental needs of children. [The Wakely] analysis shows that CHIP must remain intact as Marketplace coverage matures to be sure we don't lose ground on our nation's unprecedented success in covering children.
Some have proposed allowing CHIP to expire and to move as many children as possible into the Marketplace place plans or QHPs and force some sort of fixes to ensure children are "not left worse off." In light of the fact that the House of Representatives has voted more than 50 times to repeal Obamacare, it seems highly unlikely that the body would take a radical turn and vote, instead, to make significant improvements to the law, including addressing the "kid glitch," the cost sharing differences, the benefit shortfalls, and the provider network limitations in the QHPs in comparison to CHIP.
As my colleague Carrie Fitzgerald explains, "If Congress does not extend CHIP funding beyond the current September 30, 2015 expiration, important gains for children will be lost. Now is not the time to disrupt the coverage that is working for children."
Certainly, if the day comes when Congress chooses to work in a bipartisan manner to fix any shortcomings and glitches with the ACA so that it is fully comparable to CHIP, it is at that point that we could consider transitioning kids into the ACA. But until that time, we should recognize that CHIP works well for kids and make sure not to gamble with their health.
Related