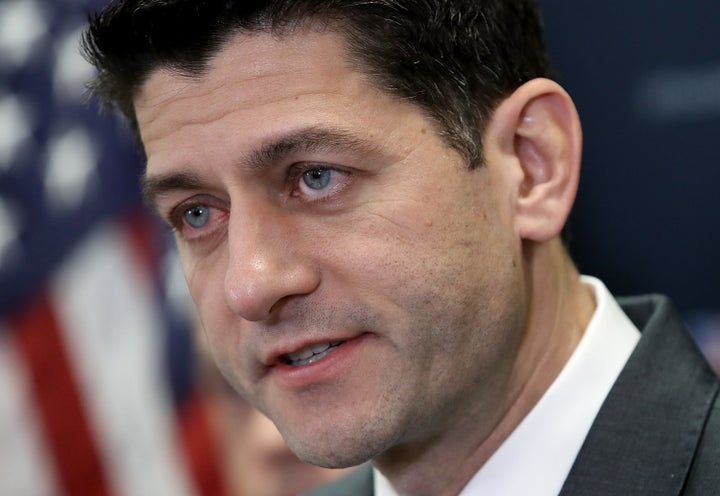 WASHINGTON ― Republicans think they have a bill to avert a government shutdown and significantly raise spending caps ― a bipartisan deal months in the making. But it's not clear how much bipartisan support that bipartisan bill will actually draw, as House Democratic leaders were holding out Wednesday for assurances on an immigration bill.
Despite a good deal of opposition from conservatives in the House GOP conference, Republican leaders told members they were pressing ahead with another six-week continuing resolution that would raise spending limits by about $300 billion over two years, with only about $100 billion offset, allowing appropriators to write an omnibus bill that would fund the government at those new levels until October.
The deal would also include disaster aid funding, money to combat opioid abuse, some unspecified infrastructure funding, and an additional four years of money for the Children's Health Insurance Program ― bringing CHIP funding up from six years to 10.
That's a significant increase from the spending caps set in 2011, and many conservatives are likely to oppose the deal.
Rep. Mo Brooks (R-Ala.) said he wasn't just a no ― he was a "hell no."
"To summarize it: This spending bill is a debt junkie's dream," Brooks said.
The deal would provide $80 billion above the spending caps for defense and $63 billion for non-defense for this year. For next fiscal year, it would provide $85 billion more for defense and $68 billion more for non-defense. The agreement would also set up $140 billion in war funding and $20 billion more for other emergency spending.
Freshman Rep. Matt Gaetz (R-Fla.) said the deal is proof that House Minority Leader Nancy Pelosi (D-Calif.) was right about one thing: "The fiscal hawk has become more of an endangered species in the Republican Party."
Pelosi, for her part, spent hours Wednesday morning and afternoon speaking on the House floor in a kind of pseudo-filibuster, calling on House Speaker Paul Ryan (R-Wis.) to make the same sort of commitments that Senate Majority Leader Mitch McConnell (R-Ky.) made for Senate Democrats last month, when he said he intended to bring an immigration bill to the floor with a fair and open amendment process.
Pelosi said she was confident a bill to give legal status to so-called Dreamers ― that is, undocumented young people who came to the U.S. as children ― would pass if Ryan would allow it to come to the floor.
"I don't know when we'll have another opportunity that matches today for us to just get a simple commitment from the speaker of the House that he will give us a vote," Pelosi said.
A large number of Democrats have said they won't support government funding bills without some sort of protection for Dreamers. McConnell convinced Democrats in the Senate to back off of that demand after a three-day government shutdown last month. But in the House, where Democrats don't have the same filibuster power as their counterparts in the Senate, many of them still want not just a promise of a vote, but actual movement.
Rep. Luis Gutierrez (D-Ill.), a leader on immigration reform among House Democrats, said Wednesday on MSNBC that voting for a budget deal without Dreamer protections would amount to "collusion with Donald Trump to deport Dreamers."
It's clear House Republicans will need Democratic votes, but it isn't clear how many Democrats will go along without those assurances. And the number of Republicans who oppose the deal will also affect how many Democrats are needed to pass the bill. If conservatives and other Republicans abandon the bill en masse ― like they did the last time there was a two-year budget deal ― there might not be enough Democrats even if Pelosi comes around.
"I think we would need votes coming from both ways," Rep. Chris Collins (R-N.Y.) told reporters on Wednesday. "Pelosi probably won't vote for it, but we did get a number of her members to vote for the last deal."
The Senate is likely to vote first on this deal ― with McConnell either amending a spending bill sent over from the House on Tuesday or using a new vehicle ― but the deal is likely to be less of a problem in that chamber. The bill would then be sent over to the House, where a collection of Republicans and Democrats are likely needed to pass the measure. If it doesn't pass, and absent another even shorter-term continuing resolution, the government would close down on Friday.
When HuffPost asked Brooks about conservatives potentially driving Ryan into making deals with Democrats, he suggested it was the responsibility of Republicans to hold the line on spending.
"What we need to be doing is driving the Republicans into a financially responsible position that does not initiate trillion-dollar-a-year deficits as far as the eye can see until such time as America suffers a debilitating insolvency and bankruptcy," Brooks said.
Popular in the Community