WASHINGTON ― Still lacking an agreement on an omnibus spending deal to keep the government open, Congress passed a one-week funding measure on Friday so that Republicans and Democrats could continue negotiations.
Lawmakers generally saw the so-called continuing resolution as yet another letdown. Congress has already passed two previous continuing resolutions to give members more time to complete the 2017 appropriations process, which was supposed to be finished by the end of last September. Republicans were also hoping that passing an omnibus deal this week would allow President Donald Trump to tout the agreement as an accomplishment in his first 100 days, even if there are hardly any wins in the deal for Republicans.
The House easily passed the bill by a vote of 382-30, and then the Senate passed it by voice vote later Friday afternoon. Now the stopgap bill moves to Trump's desk for his signature before midnight to avoid a government shutdown. With the extra time gained and barring any unexpected hiccups, lawmakers sound confident they can come to an agreement next week on legislation that will fund the government until October.
Democratic and Republican leaders, however, have yet to settle all their issues on the larger bill. Lawmakers are still hammering out some lingering provisions dealing with environmental, financial and drug regulations.
"Our people on the Appropriations Committee stayed up till 1:30 last night," Senate Minority Leader Chuck Schumer (D-N.Y.) said on Friday. "They made a good deal of progress, but we still have some progress to go."
Schumer said that Republicans had removed a number of policy riders that Democrats thought were inappropriate for a spending bill, but there were still some more provisions that Democrats want out. "And so we're willing to extend things for a little bit more time, in hopes that the same kind of progress can continue to be made," Schumer said. "But we still have a little bit of a ways to go, and they still have some poison pill riders that they haven't dropped yet."
Republicans and Democrats have agreed to the overall framework of the omnibus deal. Lawmakers and aides said the bill would appropriate money at levels consistent with the sequestration caps set in 2011 ― save for "emergency" border security funding and some money for the Overseas Contingency Operations fund. In a blow to Trump and other Republicans, the spending deal would not put money toward the construction of a border wall. In a blow to Democrats, it would not appropriate money for the Obamacare subsidies.
Even though many Republicans favor the government continuing to pay those subsidies, Republican appropriators said it would be unfair to force members of their party to vote for that money. "Because then you'd have to have members voting to sustain a system that they were against, and that's not fair to ask them that," Rep. Tom Cole (R-Okla.) said Friday.
The House is technically suing over the executive branch's authority to make those payments. But Republicans seem to believe the situation is sustainable as long as the Department of Health and Human Services keeps making the payments and a court ruling in favor of the House remains stayed pending an appeal.
"As long as they work out the details between how it's going to be paid for," said Rep. David McKinley (R-W.Va.), who's been pushing for the miners, "we think it's going to be fine."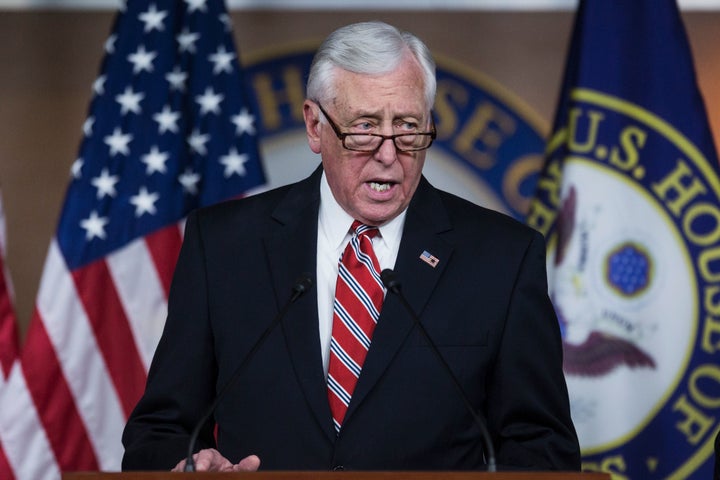 While the various agreements all seem to be coming together, there's still the possibility that congressional talks could derail. It appears that Trump and his administration have periodically jumped into the talks and nearly wrecked already settled deals. A Trump tweet this week seemed to oppose money going to Puerto Rico even after Republicans had already conceded that point. Office of Management and Budget director Mick Mulvaney almost caused a health care crisis himself when he appeared to threaten a stoppage in the Obamacare subsidies, pressing Democrats to reconsider whether they could accept an omnibus deal without those "cost-sharing reduction" payments.
And then there is the larger push to repeal and replace the Affordable Care Act hanging over the whole process. House Minority Whip Steny Hoyer (D-Md.) said Thursday that he would urge Democrats to vote against the continuing resolution if Republicans tried to pass their health care bill this week. He sounded like a man at wits' end over the entire situation.
"I am going to vote for this continuing resolution," Hoyer said on the House floor Friday, "but I want to put my colleagues on notice, and the American people on notice, Mr. Speaker, that I will not vote for another one."
Michael McAuliff contributed to this report.
Calling all HuffPost superfans!
Sign up for membership to become a founding member and help shape HuffPost's next chapter