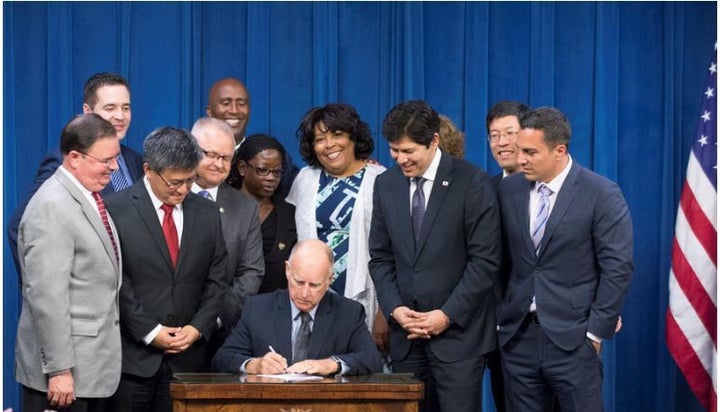 A landmark, IRA-type retirement savings program created for millions of Californians, came under threat last week when House Republicans passed a joint resolution aimed at blocking states from setting up such payroll savings plans. The resolution, which now moves to the Senate for consideration, targets Department of Labor rules designed to expand the number of working Americans with access to IRA-styled savings accounts.
Created last August, these rules had paved the way for California Secure Choice, the state-managed individual retirement account program that is on track to provide retirement nest eggs for nearly seven million Californians whose employers don't offer pensions or 401(k) plans. Signed into law by Jerry Brown only last September, it isn't scheduled to begin enrollment until 2019.
The August rule changes to the Employee Retirement Income Security Act of 1974 (ERISA) clarified ERISA's broad preemption for state laws that cover private-sector employee pension benefit plans. The changes, according to the DOL, were intended to fill gaps in the nation's employer-provided retirement savings system that has left nearly 39 million private-sector workers — some say the number is as high as 55 million — without a job-provided retirement plan. The DOL also noted that less than 10 percent of all workers contribute to a plan outside of work.
But HJR 66 and HJR 67, joint resolutions introduced earlier this month by Republican Representatives Tim Walberg (MI) and Francis Rooney (FL), put the new federal rules that allow such state-sponsored plans on a kill list of regulations that govern the Affordable Care Act, environmental safety and consumer protection through the rarely used Congressional Review Act.
The resolutions were both prompted and cheered by the U.S. Chamber of Commerce and the mutual funds industry, which had strenuously opposed Secure Choice because of longstanding industry concerns that state-sponsored programs could compete with their own products.
"This is not new for the large financial institutions and insurance companies," Secure Choice oversight board member Yvonne Walker told Capital & Main. "They have a long history of fighting against state efforts to expand retirement savings options for everyday workers. They say, 'Oh, well we don't want to be in competition with the states.' But the reality is there are multiple retirement savings plans on the market, and the truth of it is that overall, working people can't afford to purchase retirement savings plans on their own."
The passage of HJR 66 and 67 unfolded against a 35-year backdrop of stagnant wages and the dismantling of the traditional employer-sponsored, private-sector retirement savings pillar in the U.S. — the defined-benefit pension plan — that has left nearly half of all Americans with nothing saved for retirement. At the same time, critics have pointed out that the IRA industry has never seen much profit in marketing retirement plans to the low-wage workers and small-workforce businesses that Secure Choice would most benefit.
"In California there is a brewing retirement crisis where you have our large aging population and, at the same time, we've got the first baby-boom generation going into retirement," explained Nari Rhee, the Retirement Security Program manager at the University of California, Berkeley Center for Labor Research and Education. "Nationally about 45 percent of households have nothing saved for retirement and the median retirement account balance right now is about $3,000 at the household level. Social Security is not going to be enough."
The ERISA rule change had proved key to state Senate President pro Tem Kevin de León (D-Los Angeles) mustering legislative support for California Secure Choice. Even fervently pro-business groups within the state, like the California Chamber of Commerce and the California Manufacturers and Technology Association, eventually withdrew their opposition to a program that sponsors reasoned could eventually save California taxpayers billions of dollars by keeping retiring workers off Medicare, food stamps and other badly strapped safety-net programs, with little risk or cost to employers.
Currently, the plan is scheduled to be gradually phased in until it requires all California employers with five or more employees that don't already provide a retirement plan to either begin to offer a retirement plan or provide their employees access to Secure Choice's IRA-like payroll deductions. Though individual workers may opt out, studies have shown that automatic enrollment results in up to 90 percent higher participation than when enrollment is voluntary, particularly for low-wage workers.
"Two-thirds of California's small business owners support the creation of a state retirement savings program and nearly three-fourths said such a program would give their business a competitive edge," de León noted in an email to Capital & Main.
One small business owner is childcare provider Nancy Harvey, who employs a small staff at Lil' Nancy's Primary Schoolhouse, which she has operated out of her West Oakland home for 15 years. Harvey, who is 54 and previously taught elementary school, explained that childcare jobs in the Bay Area typically attract workers well past retirement age.
"People cannot afford to retire," she said by phone. "And that is not a good thing when folks are taking care of children, because at some point, to be perfectly honest, it becomes a safety issue. We have providers in their 70s still providing care for children, and I'm sure at some point they want to be able to retire. But because of the way the system has been set up, it just simply does not allow for that."
The House resolutions, if passed by the Senate and signed by President Trump, would permanently nullify the relatively obscure clarifications to ERISA that have raised the retirement-security hopes of millions of low-wage workers both inside and outside California. Seven other states are in various stages of creating and implementing similar state-run auto-enrollment retirement programs, including Oregon, where the OregonSaves payroll retirement savings plan is scheduled to go online in July.
No hearings are required for resolution votes and, under the Congressional Review Act, once a rule is struck down, the federal agency that issued it is barred from enacting similar regulations again in the future.
"It's a huge slap in our face," added Harvey bitterly. "I feel that they just don't understand how average Americans truly live. You hate to say that it's evil-spirited, but it almost seems like it is."
A February 10 poll by the nonprofit, nonpartisan National Institute on Retirement Security found that three-fourths of Americans believe that state efforts to provide working Americans access to individual retirement accounts are a good idea — up from 71 percent in 2015. It also found that the support was strongly bipartisan, with 72 percent of Republicans and 83 percent of Democrats approving of the plans across gender, income and age divisions.
De León, who personally lobbied House Majority Leader Kevin McCarthy of Bakersfield before the conservative Republican cast his vote to scuttle the rule, has vowed to press ahead with Secure Choice regardless of what Congress does. Though supporters maintain that California Secure Choice was drafted around the "safe harbor" already written into ERISA before the Obama rule change, de León has said he'll do whatever it takes to legally implement the program, including putting it before voters as a statewide ballot measure.
In the meantime, retirement and labor groups like AARP and Service Employees International Union Local 1000, whose president is Secure Choice oversight board member Yvonne Walker, are pulling out all the stops to see that the Republican resolutions are stopped in the Senate. (Disclosure: Walker's union is a financial supporter of this website.)
"You have ordinary working Americans who are faced with the choice of working until they die or retiring into poverty," Walker said. "And in America, where you work hard and play by the rules, that cannot be the choice that working Americans should have to face."
Related
Popular in the Community