Congress declared the Veterans Administration scandal was a disaster that veterans had to wait so long for help. Then, they proceeded to take longer than the wait time to come up with a reform.
USA Today has a timeline that shows that members of Congress knew about this scandal long ago, almost as long ago as the VA Secretary who resigned two months ago. In fact, the Government Accountability Office (GAO) briefed a House of Representatives subcommittee about the long waits and poor scheduling problems back in March of 2013.
That same USA Today story revealed that veterans were waiting six weeks on an electronic waiting list before their first visit.
In September of 2013, Arizona Senator John McCain's office was briefed by a VA whistleblower, and the information was passed on to the Office of Congressional and Legislative Affairs, according to that USA Today timeline.
Another whistleblower went to the Arizona Republic, according to the USA Today timeline in December of 2013.
Finally, on April 9 of 2014, Florida Congressman Jeff Miller, a GOP representative who chairs the House Committee on Veterans Affairs, announces that dozens of veterans may have died while waiting for care. USA Today's timeline had that event too.
Again and again, we've been told that there was a Veterans Administration crisis. Veterans were dying without being seen. Some had to wait six weeks before seeing a doctor.
Senator Mitch McConnell initiated a blistering attack on the Obama Administration in May of 2014, expressing outrage at the scandal and the delays. He touted a bill passed by the House of Representatives that would make it easier to fire people, but didn't offer much in the way of fixing the problem.
Dr. Ben Carson even called the VA scandal "a gift from God" because it would weaken Obamacare.
On June 4, 2014, a compromise was being forged, and Senators hoped to get it done before the D-Day Anniversary. But that date came and went. Bills were passed, revotes had to be taken because some key lawmakers missed their votes. You even saw Senator Richard Burr issuing a blistering attack on veterans groups for not being tough enough on the VA. Another Senator blamed the VA scandal on the cost-cutting mania in the Tea Party Congress.
Regardless of who was to blame, we didn't have a reform bill out of Congress. In fact, several days ago, the Huffington Post quoted Senator Bernie Sanders as explaining why the compromise had died. Miraculously, it was resurrected, though it has not fully passed both the full House of Representatives and the U.S. Senate.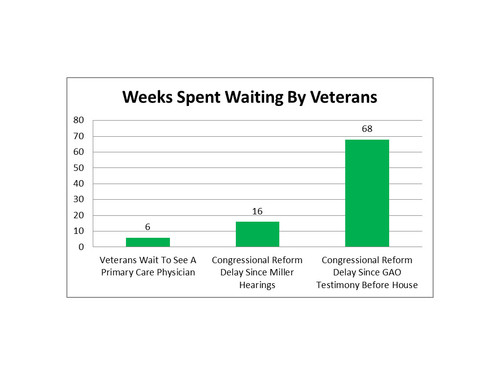 How long did veterans have to wait for Congress to pass a VA reform bill?
After being treated to lectures about how evil the VA was for dragging their feet, taking six weeks to have patients see their doctors, we had to wait 16 weeks for Congress to pass their reform legislation, and that's only counting the start date as Miller's committee hearings. If we go all the way back to the GAO briefing before the House last year, that's only 68 weeks that veterans have had to wait.
Republicans could blame the Obama Administration, but as we all know from the Boehner lawsuit, the executive branch can't write the law. If Obama issued an executive order with the reform package, the GOP would have declared it unconstitutional. Congress has to make the laws, the House Speaker insists. So the tardiness of Congress on this matter explains why its approval rating is five times worse than the president's approval rating.
John A. Tures is a professor of political science at LaGrange College in LaGrange, Ga. He can be reached at jtures@lagrange.edu.