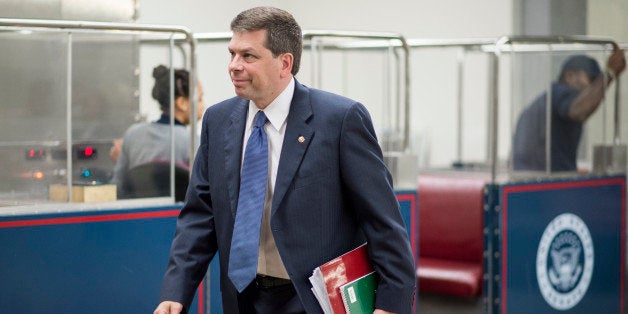 WASHINGTON -- When then-Rep. Darlene Hooley announced her retirement in 2008, the decision came as a surprise. The Oregon Democrat had been expected to seek reelection and win, and House leaders implored her to stay. But Hooley was adamant she'd had enough -- especially of the travel.
The average American spends about 50 minutes commuting to and from work each day, amounting to about four hours a week. In more extreme cases, commuters spend 90 minutes on the road each way. But ask a member of Congress about his or her commute, and the number could jump as high as 20 hours a week.
The core of the lawmakers' job, of course, is to handle legislative work in Washington, D.C., and then return home to their districts to meet with constituents. Most members of Congress are used to spending many hours a week on a plane or a train, if not both, as they shuffle from their districts to the nation's capital and back.
For Hooley, the strenuous travel schedule eventually took its toll. Despite serving seven terms in the House of Representatives, she never really adjusted to the constant running around airports and worrying about missing a flight.
"That was really one of the things that made me decide to leave. It was always stressful," Hooley told The Huffington Post. "Whenever I was home, I was working."
"If you didn't get on your plane in time, your activities when you got home would be canceled," she said. "That was my experience, and there was nothing relaxing about it."
Not all lawmakers are as bothered by the grueling schedule. Sen. Mark Begich (D), who faces a 10-hour trip to his home state of Alaska each week, takes it in stride.
"I do know what they serve on every plane, what their food menu is, what time of the day you need to be there to get it, and where you need to sit to get the food that you want before it runs out," he joked when HuffPost asked him to characterize his commute.
For Begich, the travel isn't over when he lands in Alaska, a state that he points out is one-fifth the size of the entire United States. "In order to move around, it's more hours on a plane, so I can spend a third or more of the time in a weekend on some sort of plane ... so that's a never-ending cycle," he said.
Begich uses his rare downtime to watch movies with his 11-year-old son or catch up on reading.
Sen. Brian Schatz (D-Hawaii), another lawmaker who spends about 20 hours up in the air each week, uses his long flights to get some much-needed shut-eye. Hydration is also important, he said, as well as "rigorous stretching … [that] helps mitigate the soreness and the fatigue."
As soon as he arrives in Washington, it's all work and no play. Schatz's main use of his D.C. apartment is to FaceTime with his kids and then go to bed. Most lawmakers approached by HuffPost described a similar experience, even as they continue to take heat for not getting enough work done.
The reality is, as Hooley pointed out, a schedule packed with constituent meetings, lobbyists' concerns, press conferences to tout legislative work and a whole lot of fundraising. Then there's the weekly votes and caucus meetings, committee hearings, and other duties that make up the legislative side of the job.
Sen. Rob Portman said workdays in Washington average 14 to 15 hours a day. Asked when he has time to himself, the Ohio Republican quipped, "My wife would say never."
Downtime is so rare that a handful of lawmakers even formed a Quiet Caucus just to take a timeout. Others, including Portman, said they look forward to being home on weekends so they can attend church with their families.
Sen. John Hoeven (R) came to the Senate in 2010 after 10 years as North Dakota's governor. Yet even the state's highest office wasn't as chaotic as life on Capitol Hill.
"My sense in elected office is it's a lifestyle," he said. "As a governor, you tend to be able to control your schedule much more. But in the Senate, being on the legislative side, you really don't get much control on your schedule."
Hoeven also focuses on family when he has some spare time and relieves his stress through exercise. "I love sports, hunting and fishing," he said.
Sen. Dean Heller (R-Nev.) recently made it home for the first time in three weeks, mostly because there are no direct flights from Washington to Reno. He acknowledges that his colleagues in Hawaii and Alaska have it tougher, but explained that his trip entails layovers in Colorado, Arizona or California, and then a 90-minute drive to his home in northern Nevada.
Heller has nonetheless concluded that the contrast between the hustle and bustle on the Hill and the quiet of his ranch in Nevada gives him something to look forward to.
"My place back in Nevada is the absolute opposite of Washington, D.C., and that's the reason I enjoy both places," he said. "You have the best of both worlds."
Ryan Grim contributed to this report.
REAL LIFE. REAL NEWS. REAL VOICES.
Help us tell more of the stories that matter from voices that too often remain unheard.
BEFORE YOU GO
PHOTO GALLERY
Female Governors: Past And Present