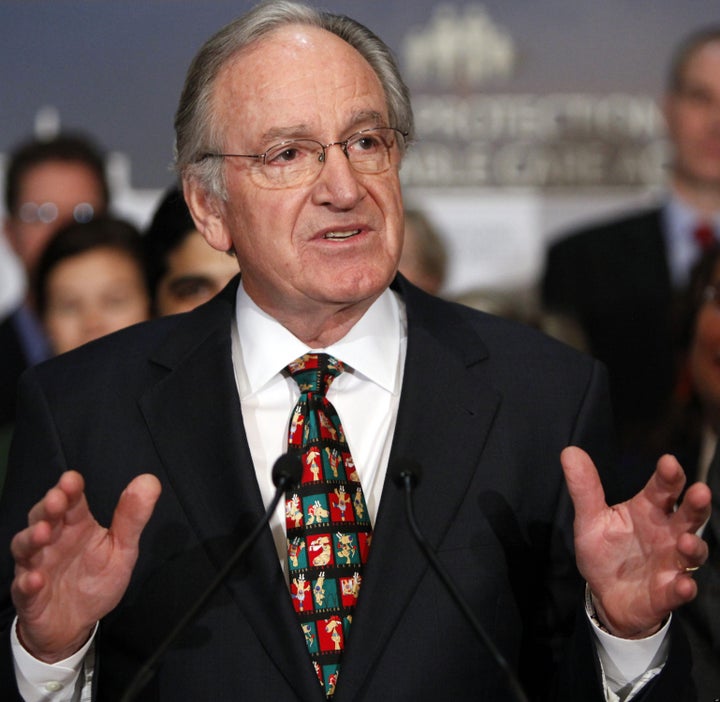 WASHINGTON -- While labor activists continue to stage a high-stakes campaign against the budget bill from Wisconsin Gov. Scott Walker (R) that would strip collective bargaining rights from that state's public employees, union backers are feverishly working to derail what they describe as an equally troubling federal proposal with a clear route to passage.
In recent days, union officials have ramped up lobbying efforts to block or remove language in the Federal Aviation Administration reauthorization bill that would make it drastically harder for rail or aviation workers to unionize.
Sponsored by House Transportation Chairman John Mica (R-Fla.) -- a major recipient of campaign contributions from the airline industry, totaling more than $620,000 in his career -- the controversial provision states if an eligible voter fails to vote for union representation, he or she will be tallied as an active vote against representation.
Such a policy, which puts an extra burden on union organizers to round up all voters, rather than a simple majority, existed up until last July, when the federal National Mediation Board, which adjudicates labor-management disputes, ruled that absent votes ought not be counted against unionization. Labor officials hailed that decision as one of their signature victories last year, and the proposal to strip it away has sparked an equally emotional reaction.
"This was the one advancement that you had seen in organizing rights and here they have launched an all-out effort in the House to go after unions again," said Shane Larson, the legislative director for the Communications Workers of America. "Currently, this is the biggest issue federally right now in terms of organizing rights. There is nothing else that is on the table."
Critics of expanded union rights appreciate the decision's significance, too. The NMB's July ruling was quickly followed by attempts to undo it, including a Congressional Review Act proposed by Sen. Johnny Isakson (R-Ga.) that would have called for a formal evaluation of the decision.
Isakson's review effort fell short, but Mica's provision, introduced through normal legislative order, seems much harder to disrupt.
The provision was passed by voice vote during markup at the House Transportation Committee on Feb. 16. Rep. Jerry Costello (D-Ill.) offered an amendment shortly thereafter to strip it from the final language, later telling The Huffington Post that he saw it as a clear effort "on the part of Republican leadership in the House to bust unions," but his amendment fell one vote shy of passage. The Transportation portion of the FAA reauthorization bill, with Mica's language included, ultimately passed out of committee, 34 to 25.
Two additional House committees -- Science and Ways and Means -- have input in the final legislative language, but according to House officials, neither has jurisdictional authority to revise Mica's provision.
"Once this comes to the floor," said one of those officials, "it will pass."
With that in mind, union operatives have turned their sights to the Senate, where a different version of the FAA reauthorization bill passed in mid-February. Sens. Jay Rockeller (D-W.V.) and Tom Harkin (D-Iowa) are being petitioned especially heavily to strip Mica's provision when the two congressional chambers meet to merge their respective bills.
An aide to Rockefeller, who chairs the Senate Committee on Commerce, Science and Transportation, said he supports the new NMB rule, and that position "has not and will not change." Harkin, who chairs the Appropriations Subcommittee on Labor, Health and Human Services, told labor leaders to "rest assured" that he would "vigorously oppose any effort to include these dangerous provisions in the FAA Reauthorization Act conference report."
Costello, the Illinois congressman, predicted that the measure would not pass the Senate. "And if it does," he added, "I would doubt the White House would sign the bill with the provision in it. I think it's a showstopper."
Such public resolve, however, is somewhat at odds with blunt political calculations. While Harkin and others may be insisting that Mica's provision be exorcised from the bill, in private, aides question whether the appetite is there to hold the line.
"Now that it is in the bill and it is going to conference, the dynamics have changed," acknowledged one top Democratic Senate aide. "Senator Harkin would of course vehemently say it shouldn't be in there. But the question is, will people vote down the entire bill over it?"
While last year's rule change was a cherished breakthrough for the labor community, the practical impact has not been as widely felt as anticipated, Democratic aides noted. One aide opposed to Mica's provision said unions have actually had a lower success rate since the NMB's ruling, winning only nine of 17 elections. "The new rule, in and of itself, will not cause an avalanche of unionism," the aide added, in an effort to downplay conservative critiques.
The numbers can cut both ways. When pressed about Democratic criticism of the congressman's provision, Mica spokesman Justin Harclerode said that reverting back to the old ways wouldn't be all that drastic. "The aviation industry was already heavily unionized before the rule change," he said.
Yet it's hard not to see the broader symbolism in this under-the-radar legislative fight. Republicans are fully invested in rolling back both the incremental gains and the longstanding rights that unions enjoy. And while the primary theater has recently been at the state level, labor officials and allied lawmakers are bracing themselves for similar high-stakes showdowns in Washington.
"I expect this is only the beginning," Harkin said. "I think we'll see a lot of amendments this year -- probably on every bill we consider -- that will chip away at the basic rights and protections that help middle class working families get by. Like Governor Walker, advocates will describe these amendments as budget savers or pro-growth, but make no mistake, those are not their real goals. The real goal is to weaken the voice of American workers, and continue to push the same, trickle-down economic theory that has led us to unprecedented levels of inequality and instability."

Popular in the Community