The 114th Congress will kick off the new year on Wednesday by voting an eighth time to strip federal funds from Planned Parenthood, the nation's largest family planning provider, because its health services include abortion.
The House of Representatives is expected to pass a budget reconciliation bill that guts the Affordable Care Act, pulls roughly $450 million in federal assistance from Planned Parenthood and prevents Medicaid recipients from getting reimbursed for their visits at Planned Parenthood clinics. There is already a federal law preventing taxpayer dollars from being used toward abortion -- Planned Parenthood's patients have to pay for that service separately out of pocket -- but Republicans have long despised the family planning provider for ideological reasons.
"It's up to the president to decide if he wants to side with the people whose health care costs have skyrocketed out of control, or the abortion industrial complex whose profits have skyrocketed out of control," Speaker Paul Ryan (R-Wis.) told reporters Wednesday. "Congress is holding President Obama accountable."
Last year, the House and Senate took seven separate votes on bills that would have defunded Planned Parenthood, and directed five congressional committees to investigate the organization. President Barack Obama has said he will veto any effort to defund the family planning provider.
Democrats criticized their GOP colleagues for relentlessly going after Planned Parenthood instead of refocusing on other priorities.
"Apparently, Republicans' New Year's resolution for 2016 is the same as it was in 2015, which is to attack women's health," Rep. Chris Van Hollen (D-Md.), ranking member of the House Budget Committee, said at a press conference Wednesday.
A newly established select committee in the House will investigate Planned Parenthood this year because a series of heavily edited videos produced by an anti-abortion group in 2015 claimed to show the family planning organization engaged in the sale of fetal parts after abortion. But those videos have mostly been debunked, and multiple federal and state investigations have turned up no evidence so far that Planned Parenthood did anything illegal. Planned Parenthood claims that it donated, but did not sell, fetal tissue for medical research, which is legal.
One in five women in America has visited a Planned Parenthood clinic for health care, including Pap smears, breast exams, birth control and sexually transmitted infection screenings. The group says about three-quarters of its patients are low-income and have no other primary health care provider.
"This is not what the overwhelming majority of the public wants Congress to spend its time doing," said Dawn Laguens, vice president of Planned Parenthood's political wing. "Republican leaders in Congress are lying about Planned Parenthood to justify their long-running obsession with banning abortion in this country."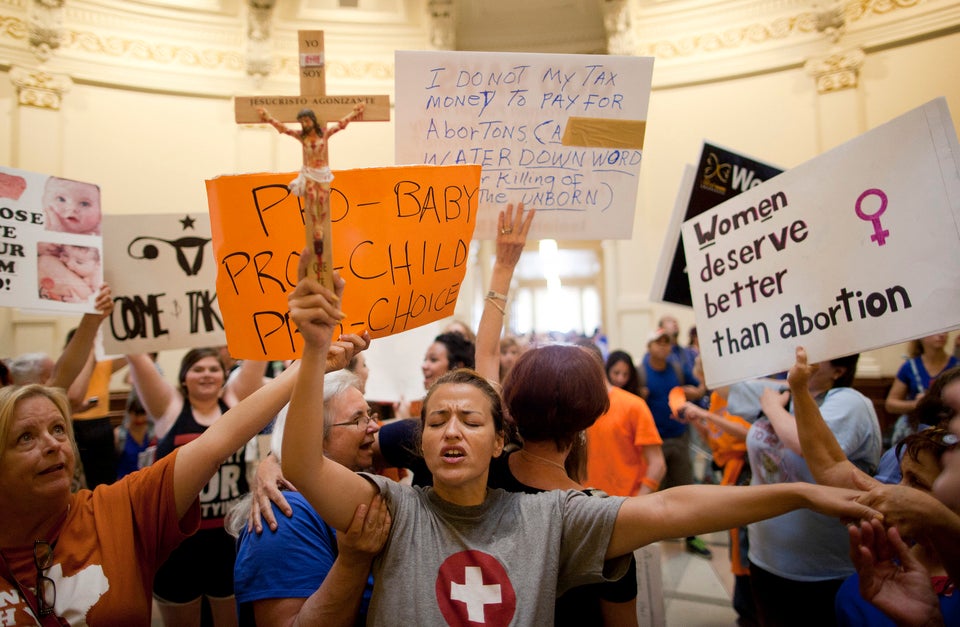 Abortion Protests Around The Nation
Popular in the Community