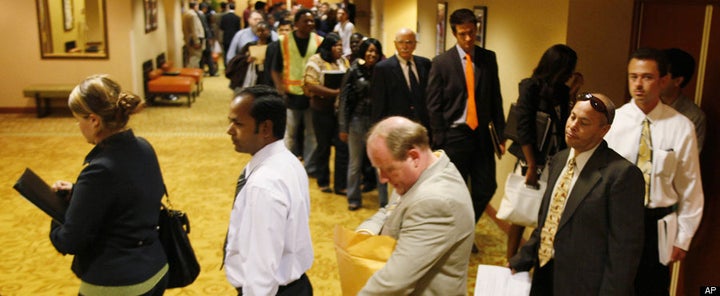 When it returns from its mid-term break in mid-November, Congress will have only two weeks and seven voting days to reauthorize extended unemployment benefits before they expire at the end of the month. That's not much time, as the previous reauthorization consumed the Senate for 50 days this summer.
"This is going to be a really hard fight but it's a crucial issue and it is clear the congressional leadership understands that this is a top-tier, must-do item as soon as the lame duck session convenes," said Judy Conti, a lobbyist for the National Employment Law Project who is in frequent contact with key staffers. "While the fight won't be any easier than in the past, advocates and workers are already mobilizing and will be sure to make their demands heard."
Congress has blown reauthorization deadlines for extended unemployment benefits three times already this year. The first two lapses were brief; they happened because of obstruction by Senate Republicans. The third lapse lasted for nearly two months, however, as Democratic leadership in the House and Senate fought Republicans and a handful of deficit hawk Dems over whether or not the $33 billion cost of the reauthorization should be offset with spending cuts.
HuffPost asked House Speaker Nancy Pelosi (D-Calif.) on Tuesday if she expects the upcoming reauthorization to be less difficult than the last one.
"Well I hope so, because it's certainly going to be harder for the people whose benefits are expiring," Pelosi said. "So many people have come up to me to say 'thank you,' whether it's in airports, or just working people in different situations or not-working people saying, 'We're professionals, we've always worked. We were desperate, and then we got that unemployment insurance.' They weren't even people who were used to getting unemployment, but it really saved a lot of people."
The reauthorization that finally made it through the Senate in July, after a lapse in benefits that affected 2.5 million people, expires at the end of November instead of at the end of the year. That's because of a May bargain between Democratic leaders in the House and deficit-weary Blue Dogs and Democrats from low-unemployment districts. Leaving off a month saved $7 billion, and it was the first in a series of nickel-and-dime cuts: Leadership also sacrificed health insurance subsidies for layoff victims to continue coverage through COBRA, saving $7 billion, and a Senate deal to cut $25 per week from every unemployment check saved $6 billion.
Whether that kind of nickel-and-diming will be necessary to appease deficit hawks post-election remains to be seen.
The White House has already signaled that it will support another reauthorization of the extended benefits, which give the unemployed in hardest-hit areas up to 73 weeks of federally-funded aid on top of the 26 weeks provided by states. Though bills have been introduced in both the House and Senate to provide additional weeks of benefits for "99ers" -- people who've exhausted all help available and still haven't found work -- the uncertainty of preserving the existing help doesn't bode well for another 20 weeks of aid.
Popular in the Community