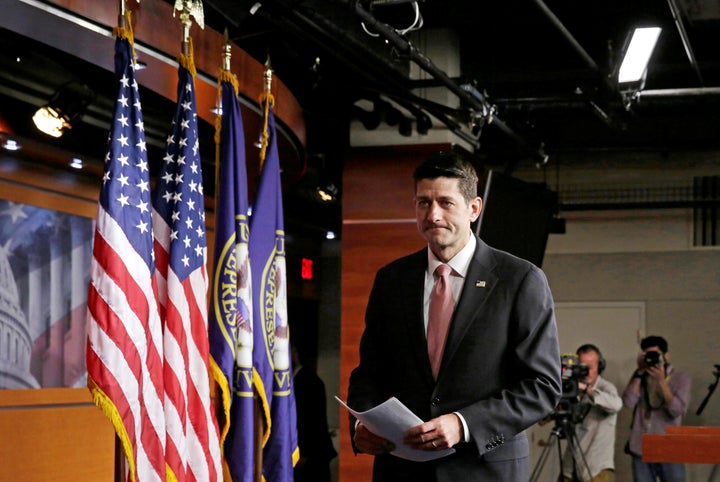 WASHINGTON ― Lawmakers return to Capitol Hill next week after a seven-week break, and while a Zika funding bill has been stuck in the Senate over Democratic objections to particular policy riders and concerns that the $1.1 billion approved in the bill would come at the expense of other programs, Republican leaders indicated on a conference call late last week that they're prepared to do something on Zika.
According to a member on the call, Rep. Carlos Curbelo (R-Fla.) urged GOP leaders to come back into session early to do something about the virus. Although that doesn't appear to be happening, Speaker Paul Ryan (R-Wis.) told members on the call that the House would be doing something on Zika very soon.
Exactly what that means is unclear. Sources suggested to The Huffington Post on Tuesday that the House may just pass its Zika funding bill again to apply more pressure on the Senate, but House Republicans could also pass a bill slightly more palatable to Democrats in an effort to find a real legislative solution.
Another member who's been discussing Zika funding with leadership told HuffPost that Republicans could compromise on where some of the money for Zika comes from and remove some other riders, as long as provisions blocking additional Planned Parenthood funding remain in the bill.
Democrats, most notably Minority Leader Nancy Pelosi (D-Calif.), have balked at barring Planned Parenthood funding in a Zika bill, pointing out that Zika can be sexually transmitted, but both sides have a strong desire to fund vaccines for the virus and backfill some of the funding for other programs that's already been shifted to fight Zika.
It's still unlikely that House Republicans will fully give in on Democratic demands on Zika immediately, just as it's unlikely that Senate Democrats accept the Zika bill that's been stuck in their chamber since late June.
The Senate passed the $1.1 billion Zika funding bill in May on an overwhelming 89-8 vote. But when the bill came back from the House with riders that would restrict contraception services, protect the Confederate Flag and weaken the Clean Water Act, Senate Democrats blocked the measure.
With five legislative weeks left in the Senate before Election Day ― and only four left in the House ― lawmakers on both sides are eager to find a bipartisan solution. There's been some talk of having Sen. Marco Rubio (R-Fla.), who's in a tough re-election bid, be the author of a new Zika bill in the Senate, and Curbelo, who's in a tough re-election battle of his own, could be a lead sponsor in the House.
On the roughly 30-minute conference call last week, House GOP leaders also discussed upcoming government funding decisions that will need to be solved before Oct. 1. Ryan told lawmakers they were likely to do a continuing resolution to push a spending battle past Election Day. But Ryan told members he has little desire to do a year-end omnibus bill.
"It was made clear by leadership that there is no appetite for an end-of-the-year omnibus spending bill," a source on the call told HuffPost Tuesday, adding that discussions over a continuing resolution would continue in the weeks ahead.
Michael McAuliff and Laura Barron-Lopez contributed to this report.
REAL LIFE. REAL NEWS. REAL VOICES.
Help us tell more of the stories that matter from voices that too often remain unheard.