One day after a gunman opened fire on a group of GOP lawmakers at an early-morning baseball practice, many of those same lawmakers took to the field at Nationals Park in Washington on Thursday to face off against their Democratic colleagues in the 56th annual congressional game.
Five people, including House Majority Whip Steve Scalise (R-La.), were wounded in the shooting. Scalise was still in critical condition.
The game opened with a moment of silence for those wounded.
Capitol Police officer David Bailey, on crutches from a bullet wound, threw out the first pitch. 
Members on the Republican team wore LSU caps, in honor of Scalise's alma mater, Louisiana State. The lawmakers kneeled in prayer on the field before the game got underway.
Several members of the Trump administration were spotted in the stands, including the president's daughter Ivanka Trump, Treasury Secretary Steven Mnuchin, Energy Secretary Rick Perry, White House economic adviser Gary Cohn and White House counselor Kellyanne Conway.
According to an announcement during the game, 24,959 tickets were sold, a record for the event.
The annual game, which raises money for multiple charities, including the Boys & Girls Clubs of Greater Washington, is one of Capitol Hill's last remaining bipartisan traditions. Ticket sales for the game surged after Wednesday's shooting, putting the event on track to raise upwards of $1 million.
In the wake of the shooting, organizers decided the game must go on, and added the Capitol Police Memorial Fund to the game's beneficiaries. 
"We're not going to let incidents like this change our way of life or our daily routine. We're going to go ahead and play the ballgame," Rep. Michael Doyle (D-Pa.), who manages the Democratic team, said Wednesday. 
In a return to his usual dominance, Rep. Cedric Richmond (D-La.) led the Democrats to victory with a complete-game five-hitter.
The Republicans scored two runs in the first inning, in part because of some infield throwing errors, but after those first hiccups, the Democrats never looked back. They tore apart the GOP starting pitcher, Mark Walker (R-N.C.) — tagging him for seven runs over four innings — and they added four more runs in the fifth inning, after Richmond tagged a Walker fastball over the left fielder's head and sent the starting pitcher out of the game. 
Things got no better for the Republicans when Rep. Patrick Meehan (R-Pa.) came in as a relief pitcher. Having some control problems, Meehan allowed four more runs — including Richmond, who was already on third — and didn't return for the sixth. Rep. John Shimkus (R-Ill.) came in for the GOP for some mop-up time and proceeded to shut down the Democrats for the remaining inning.
Overall, the game took on a far more bipartisan tone than in recent years. Before the game started, Democrats and Republicans huddled in the outfield for a group prayer. When the teams were announced, instead of standing along opposing base sides, members arched across the infield and gave high-fives to lawmakers from both parties. 
Gone were the usual signs in the stands ribbing the opposite party. Senate Majority Leader Mitch McConnell (R-Ky.), Senate Minority Leader Chuck Schumer (D-N.Y.), House Speaker Paul Ryan (R-Wis.), and House Minority Leader Nancy Pelosi (D-Calif.) kicked off the game together. At the end, Doyle, the coach for the Democrats, gave the trophy to Republican coach Rep. Joe Barton (R-Texas) to put in Scalise's office until he gets better.
Barton, accepting the trophy, shook Doyle's hand, acknowledged the gesture, and said, "We won't be this nice next year."
Attendees also showed support for Scalise, and advocated for bipartisan unity in the wake of the shooting.
Many of the people at the ballpark interviewed by HuffPost expressed hope that the event would send a message to Americans to come together.
"We are all sending positive thoughts to Rep. Scalise and we're all appalled by this horrific crime that took place," said Sara Kenigsberg, who works at the liberal organization MoveOn.org. "We're here to support each other against violence like this, and it's not acceptable."
Hunter Evans, who is interning at the Herald Group, a consulting shop in Washington, agreed. "We need more bipartisanship. We both love America regardless of what party we are."
A friend of Evans who was standing nearby interjected, "Some of us love it more, OK. [Liberals] hate America."
Evans ignored the aside, however, adding that members of both parties had more in common than many believed. "There's some things we all need to work together on. Everybody in Congress is here because we love America."
Not everyone agreed about the bipartisan nature of the event, however.
Mia Lee, who writes for The New York Times' Modern Love column, said she was put off by the seating arrangement. Attendees by tradition may purchase tickets to sit in the Republican section, the Democratic section or a general admission section.
"I think it's divisive," Lee said. "While buying tickets, we said, "Oh, let's sit with the Democrats.' We want to sit with the Democrats. We don't want to sit with the Republicans at all. Maybe you can make an argument that it unites people in the game of baseball, but I find it pretty divisive." 
"This game is always an important moment for both parties to come together to support charity, build friendships and celebrate our national pastime," Trump said in the video. "But as you all know, tonight's game has taken on a much deeper level of meaning beyond that. By playing tonight, you are showing the world that we will not be intimidated by threats, acts of violence, or assaults on our democracy."
In a show of bipartisan cooperation, Ryan and Pelosi gave a joint interview on CNN during the game ― the first the two leaders have given together. Ryan donned an LSU hat, while Pelosi wore a purple and gold LSU T-shirt.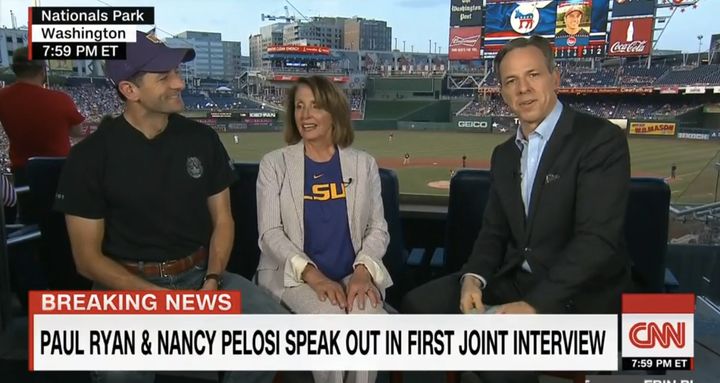 "Tonight we're all Team Scalise," Pelosi said.
CORRECTION: An earlier version of this post misspelled the last name of attendee Sara Kenigsberg as Keningsberg.
REAL LIFE. REAL NEWS. REAL VOICES.
Help us tell more of the stories that matter from voices that too often remain unheard.
BEFORE YOU GO
PHOTO GALLERY
Alexandria Shooting At Congressional Baseball Practice