WASHINGTON ― The anti-Donald Trump political activist who shot at Republicans practicing for a baseball game last week toured locations in the nation's capital, visited the office of Sen. Bernie Sanders (I-Vt.) and had a list of six members of Congress on him, the FBI said Wednesday.
The FBI said in a press release that James T. Hodgkinson "made numerous posts on all of his social media accounts espousing anti-Republican views," although all of the posts they reviewed were protected First Amendment speech. Hodgkinson did not make any specific threats against members of Congress on his social media accounts, according to the bureau.
But despite the apparent political motivations of the shooter, the FBI did not refer to the attack ― which severely injured a high-ranking Republican member of Congress ― as terrorism.
"At this point in the investigation, the FBI does not believe there is a nexus to terrorism," the bureau said in a statement.
The FBI's use of the word "terrorism" doesn't align with the dictionary definition, which says terrorism is "the unlawful use of violence and intimidation, especially against civilians, in the pursuit of political aims." When the FBI calls something terrorism, it's usually referring to a specific connection to a designated foreign terrorist organization. Because Hodgkinson was not acting in support of any such group ― the Islamic State militant group, for example ― the FBI doesn't see his action as an act of terror.
The FBI did not characterize the list of names Hodgkinson carried as a hit list. Agents said they aren't sure whether the shooting was a spontaneous or a planned event, but that it currently seems to have been more spontaneous. Hodgkinson did not search out the baseball game or the practices.
"He was struggling in all kinds of different ways," the FBI's Timothy Slater said Wednesday. Slater said Hodgkinson was running out of money, having marital trouble and grappling with the effects of medication. He would not say whether Hodgkinson was abusing the unnamed medication or taking it as prescribed.
House Majority Whip Steve Scalise was severely injured in the shooting, although he's reportedly now able to talk and text. The hospital where Scalise is being treated announced Wednesday that he had been upgraded to fair condition and was beginning rehabilitation.
This is a developing story that has been updated throughout.
Before You Go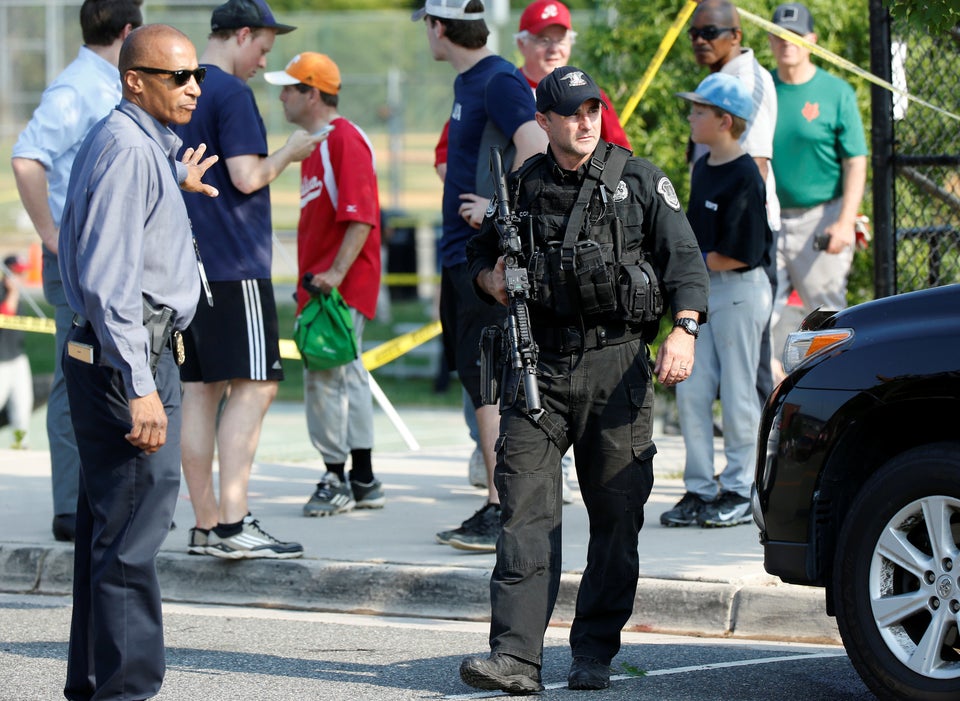 Alexandria Shooting At Congressional Baseball Practice
Popular in the Community