ALEXANDRIA, Va. ― Each morning, Noah Nathan walks Jazz and Cocoa, his two labradoodles, from his apartment complex to the dog run next to Simpson Park, a sports complex in this leafy Northern Virginia suburb.
When Nathan got to the field on Wednesday, a couple dozen Republican lawmakers were there, practicing for the Congressional Baseball Game, a century-old Washington tradition in which Democratic and Republican members of Congress compete and raise money for charity.
Nathan led his dogs around the trails as Rep. Ron DeSantis (R-Fla.) fielded ground balls at third base. Rep. Jeff Duncan (R-S.C.) was playing shortstop. It was barely 7 a.m., but it was starting to get hot, and both lawmakers had already finished their turns at bat. DeSantis suggested to Duncan that they cut out of practice early to beat the traffic into Washington. The two men and a few staffers piled into the Chevy Suburban they'd arrived in, and were about to pull off when a man approached the car. DeSantis rolled down his window.
"Are those Republicans or Democrats?" the man asked, pointing toward the field where other lawmakers continued practicing. DeSantis thought little of the encounter as they left.
Moments later, a man rounded the third-base dugout, walked toward the field and opened fire.
"We weren't exactly sure what it was," said Sen. Jeff Flake (R-Ariz.). He saw a swirl of dust, and realized the man "was firing indiscriminately."
Over at the dog park, Nathan heard bullets ring off a chain-link fence and bounce in the dirt. He dove to the ground. Lying there in the gravel, he pulled out his phone, pointed it in the direction of the shooter and started filming.
"I was thinking, okay, do I want to call my girlfriend or try to get this video?" Nathan told HuffPost. "I don't want to freak her out."
The gunman first took aim at Rep. Trent Kelly (R-Miss.), who was at third base. Then he turned to Rep. Steve Scalise (R-La.), the House GOP's majority whip, and fired a bullet through his left hip. Scalise dropped to the ground and crawled toward first base, away from the shooter.
Across the street, Laura Russell had just walked outside after hearing shots, she told MSNBC. When she opened the door and looked toward the field, she saw a young man fall to the ground at home plate. She dialed 911.
David Woodruff, 46, was on a morning run when he heard the shots. He looked toward the fields, where his son had played a Little League game the evening before. Then he ducked inside a parking garage and dialed 911, too.
As the shots continued, lawmakers and their staffers dove into the first-base dugout for cover. Flake grabbed Rep. Joe Barton's 10-year-old son and hid him beneath the bench. Barton's son, who was shadowing his dad at the Capitol this week, clung to his father's leg.
Capitol Police Special Agents David Bailey and Crystal Griner, who were part of Scalise's security detail, scrambled to stop the shooter. They fired toward the gunman from behind the first-base dugout, confusing the lawmakers who had huddled inside. "Are you friendly, are you friendly?" Flake yelled, unsure if there was a second shooter behind them. One of the officers turned the corner to assure the senator that he was.
The shooter was "mobile" and "crafty," said Rep. Brad Wenstrup (R-Ohio). He fired continuously with a rifle, pausing only to reload. Some lawmakers said they thought they saw an automatic pistol, too.
Scalise lay on the field as gunfire continued around him. One bullet hit Zachary Barth, an aide to Rep. Roger Williams (R-Texas). Barth eventually scrambled to the first-base dugout. Matt Mika, a 38-year-old former congressional aide who now works as the director of government relations for Tyson Foods, was shot multiple times.
In the dugout, Rep. Mo Brooks (R-Ala.) removed his belt and used it as a tourniquet to stop one of the staffers' bleeding. Outside the field, Sen. Rand Paul (R-Ky.) hid behind a tree with another staffer as bullets hit the ground around them.
Three minutes after receiving the 911 call, Alexandria police officers arrived at the scene, a department spokesperson said. Along with Capitol Police officers, they pursued the shooter across the ball field. Both Capitol Police officers were hit — in the foot, Flake thought — but continued to chase the gunman anyway.
By 7:15 a.m., the officers had wounded the gunman and taken him into custody. Bullets were lodged in trees near the field; at least one shattered a window in a nearby building, according to witnesses. On the streets around the field, a Ford Explorer had a bullet hole in the passenger-side window; other cars showed similar damage. There were bullet holes in electrical transformers, too.
After the shooting, Scalise and the others who were injured ― including Mika and Barth ― were taken to hospitals. Scalise underwent surgery at MedStar Washington Hospital Center for a rifle wound to the hip that "travelled across his pelvis, fracturing bones, injuring internal organs and causing severe bleeding," the medical center said in a statement. He was in critical condition late Wednesday.
Mika was undergoing surgery and was in critical condition, his family said. Barth posted that he had been shot, but was "in the hospital and okay." Both officers were wounded, but were in good condition, Capitol Police Chief Matthew Verderosa said.
Two people were taken to the George Washington University Hospital in critical condition, and one later died, according to spokeswoman Karoline Hutson.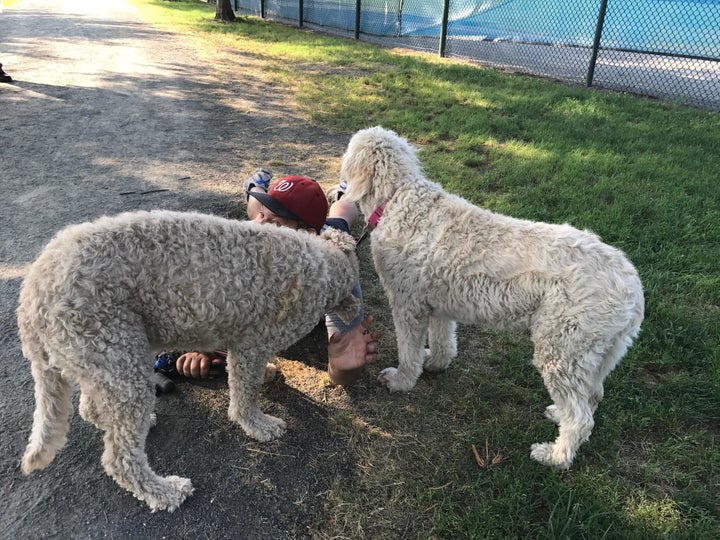 Back on Capitol Hill, Duncan and DeSantis heard the news — and wondered about their strange encounter earlier. Democratic lawmakers who had been practicing for the congressional game on a different field halted their practice, gathered in a circle and began to pray. At Watkins Elementary School in Washington, reporters practiced for a different annual event: the Congressional Women's Softball Game, which pits journalists against members of Congress for charity. Most of them bolted for Alexandria.
Scalise's D.C. roommates — Reps. John Shimkus (R-Ill.), Kevin Brady (R-Texas) and Erik Paulsen (R-Minn.) — gathered around 11 a.m. at George Washington University Hospital, which is where original reports had indicated Scalise had been taken.
The trio, who have played in the Congressional Baseball Game with Scalise for years, lingered morosely with their coats in their hands, waiting for a car to take them across town to MedStar, where their roommate was undergoing surgery. Brady had left practice early. Shimkus, a relief pitcher for the team, had skipped it.
As they waited for updates, they noted what a shame it was for violence to erupt around one of the hallmarks of congressional bipartisanship — and fun.
"You know if it's Steve's decision, the game will go on," Brady told HuffPost. "He'll insist on it. He's tough."
The trio also was concerned for Mika, who was being treated at GWU Hospital for multiple gunshot wounds. Brady noted how valuable Mika had been for the GOP team over the years, saying he often coached from second base and shortstop.
Shortly after, the trio piled into a black SUV and headed off to see their roommate.
By 11 a.m., law enforcement officials had identified the shooter as James T. Hodgkinson, a 66-year-old man from Illinois. Hodgkinson died from his injuries at a hospital, President Donald Trump announced in a news conference later in the morning.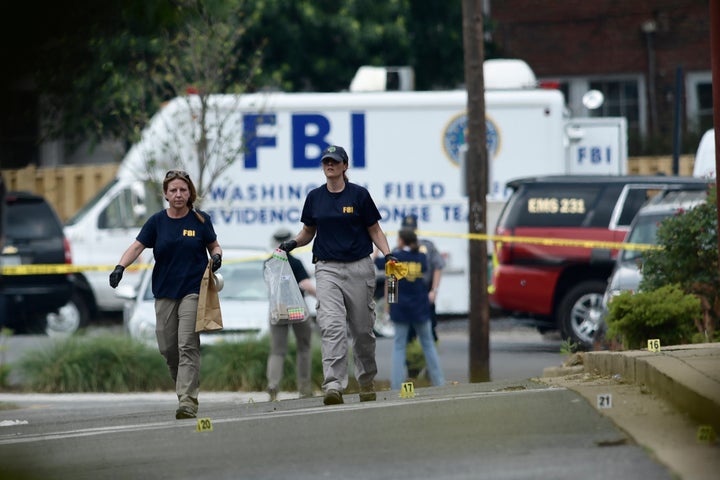 In Congress, members called for unity. They hailed the efforts of Bailey and Griner, the Capitol Police officers who engaged the shooter. House Speaker Paul Ryan (R-Wis.) called the shooting "an attack on all of us."
House Minority Leader Nancy Pelosi (D-Calif.) rose to address the chamber. "To my colleagues, you're going to hear me say something you've never heard me say before: I identify myself with the remarks of the speaker," Pelosi said. "Tomorrow we'll go out on the field, we'll root for our team, we'll want everyone to do his or her very best, and we'll use this occasion as one that brings us together and not separates us further."
When she was done speaking, every member present — Democrat and Republican — stood to applaud. Ryan gaveled out the House and canceled all votes for the rest of the day.
In Alexandria, law enforcement officials cordoned off the baseball field and interviewed witnesses. They took Nathan's phone. He hoped his shaky iPhone video would help police make sense of what had just unfolded.
"I was like, well, if I'm going to sit here and get shot at, at least let me do something," Nathan said.
Jennifer Bendery and Elise Foley reported from Alexandria; Travis Waldron and Lauren Weber reported from Washington.
This article has been updated with details on Scalise's injuries.
CORRECTION: An earlier version of this article said that Rep. Duncan Hunter of California was playing shortstop. It was Rep. Jeff Duncan of South Carolina.
Before You Go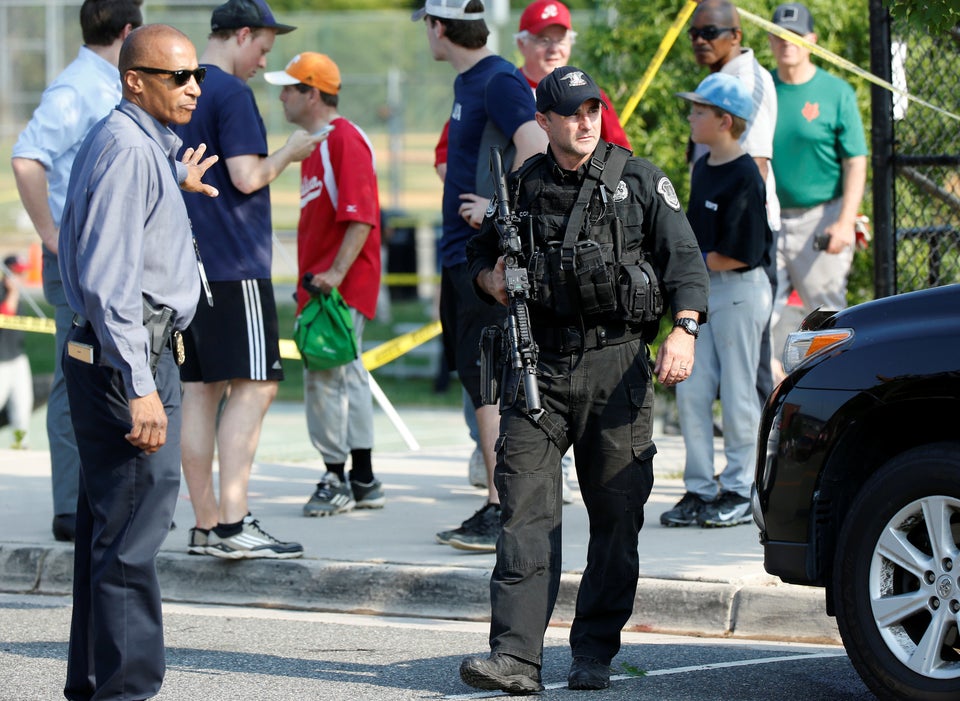 Alexandria Shooting At Congressional Baseball Practice
Popular in the Community