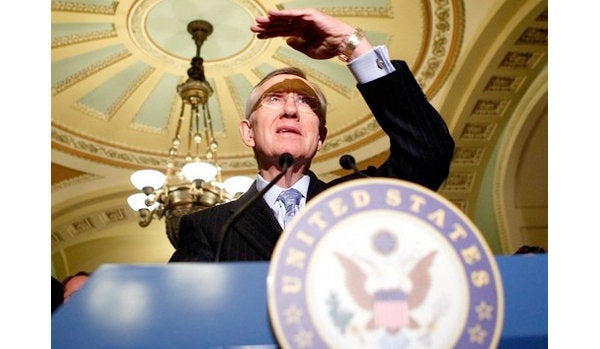 Following the lead of President Obama, the chair of the Congressional Black Caucus said Sunday night that Senate Majority Leader Harry Reid shouldn't step down over racially insensitive comments he made during the presidential campaign.
"I have had an opportunity to speak with Senator Reid and he apologized for his unfortunate remarks concerning the President and he understands the gravity of such remarks. There are too many issues like the economy, job creation and energy for these regrettable comments to distract us from the work that must be done on behalf of the American people," Rep. Barbara Lee (D-Calif.), the CBC chair, said in a statement.
A new book reports that during the campaign, Reid said privately that it was an advantage for then-candidate Obama to be "light-skinned" and "with no Negro dialect."
But while there is "a deep unease about race which cannot be swept under the rug," Lee said, Reid's public actions speak louder than words.
"Over the years, I have had an opportunity to work with Majority Leader Reid. Senator Reid's record provides a stark contrast to actions of Republicans to block legislation that would benefit poor and minority communities," she said, citing health care reform as one example. "I look forward to Senator Reid continuing to serve as Majority Leader to guide this important agenda through the Senate."
Popular in the Community