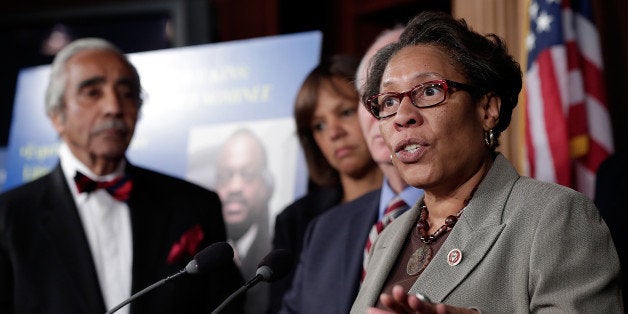 WASHINGTON -- Senate Majority Leader Harry Reid (D-Nev.) got a letter of thanks from the Congressional Black Caucus on Thursday for his unequivocal opposition to President Barack Obama's beleaguered judicial nominee Michael Boggs.
"Thank you for publicly expressing your opposition to the confirmation of Michael P. Boggs to the U.S. District Court for the Northern District of Georgia," reads the letter signed by Congressional Black Caucus Chairwoman Marcia Fudge (D-Ohio). "I respect and appreciate your concern for the people of Georgia and minority communities across the nation."
Fudge adds, "The Congressional Black Caucus stands with you."
Earlier Thursday, Reid told reporters he would vote against Boggs because of votes Boggs took as a Georgia state legislator. Among other things, Boggs voted to pass a constitutional amendment banning same-sex marriage, to keep the Confederate insignia on the state flag and to pass a measure that would have required doctors who performed abortions to post online their names and the number of abortions they performed.
"I'm going to oppose him," Reid said. "He's a person who, in my opinion, is out of the mainstream and I don't think deserves to be a federal judge."
All four Senate Democratic leaders have now either said they will vote against Boggs or have expressed serious concerns with his nomination. A number of other Democratic senators have voiced similar concerns.
Reid said earlier this week that he wanted to talk to Rep. John Lewis (D-Ga.) before making his final decision on Boggs. Lewis, a civil rights icon and an importance voice in the debate over confirming Boggs, has gone silent in recent weeks on the matter, despite initially being vocally opposed. He's also a senior member of the Congressional Black Caucus.
HuffPost reached out to Lewis' office to see if he endorses the black caucus letter, which includes his name on the organization's masthead. His office did not respond.
REAL LIFE. REAL NEWS. REAL VOICES.
Help us tell more of the stories that matter from voices that too often remain unheard.
BEFORE YOU GO