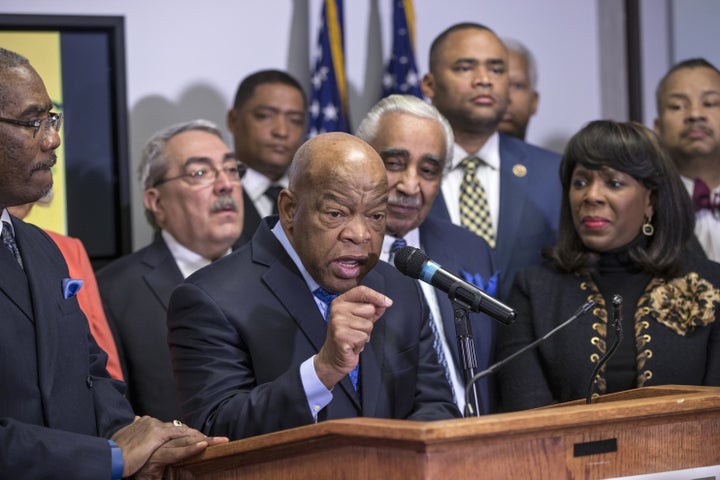 Governmental budgets are ostensibly moral dispositions ― so goes that civic cliche.
The Congressional Black Caucus (CBC) met with president Trump last month and delivered a plethora of policy prescriptions that would act as a response to the anorexic national budget our new president is proposing.
The Trump administration anointed their 2018 spending plan a "skinny budget," meant to highlight waste, posit a fiscally conservative position, and serve as an antidote to how the federal government has swayed from prudent spending.
As such, Trump's budget is a metaphor of disdain aimed at the disadvantaged. It eviscerates arts funding by eliminating the National Endowment for the Arts, and the Public Broadcasting System ― the makers of Sesame Street and Nova. Trump's cuts would redound to deep reductions in public education of more than 200 million. It slashes public housing spending for the poor at the Department of Housing and Urban Development by 6 billion.
If there was ever a plan to commence deconstructing the administrative and regulatory state, as presidential chief strategist Steve Bannon has put it, then Trump's first budget gives testament to that narrow objective — seeking to reverse decades of governmental growth fashioned to protect the poor, grow the middleclass, protect workers and slow global environment degradation.
At the same time, the Trump administration would increase defense spending, seed dubious charter school initiatives, bolster homeland security funding and make preposterous down payments on a boarder wall along the Mexico border.
Trumpism ― as a national budgetary strategy ― is mean-spirited, privileging the retrenchment of programs that underwent growth under President Obama. Trumpism trumpets a Dickensian perspective that is consistent with the president's campaign rhetoric to foster seismic regressive budgetary change.
The extremism exhibited by Trump may prove moot, however. Congress solely authorizes spending and will likely have the last say on the 2018 budget. An even while Trump's republican party rule, they know that drastic budget cuts would irreparably split the social safety net, leading to havoc in the national economy by causing long-term unemployment, a permanent underclass and an expanded income inequality gap.
All this makes the budget priorities posed to president Trump by members of the CBC worthy of perusal. Their plan is a specific response to Trump's bombastic election-year claims that blacks had no reasons to vote for a democrat for president. It proffers legislative priorities which, if enacted, would meaningfully shape a budget that is promotes social justice, especially along the lines of race.
The menu of CBC priorities includes voting rights reform, especially automatic voter registration or AVR. This policy would utilize public data bases to identify eligible voters when they reach voting age. Qualified voters would be registered by state agencies and given the opportunity to opt out if they desired. The policy would also significantly boost the the number of historically disenfranchised black, Latino and poor voters nationally. The CBC also urged Trump to restore the voting rights of felons and make election day a permanent holiday.
In the area of criminal justice, the CBC recommends that Trump protect citizens from hostile police practices in order to "heal the communal rifts caused by racial, ethnic, and religious profiling and restore public confidence in the criminal justice system at-large" And they argue for continued justice department oversight of state and local police departments, even as Attorney General Jeff Sessions has begun to reverse the progress President Obama's justice department was making in this area.
To close the widening income inequality gap, the CBC advocates for a progressive national budget schema which aggressively addresses systemic poverty by requiring "federal agencies to commit 10 percent of their budgets to the 485 counties where 20 percent or more of the population has been living below the poverty line for the last 30 years."
This is all good policy medicine that can heal the body politic.
President Trump should seriously reconsider his inane budget proposals, if only to advance a willingness to lend a morally considerate tone to national funding prerogatives.

Calling all HuffPost superfans!
Sign up for membership to become a founding member and help shape HuffPost's next chapter
BEFORE YOU GO