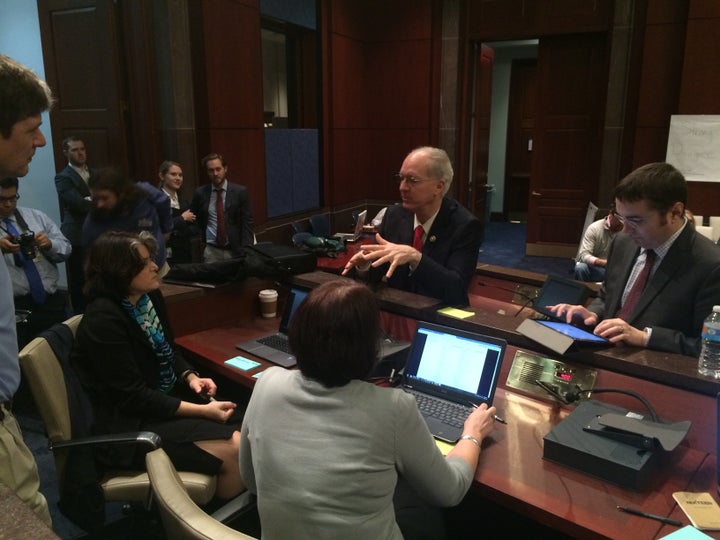 Four years after the First Congressional Hackathon took place in Washington, D.C., the most impressive "hack" Friday was a showing of bipartisanship around a shared purpose: using technology to improve how Congress works. At the Second Congressional Hackathon, legislators from both parties talked with developers, good governance advocates, staffers and startups about how to use technology to better the legislative process.
The one-day hackathon, held in the Capitol Building and co-hosted by House Majority Leader Kevin McCarthy (R-Calif.) and House Democratic Whip Steny Hoyer (D-Md.), was an experience to savor, considering how bitterly polarized lawmakers currently are on just about every issue.
As he did at the first hackathon four years ago, Hoyer delivered short remarks to kick off the event, which had an official hashtag of #hackwetrust. Others tweeted using #inhackwetrust.
"In 2011, I had the pleasure of co-hosting the first-ever official congressional hackathon with then-Majority Leader Eric Cantor," Hoyer said. "A lot has changed since then in the fast-moving world of digital technology. Back then, the loudest applause was when we talked about the need to update the outdated Thomas.gov website. Today, we have a beautiful and highly functional new Congress.gov thanks to the hardworking digital team at the Library of Congress."
Hoyer also praised the genuine technological progress that the House of Representatives has made over the past few years, including strides like opening up more data and improving the quality of online videos that showcase congressional hearings. He credited the success to leaders from both sides of the aisle, the staff at the Library of Congress and continued pressure from open government advocates. But, Hoyer added, much more needs to be done.
"Modernizing government technology is an ongoing project, and it is one that we must pursue with greater urgency," he said. "Making government more efficient, effective, transparent and responsive starts with making sure those who serve in government are better connected -- digitally -- to those we serve."
Josh Tauberer, an open government activist who first asked the Library of Congress for legislative data back in 2004, was recognized at the event for his pioneering work building scrapers to convert legislative documents into open government data at Govtrack.us. Tauberer said that what's unique about the hackathon is how it improves collaboration between people trusted with making laws and those who want to help those lawmakers using technology.
McCarthy, who spoke after Hoyer, emphasized the role of technology in making Congress more effective, efficient and accountable. With data from startups like Quorum Analytics, McCarthy said that Congress can learn more about what's working.
McCarthy said he would like to see Congress better integrate what the public is saying into hearings, allowing questions and answers to help drive the direction of the discussions and even the legislation that comes out of them. He also reflected on how social media has changed the landscape of American politics -- including his own use of Instagram.
McCarthy acknowledged to The Huffington Post that the country is much more divided than it has ever been, and noted that people are choosing to watch TV channels or read media outlets that reflect their philosophical beliefs -- driving the public apart and rewarding the extremes instead of rewarding the solutions.
"The place I would like technology to go is driving more towards solving a problem," he said, suggesting a process in which Congress might post a problem online and then reward solutions for it. It may be that Congress might benefit from tapping into the knowledge that the executive branch has gained from experimenting with public prizes and challenges.
In the video below, Matt Lira, McCarthy's senior adviser, talks about what the first hackathon accomplished, what's been done since then with respect to legislative data online, and what he hopes comes out of Friday's event.
Rep. Eric Swalwell (D-Calif.) was one of a half-dozen members of Congress mixing, mingling and listening to the discussion on Friday. One of the youngest members present, Swalwell expressed polite frustration that Congress is still behind on using technology to both inform and hear from the people it serves.
Swalwell plans to re-introduce a bill to create a more mobile Congress, making use of the smartphones that the majority of Americans now tote everywhere. If enacted, the bill would allow absent members to participate in hearings using video conferencing and to create a remote voting system. The bill was previously introduced in the 113th Congress, but never moved forward.
On that count, it may be wise to have low expectations for any breakthrough solutions or killer apps coming out of the Friday hackathon. After the kickoff, attendees broke into five groups to discuss legislative data and workflow, constituent case work and services, public engagement, modernizing congressional hearings and "moonshots" (big ideas like a "Siri for Congress" that would instantly tell a voter what was happening in Congress, connect them to hearings or allow them to explore a legislator's voting history).
At least one group started hacking right away, working on something that could be of genuine use to Congress and the public. A team from Quorum Analytics is working on a web app that would turn PDFs that congressional staffers upload into open data and plain text.
If the developers pull it off, the app would be a notable, worthwhile example of the public creating something for the public in the Capitol Building. It would be an evolutionary change -- not a revolutionary one -- but many days, that's what real change looks like.
Support HuffPost
The Stakes Have Never Been Higher
Related
Popular in the Community