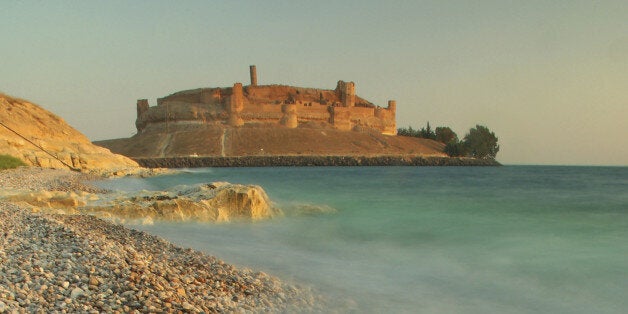 On the eve of Thanksgiving, the Congressional Anti-Terrorism and Proliferation Financing Task Force conducted a briefing on Islamic State in Iraq and Syria (ISIS) financing. Co-chaired by Congressmen Stephen F. Lynch (D-MA) and Peter King (R-NY), this bi-partisan task force sought to examine how looted antiquities from conflict zones - or "blood antiquities" - are being used to fund terrorist groups, including ISIS. In doing so, days before America celebrated its own cultural heritage with the "Pilgrim Fathers," the U.S. Congress effectively paid homage to our collective cultural heritage, and the international efforts to protect antiquities currently being looted from the "cradle of civilization."
According to the task force presenters - professors from Shawnee State University and Georgetown University (one of the authors) - ISIS is not only looting antiquities from ancient Mesopotamia to fund their terrorist activities, but it is also effectively licensing the plunder. According to reports, ISIS takes a 20% "tithe" or tax on the proceeds of what locals are now unearthing; an operation that may have industrial-scale proportions. What started as opportunistic theft by some has, in many ways, turned into an organized transnational business.
Fortunately, this pre-Thanksgiving briefing is just part of the increasing bipartisan congressional attention to issues related to cultural diplomacy, blood antiquities and terrorist financing. As highlighted in Foreign Policy, Congressman William Keating (D-MA) is taking-on the issue, and just weeks ago, Congressmen Eliot Engel (D-NY) and Chris Smith (R-NJ) introduced the Protect and Preserve International Cultural Property Act, which aims to "deny terrorists and criminals the ability to profit from instability by looting the world of its greatest treasures."
The new bill targets the trade of antiquities stolen from Iraq and Syria and notes that "protecting international cultural property is a vital part of United States cultural diplomacy, showing the respect of the United States for other cultures and the common heritage of humanity." It is important to highlight that ISIS is not just stealing and destroying antiquities in Iraq and Syria, but it is also attacking the "common heritage of humanity."
ISIS is grabbing headlines and filling its coffers by destroying religious sites important to Islam, Judaism and Christianity alike - such as the Tomb of Jonah (also known as the Mosque of the Prophet Younis) in present-day Iraq - and looting artifacts that pre-date such faith groups. Such destruction facilitates ISIS' goal to create a sterile and one-dimensional society that is intolerant to the rich cultural heritage we should celebrate.
By stripping society of its nuances and history, ISIS is attempting to erase elements of the region's cultural heritage, in favor of their myopic worldview. This is destructive to Syria and Iraq's past, and to their future. History has shown that the preservation of cultural heritage is an important aspect of national reconciliation and peace-building. Looking back at a rich past often fosters feelings of unity within a society, and strengthens a nation.
Highlighting the urgency of the issue, Secretary of State John Kerry co-hosted an event with UNESCO Director-General Irina Bokova at the Metropolitan Museum of Art in New York, where he declared that ISIS "is tearing at the fabric of whole civilizations." Referring to the destruction of Iraq and Syria's cultural heritage, he noted that extremists "want to rob future generations of any connection to this past." Kerry concluded that ISIS "is stealing lives, yes, but it's also stealing the soul of millions."
In many ways, Secretary Kerry's concern for the "soul of millions" is a continuation of an American tradition to help preserve historical sites and antiquities in conflict zones. Indeed, it was General Dwight D. Eisenhower, then supreme allied commander in Europe, who recognized the need to protect, preserve and repatriate cultural property in the wake of Second World War. It is because of American interest in far-away cultural heritage that the Monuments, Fine Arts, and Archives Section of the Allied militaries was established, thus recovering thousands of stolen artworks between 1943 and 1951, including works by Johannes Vermeer, Leonardo da Vinci, and Michelangelo.
The efforts of Monuments Men (featured in George Clooney's motion picture with the same title) to protect and preserve Europe's cultural history - now on display in the great museums of Europe - are a living legacy to America's concern for our collective cultural heritage.
This concern has continued, with U.S. support for the publication of the Emergency Red List of Syrian Cultural Objects (which seeks to prevent the transport and trade of Syria's invaluable cultural goods), and recent State Department funding to help monitor and preserve antiquities in the region. Meanwhile, the U.S. Departments of Justice, Homeland Security and State have provided critical support to other countries' in their efforts to recover looted antiquities, such as ancient statues from Cambodia and India, and dinosaurs from Mongolia, thereby contributing to our important bilateral relationships around the world.
These efforts matter for three main reasons. First, the U.S. can identify possible ways to limit terrorist financing to ISIS and their affiliates. Second, it can preserve our collective cultural history and heritage. Finally, it can help provide some basis for national reconciliation efforts in the future. Thus, our legislative branch is in an important position to enable additional goodwill beyond our "water's edge."
Sophocles once cautioned that, "whoever neglects the arts... has lost the past and is dead to the future." The question for the incoming Congress is whether it - and parliaments everywhere - will take a leadership position to help save the past, and enable the future in the "cradle of civilization," thus ensuring the legacy of our Monuments Men. About the authors: Dr. Helga Turku, who previously served with the International Organization for Migration and for USAID-funded justice sector programs, works at Schneider Wallace Cottrell Konecky Wotkyns LLP in San Francisco. Mark Vlasic, a senior fellow and adjunct professor of law at Georgetown University, served as a White House Fellow/special assistant to the U.S. secretary of defense and was the head of operations of the joint World Bank-U.N. Stolen Asset Recovery Initiative. A former prosecution attorney at the UN war crimes tribunal in The Hague, he now leads the international practice at Madison Law & Strategy Group and serves as counselor to the Antiquities Coalition.
Related
Popular in the Community