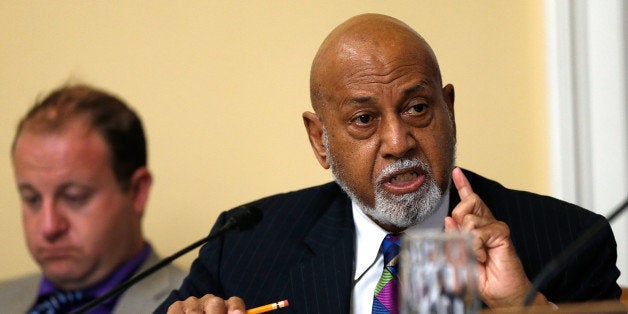 WASHINGTON -- Rep. Alcee Hastings (D-Fla.) on Monday spoke in favor of a pay raise for members of Congress before the House Rules Committee, arguing that the current system doesn't offer enough incentives for less-affluent citizens to enter public service.
"I will say it until I leave," he lamented, as reported by CQ Roll Call. "Members deserve to be paid, staff deserve to be paid and the cost of living here is causing serious problems for people who are not wealthy to be able to serve in this institution."
Members of Congress, with the exception of those who serve in leadership, earn $174,000 a year. They are not eligible for any additional subsidies for housing or living expenses. Congress is entitled to a cost-of-living pay raise that takes place automatically every year. In 2009, however, as many Americans were feeling the effects of the falling economy, Congress voted for a pay freeze. They have continued to vote for the freeze for the last six years.
As the most senior member of the House Rules Committee, Hastings was speaking to his colleagues as the 2016 appropriations bill, which includes a pay freeze, was under consideration.
Hastings took the time to share his personal struggle in dealing with the high cost of rent in the nation's capital, and the public misconception that all members live a comfortable existence in Washington.
"People think we live up here free, they think we all have chauffeurs, they think we eat free, that we don't have to buy groceries, and they perceive this place as the shining city on the Hill where everyone is doing well," he said.
House Minority Leader Steny Hoyer (D-Md.) echoed Hastings' sentiment on Tuesday, stating that the current salary "dictates the only people who can serve are the rich. I don't think that's what the Founding Fathers had in mind."
In 2014, retiring Rep. Jim Moran (D-Va.) spoke out in favor of raising pay for members. He worried that the current policy would attract people to Congress who are already wealthy or seek to use the position as a way to leverage themselves into a higher-paying job once they leave office.
Hastings sees a similar problem. "Now where we are headed, is to becoming an elite institution. And I predict 20 years out, that the only people that will be able to serve in this institution will be people who are wealthy," he said.
And his concern isn't restricted to member pay. The congressman said he has lost three top staffers for reasons he suspected were related to compensation, adding that "bringing on staff becomes difficult when we're competing in many respects with the private sector."
REAL LIFE. REAL NEWS. REAL VOICES.
Help us tell more of the stories that matter from voices that too often remain unheard.
BEFORE YOU GO
PHOTO GALLERY
Scenes From 114th Congress And Capitol Hill