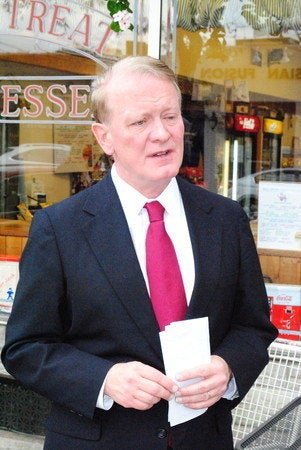 WASHINGTON -- A bipartisan congressional duo is calling for the American public to be given access to the same information that members of Congress have through the Congressional Research Service.
Reps. Leonard Lance (R-N.J.) and Mike Quigley (D-Ill.) announced Tuesday that they have introduced a House resolution that would allow the creation of an online database of CRS reports open to the public. The CRS, a legislative branch agency, provides research and analysis on policy issues to members of Congress, but not to ordinary citizens. Those officials who request CRS reports may choose to release them publicly at some point, and many reports can be obtained through lawmakers' offices and fee-based data services.
If H. Res. 727 passes, the agency would join the Government Accountability Office as a major source of online information about public matters. The resolution would direct the clerk of the House to provide members of the public with Internet access to nonconfidential CRS publications.
Lance and Quigley's resolution is the latest in a long line of CRS transparency calls over the years. According to a press release from Lance's office, their measure is backed by such groups as the Sunlight Foundation, iSolon.org and Free Government Information.
"We have a wide range of support from advocates for more congressional transparency," said Lance spokeswoman Angie Lundberg.
Sunlight Foundation policy counsel Daniel Schuman, who previously worked as a legislative attorney for the CRS, is one of those advocates. "We spend $100 million a year for CRS services. There is no reason why this information can't be made public," said Schuman, referring to the agency's annual budget.
"Legislation making congressional research services transparent has been introduced every Congress for the past 10 or 12 years," he pointed out. "The way things are now, some reports never make it out to the public; some reports can be months or years late."
The House resolution has already picked up several co-sponsors, including Reps. Tim Johnson (R-Ill.), Adam Schiff (D-Calif.), and Jim Cooper (D-Tenn.).
Quigley spokeswoman Laura Sisemore said Sen. Joe Lieberman (I-Conn.) "has introduced legislation in the past. We'll be reaching out to them to see what they're interested in doing."
Nonetheless, as a resolution granting the House clerk the authority to release the CRS information online, the measure would not need to be approved by the Senate.
"It can be done unicameral, and it has a long history of support," said Schuman. "CRS is already giving out dated reports to the public, but they need the most up-to-date information."
Popular in the Community