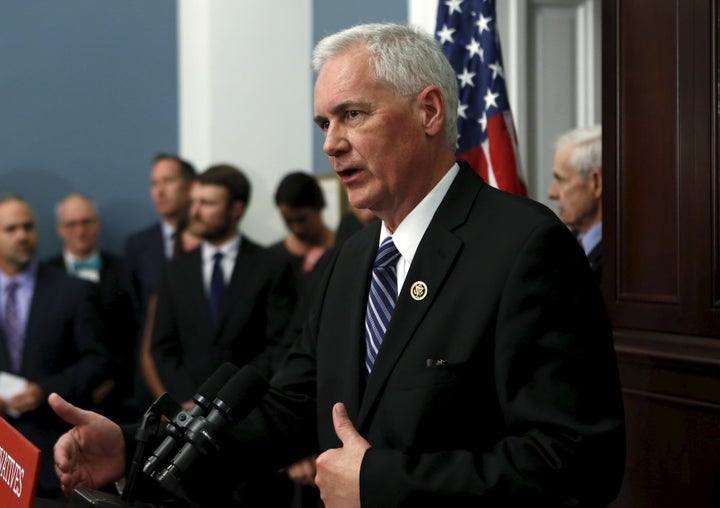 It sounds like another meaningless, wonky rule change from a Congress relegated to renaming post offices. But a conservative proposal to alter how the House considers mandatory spending and lapsed programs would have dramatic consequences for the social safety net, government shutdowns, and dozens of federal departments and programs.
At least, that was the argument on Thursday from House Democrats -- and a House Republican -- in attendance for a Rules subcommittee hearing on the offered changes.
The proposal is really two proposals: one from Rep. Morgan Griffith (R-Va.) to allow cuts to mandatory spending in appropriations bills, and another from Rep. Tom McClintock (R-Calif.) to freeze funding for programs with lapsed authorizations. The ideas would both have the practical effect of making it easier for Congress to slash spending through obstruction.
The chairman of the Rules subcommittee, Rep. Steve Stivers (R-Ohio), said he planned to hold three more hearings on the changes, but the sense among senior GOP aides is that the proposals are unlikely to happen.
"I don't think so," one aide said.
In the immediate-term, absent emergency authorizations or waivers, the changes would force agencies like the National Institutes of Health, the National Weather Service and NASA to shut down, Democratic Rep. David Price of North Carolina told the Rules panel on Thursday.
"A number of agencies and programs crucial to our national security would be forced to put up a closed sign," Price continued, "namely the U.S. Coast Guard, Immigration and Customs Enforcement, the Federal Prison System, the Secret Service, Customs and Border Protection, along with federal grants to state and local law enforcement agencies."
"We would also have to close a little-known and rarely discussed agency known as the U.S. State Department," Price added. (Congress hasn't reauthorized the State Department since the fiscal year of 2003.)
Conservatives argue that enacting their rule changes would just force committees to do honest reauthorizations. They say the changes could be phased in so that lawmakers could catch up on reauthorizing expired programs, and that the rules would simply force Congress to revisit programs and, in the words of McClintock, "ask the obvious questions: Is it effective? Is it meeting its goals? Is it still needed?"
But Price noted that those reauthorizations are "fraught with longstanding partisan divisions." And if committees were unable to reach an agreement, then the program would just shut down.
"It's a recipe for chaos and a threat to our national security," Price said.
Conservatives argue, in response, that the national debt is a national security threat. McClintock actually began his testimony Thursday by noting a favorite point among House conservatives: that former Admiral Mike Mullen said when he was chairman of the Joint Chiefs of Staff that the United States' greatest national security threat was the national debt.
Griffith said it was "impossible to get serious about cutting spending and setting priorities in Washington when our own rules prevent us from doing so."
But Democrats argued that Republicans already had the authority to cut mandatory spending; they just want to make it easier.
"You don't need to have all these magical fixes to mess around with the appropriations process if you want to get at mandatory spending," said Rules Committee member Rep. Jim McGovern (D-Mass.), adding that Republicans could go through the appropriate committees to get changes they want.
The ranking Democrat of the committee, Louise Slaughter of New York, called the change "a backdoor way" to cut Social Security, Medicare, veterans' benefits, food assistance, Head Start and community block grants. "Programs that Americans rely on but Republicans have been trying to slash for years," Slaughter said.
More than just a way to sneak spending cuts through, there's concern among Republicans that the proposed change could dramatically change the power dynamic in Congress.
Appropriations Committee member Rep. Tom Cole (R-Okla.) argued that the proposal would give too much authority to the committee, granting his colleagues broad jurisdiction over entitlements.
"Do you really want to trust me to do that job?" Cole asked.
"I guess if you give Frodo the ring, he'll put it on," Cole said, summoning a somewhat flawed understanding of The Lord Of The Rings. "But do you want to give him the ring?"
Cole also argued that deferring to the Appropriations Committee to fund or defund unauthorized agencies would make the panel members into the police officers of Congress. "Don't use the Appropriations Committee to discipline every other committee," Cole said.
Price also argued that the appropriations process would get "totally gummed up" as lawmakers get into fights over contentious entitlements.
Part of the reason mandatory spending is outside the normal congressional purview is to give certainty to those programs. But another reason is that lawmakers typically want to avoid those partisan fights. That's part of the reason conservatives want to make it easier to hit mandatory spending, and part of the reason the changes considered on Thursday are unlikely to go into effect.
Popular in the Community