The search for more love, peace and happiness in our lives is universal. But for so many of us, our days are tied up with a slate of responsibilities and busy-ness. Before we know it, another season has slipped by. What's needed is a workable structure in which to embark on our personal exploration into life's deeper meaning. Briana and Dr. Peter Borten, health practitioners and mindful living coaches, now provide that structure. In their new book, Rituals for Transformation: 108 Day Journey to Your Sacred Life, the Bortens offer a roadmap to a broader perspective and awareness.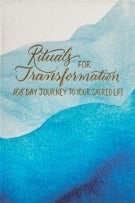 I had the pleasure of talking with the Bortens about the origins of their workbook and some of the themes readers will encounter along their way toward personal transformation.
What was your motivation for writing the book?
The honest answer is that we felt called to. We're not the source of anything we present here. We've come up with what we hope will be accurate words, useful metaphors and an effective presentation, but we're simply doing our best to pass on the perennial wisdom that has been imparted to us.
Instead of mastery, what we have is devotion. We are devoted to humanity, to healing, to evolving, to awakening, to service, and we're devoted to Love. We've been doing this for a while, we're committed, and it's had a tremendous impact on our lives. We've found that the more we open ourselves to the guidance of the universe, the more clearly we hear and see new ways to help others and ourselves. Central to what we've learned is that we are all deeply connected. Because of this, our commitment to ourselves is a commitment to you. We came to a point at which we saw that we couldn't go further in our own healing without helping the world to do the same.
Describe what you mean by "your sacred life."
We mean a life that feels connected to your highest self, a life where you have trust rather than fear in times of uncertainty, a life in which you feel at peace with your body regardless of its appearance or function, a life where you're able to focus on all the things you're grateful for rather than being consumed by the problems, a life where you experience yourself as one with the Source of everything, playing in this life while always remembering that you are loved and connected.
How do the daily rituals get us past our personal ruts?
They act as grounding points for your day, so regardless of what is going on -- a rut, a drama, overwhelm -- you have these stop points that bring you back to your center and you can act from that place rather than moving through you day in reaction mode.
Forgiveness is a common theme in the daily reflections. Why is this important?
Forgiveness is a matter of freedom. When we hold others or ourselves hostage in our not-forgiveness, we end up creating a life-long job for ourselves as warden of that prison. When we forgive, we set ourselves free. Forgiveness is essential to living a more happy and fulfilling life.
Calling all HuffPost superfans!
Sign up for membership to become a founding member and help shape HuffPost's next chapter
This post was published on the now-closed HuffPost Contributor platform. Contributors control their own work and posted freely to our site. If you need to flag this entry as abusive,
send us an email
.