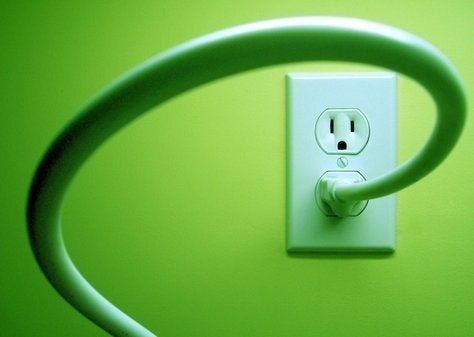 Turn on the oven from your couch. Turn up the heat from underneath your covers. Turn off house lights remotely. Monitor energy and water consumption in real-time. Remotely turn up the heat in the hot tub or pool well before you jump in. Convenient. Cost effective. Environmentally friendly. And within a few years, a consumer reality. This is the vision for the next phase of "the connected home," focusing on seamless connectivity and integration across all devices.
Until recently, the typical home might have had just one or two PCs connected to the Internet. Think of this as Connected Home 1.0. Today, that's evolved to include a rich multimedia experience and social networking across many more devices -- such as streaming movies on Hulu or Netflix, connected gaming consoles, in addition to smartphones, eReaders, tablets, TVs, cameras and other devices. This is your Connected Home 2.0. It is estimated that Internet entertainment traffic will increase from 40 percent in 2010 to 60 percent in 2015 alongside a continued increase in personal technology devices. These trends will spawn a consumer demand for much simpler sharing of all this content between your phone, tablet, TVs and other media devices. And concurrently, the Connected Home 2.0 will see a lot of innovation in the next couple of years.
However, as people become increasingly sophisticated with their technology use and device consumption increases, there is a driving need to advance to seamless connectivity across all devices, beyond just entertainment. Within the next three to five years, I envision literally hundreds of devices in the home will be connected: multimedia, thermostats, light switches, security systems, irrigation systems, white goods (such as refrigerators and washing machines) and automobiles. There will also be health applications including monitoring. All operated from your mobile phone or tablet. This will be your Connected Home 3.0, a key part of the so-called "Internet of Everything."
For me, this is personal. In 2007, I began working on software to integrate as many systems as possible and make my vision of the truly connected home a reality.
I now have precise control, using a browser interface to the open source software I developed, over the heating and cooling systems, lighting, energy consumption and photovoltaic (PV) generation, irrigation systems and water flow rates, window shades, media systems, pool, and security systems -- all accessed remotely through my smartphone.
Recently, while in Asia on a business trip, I connected to my house over the Internet and noticed that my kids had left some lights on. It was two o'clock in the morning their time, so I remotely turned the lights off. I've been able to manage and optimize our total home power consumption in real-time. When my family vacations in the winter, I am able to save energy (and, therefore cut costs) by turning the heating off completely. Twelve hours before we return home, I remotely turn the heat back on. This real-time monitoring and optimization has allowed me to decrease our family's net energy footprint by approximately 25 percent over 2 years.
What Should be Done to Make Connected Home 3.0 a Reality?
For the Connected Home 3.0 to work, we need to connect devices together, and make them speak the same language (or a common set of languages). 3G/4G cellular, Wi-Fi, Ethernet, HomePlug powerline and Multimedia over Coax (MoCA) are examples of networking technologies that allow devices to speak to each other using IP -- the universal language of the Internet. Efforts are well underway to allow multiple flavors of these technologies to seamlessly work together. But IP alone isn't enough; it's a bit like agreeing to use English to communicate, without clearly defining what words mean so you can have a conversation. That's where standards like Smart Energy Profile 2.0 (SEP2.0) and Digital Living Network Alliance (DLNA), and industry associations like the Wi-Fi Alliance and the HomePlug Alliance come in. The goal is to define the precise way IP is used to allow devices to recognize and talk to each other. However, while Wi-Fi, Ethernet and HomePlug are becoming pervasive around the home, and cellular is already pervasive around the world, the industry has yet to converge on a universal "language" for new device types to talk over IP.
The parallel step is for technology companies to develop novel applications, services and business models that make this growing fabric of connected devices useful to consumers. An example is an application called Skifta, which allows consumers to shift media content within the home and beyond. Skifta transforms any Android device into a global media remote control, helping consumers access and enjoy their music, videos and photos at home over Wi-Fi and while on the move with 3G/4G.
The final step is to leverage the pervasive cellular and Wi-Fi networks to make it easy for consumers to manage their connected devices easily from remote locations as well as from within the home. Wi-Fi and 3G/4G technologies not only enable easy remote access to home networks for the smartphones and tablets you use every day, but also to provide low-power connectivity to devices like the home's thermostats, utility meters and appliances.
Why Consumers Should Be Excited
Beyond the lifestyle and convenience benefits for consumers, the connected home can save consumers money and help the environment. Take home energy use, for example. Being able to see how much energy is used in real time will enable consumers to be smarter about their energy footprints, whether the goal is to save money, or the planet. If even one home can find ways to monitor and reduce its energy consumption, that reduces the strain placed on utility companies, especially during peak usage times like a hot summer afternoon when air conditioners are running on high. If you know how much energy you're using, you can start to more effectively manage it.
If we can be connected to each other remotely through our mobile devices, the natural extension is being connected to our homes in a similar way. We've seen progress in making "the connected home" a reality for consumers, and now it's just a matter of time before we can take it to the next level and bring the same experience we have on our phone, to managing our homes.
Craig Barratt is the President of Qualcomm Atheros, the networking and connectivity subsidiary of Qualcomm. Dr. Barratt holds a Ph.D. and Master of Science degrees from Stanford University, as well as a Bachelor of Electrical Engineering degree and Bachelor of Science degrees in pure mathematics and physics from Sydney University in Australia. Dr. Barratt has also earned 28 patents in a variety of wireless and related technologies.
Related
Popular in the Community