On June 6th President Obama announced a new national initiative, ConnectEd, to push for more internet speed and learning technologies in schools.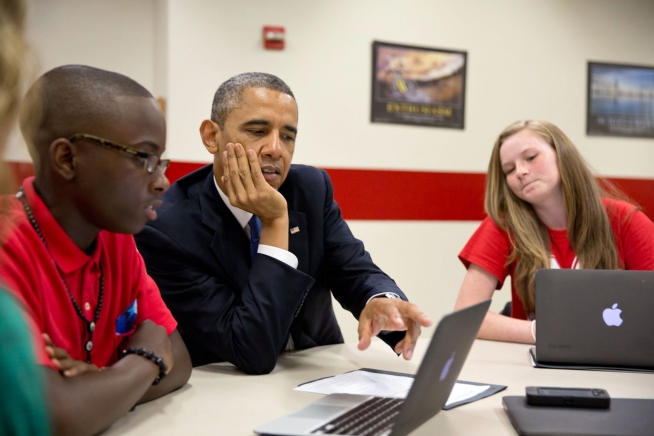 Image credit: The White House
The President's goals for ConnectEd (great name) include:
Connect 99 percent of students in America to high-speed broadband in public schools and libraries.
Invest in educator professional development to help teachers keep pace with changing technology and new methods of teaching and learning.
Implement tools to help teachers hold interactive online lessons, collaborate with educators and experts online across the world.
Undertake real-time assessments of student progress.
Support innovation in digital devices and digital content in the private sector .
The reasons for this? Obama says:
Every day, we've got to ask ourselves three questions as a nation. Number one, how do we make America a magnet for good jobs? Number two, how do we make sure our workers, our people, have the skills and education they need to do those jobs? And then, number three, how do we make sure that those jobs pay well so that hard work leads to a decent living? ....I'm here today is because you are helping to answer that second question: How do we make sure Americans have the chance to earn the best skills and education possible? Because at a moment, when the rest of the world is trying to out-educate us, we've got to make sure that our young people -- all you guys -- have every tool that you need to go as far as your talents and your dreams and your ambitions and your hard work will take you.
The President's education innovation goals are admirable. However, for those of us who have already been accomplishing much of these goals and programs in the past 2-3 decades, in multiple locations throughout the nation, some questions emerge:
If we delay making this high-speed internet available to all the nation's students -- rural, urban, suburban, boys and girls and minorities alike -- our next generation of citizens and professional workers will not be capable of professional security, innovation, entrepreneurship, digital citizenship or self-expression; plus, the future of the United States as a leader in the global knowledge economy will be compromised.
Cleverly, after Obama's speech, EdSurge's CEO, Betsy Corcoran, demonstrated in her National-Show-&-Tell on Google+ Hangout that nationwide, students and teachers know well that high-speed internet is absolutely essential for ALL STUDENTS to achieve engaging and impactful 21st-century learning, via innovative, hands-on, K-12 STEM projects.
Obama chose to make his remarks among students and teachers at the Mooresville Middle School, in Mooresville, North Carolina. By doing so, he also highlighted a powerful "live working example," Dr. Mark Edwards, a talented and celebrated Superintendent, who took risks and made smart decisions on shifting his shoe-string budgets for leading an ed-tech revolution in his school system. Dr. Edwards is therefore able to provide modern opportunities to his students and educators in the second decade of the 21st century.
I believe that like Dr. Edwards and other education leaders like him, Obama genuinely cares about America's next generation. We know that he has been working hard on shifting and better-allocating national budgets for equalizing STEM & Computing education opportunities for all students. The good news, as he said last week, is that "None of this requires an act of Congress. We can and we will get started right away." So, my question to you Mr. President, is why will it take so long?