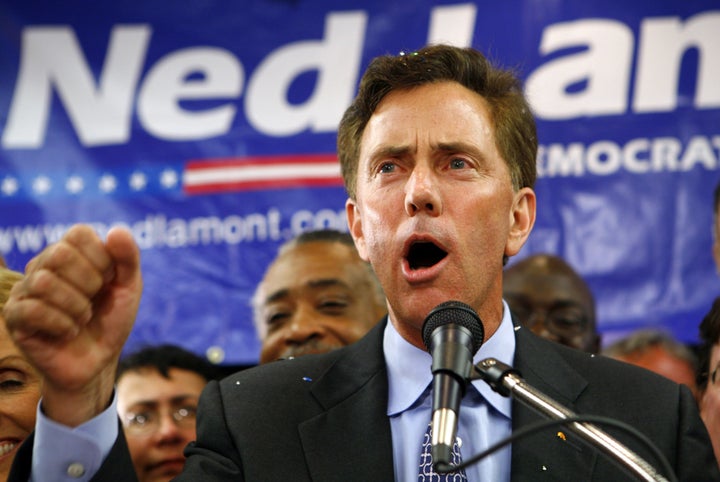 Wealthy businessman Ned Lamont won the Democratic nomination for governor of Connecticut on Tuesday, setting up a gubernatorial race expected to be one of the nation's most hotly contested this year.
The Nutmeg State is generally viewed as Democratic territory. Hillary Clinton carried it by nearly 15 percentage points in the 2016 presidential election, its congressional delegation consists entirely of Democrats and the party maintains control of the state legislature's two chambers.
But two-term Gov. Dannel Malloy (D), who is not running for re-election, ranks as the least popular governor in the nation ― even less popular than President Donald Trump, according to polls conducted this year. The unwelcome distinction gives Republicans some reason to be optimistic about their chances of retaking a governor's seat in a particularly challenging election year, one that has been marked by growing talk of a blue wave in November.
Republicans are also looking to capitalize on the state's lagging economic growth. Danbury Mayor Mark Boughton, one of the GOP gubernatorial contenders, proposed phasing out the state income tax over the next decade in an effort to stimulate business and investment. 
"We have a comprehensive vision for revitalizing our state after eight long years of one-party Democrat rule in Hartford," Boughton, who won the state GOP endorsement, said last month.
Democratic candidates in the race also acknowledged that the economy isn't working as it should, especially compared with other states'. But they argue that it needs to work for everyone ― not just the wealthy ― and are touting proposals to raise the minimum wage to $15, enact paid family leave and protect access to health care.
"It's puzzling as to how and why and where we lost our way, but we lost our way," Lamont, who won the state's Democratic Party endorsement, told The New York Times last week.
Lamont rose to national prominence when he defeated then-Sen. Joe Lieberman (D-Conn.) in a 2006 Democratic primary, a snub that was largely attributed to Lieberman's support for the Iraq War, though Lieberman went on to win re-election in the general election as an independent candidate. He went on to run for governor in 2010 as a moderate but lost badly to Malloy. 
Bridgeport Mayor Joe Ganim, an ex-convict and Lamont's main rival in the race for the gubernatorial nomination, accused him over the weekend of "secretly and possibly illegally" coordinating with groups dedicated to electing Democrats to the House. Lamont's campaign denied the allegation, calling it "baseless." Ganim also attacked Lamont over his wealth, mocking an ad his campaign ran in the race in which he drove a car that he didn't own.
Across the country, 33 governors are Republicans, and only 16 are Democrats (with one independent) ― a lopsided tally that could have huge ramifications in the years to come. Winning more governor's mansions in 2018 would give Democrats crucial leverage in the decennial redistricting battles that will take place after the 2020 census, for example.
Democrats are also making an effort to tie GOP candidates in the 36 governor's races this year directly to Trump, arguing that state executives need to act as a check on his regulatory, environmental, health care and immigration policies.
"Connecticut Republican candidates have spent the entire primary pledging their undying loyalty to Donald Trump," said Washington Gov. Jay Inslee, chairman of the Democratic Governors Association. "Ned Lamont is the only candidate in this race who will stand up to Donald Trump when his policies hurt Connecticut and govern with strong principles that will create a bright future for Connecticut. This November, voters will have a clear choice between Connecticut values and Trump values."
REAL LIFE. REAL NEWS. REAL VOICES.
Help us tell more of the stories that matter from voices that too often remain unheard.