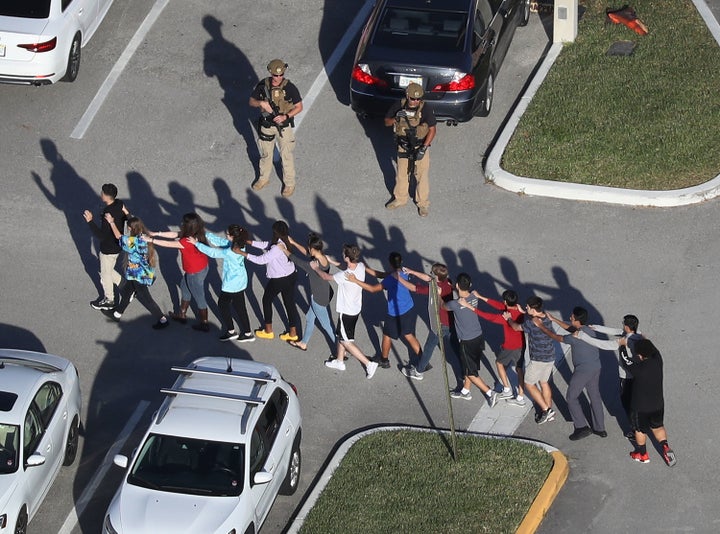 At home in Ridgefield, Connecticut, the news that a gunman had killed 17 people — mostly teenagers ― at a Parkland, Florida, high school didn't come as a shock to 15-year-old Lane Murdock. 
"When I found out, I was horrified, but kind of in the way of 'Oh, another one?'" she told HuffPost.
That feeling didn't sit right with her. Murdock hadn't been very politically active, but her own reaction to the images coming out of Florida compelled her to dive headfirst into one of America's most divisive issues: gun violence.
"It's ingrained in American culture and that's not OK ― the fact that I didn't feel an overwhelming amount of emotion because it's so normal," she said. "I had such a numb reaction, I knew it was time for change. I know that the whole nation is numb to things like this, and that's why change isn't happening."
So Murdock set out to organize a massive student walkout.
More than a thousand miles away, Marjory Stoneman Douglas High students were diving in, too. Suddenly confronted with news cameras, the teens spoke about the horror that had engulfed their school, appearing on national television visibly angry and sometimes in tears. They crafted a social media campaign, Never Again, and proposed a march on Washington, D.C., called the March for Our Lives. It's scheduled for Saturday, March 24.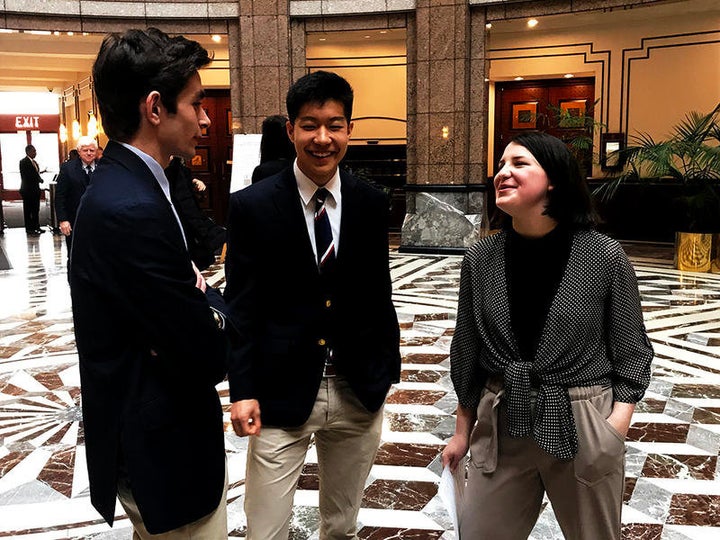 Murdock doesn't know any of the Parkland students. But in the hours after the shooting, she created a petition, "National High School Walk-Out for Anti Gun Violence," on the activist platform Change.org. Murdock's petition calls on the U.S. Senate and President Donald Trump to enact legislation aimed at preventing gun violence. She also proposes a day of protest on Friday, April 20, the 19th anniversary of the shooting at Columbine High School in Colorado that shocked the nation but sparked little action on gun reform.  
The idea is that students across the country will leave their classes at 10 a.m. local time, followed by 17 minutes of silence — one minute for each victim of the Parkland shooting. Then, students will share their views on guns with peers and adults in an open-mic session. Individual schools are encouraged to add to the day's schedule as they wish.
As of Saturday, the petition had around 242,000 signatures with a goal of 300,000. An accompanying website offers more details on the planned walkouts and graphics for DIY T-shirts. 
Murdock's event is scheduled for nearly a month after the March for Our Lives, which is expected to feature several high-profile speakers. With help from gun reform groups Everytown for Gun Safety and Giffords Courage, the latter event consists of at least 375 planned "sibling" marches. Murdock's protest will also come around five weeks after #ENOUGH: A National School Walkout, which is set for Wednesday, March 14, by the organizers behind the Women's March. Similar to Murdock's event, #ENOUGH is scheduled to begin at 10 a.m. and last for 17 minutes to protest legislative inaction on gun policy.
Galvanized by the Stoneman Douglas students ― some of whom are now familiar faces on television and social media ― kids across the country are stepping up and speaking out for gun law reform.
Yet with so many events vying for their support, can they keep up the momentum? 
"That's the question of the year for me," Murdock said, adding that organizing is especially difficult now that "our attention spans have never been shorter."
Still, she sees the preceding events as "a nice ramping-up" to her National High School Walkout that "will keep the movement in people's minds because they're nicely spread apart."
Organizing a nationwide protest when you're attending high school five days a week is no simple thing. When she's not in class or doing homework, Murdock, a sophomore, is checking her email, posting to Twitter and speaking with reporters. A few days after launching her petition, she enlisted the help of two seniors at her school, Paul Kim, 17, and Max Cumming, 18. Together, they've partnered with Indivisible, a nonprofit resistance organization, to come up with a guide for student activists on what to do on the day of the walkout. 
Although Murdock refers to the National High School Walkout as "mine" as much as she calls it "ours," she wants to be clear that she's not pushing specific policy changes. 
"I think it's important that this movement isn't just about me or my ideologies. I mean, I have them, and I have them very strongly," she said. (She doesn't buy the National Rifle Association's argument that the problem is not guns, it's mental health, and she's skeptical of Trump's plan to incentivize armed teachers.) "But it's also about giving a platform for kids of all sorts of backgrounds."
Speaking for herself, Murdock said she's "not one of those kids who's been in New England and has never seen a gun before." Her mother's family hails from Texas, where Murdock was born. Several of her relatives own guns.
"I've definitely known people who are proud of their gun ownership and who see it as a part of their right as an American and American culture," Murdock said.
She believes she understands the point of view of gun rights activists. Seeing so much gun violence concentrated in the U.S. has simply led her to disagree. Living just 30 minutes from Newtown, Connecticut ― the site of the 2012 Sandy Hook Elementary School massacre that took the lives of 26 small children and adults ― has also had an impact. Gun violence is something people talk about in her community, and Murdock encourages other kids her age to start a dialogue with friends and family on the issue. 
Teens can also contact their representatives at all levels of government, she noted. Their voices matter, even if they're a few years away from hitting the voting booths.
"It's important for people to know that my movement ― as well as being about gun control and solidarity with the Parkland kids ― it's also about youth empowerment," she said.
Murdock said she would like to meet the Parkland students whose tragedy inspired her to take action. As she explained it, she wanted to give them space to attend funerals and mourn before making an effort to get in touch. She plans to travel to Washington for the March for Our Lives, where many of those students are also expected to appear.
In the meantime, she's keeping busy.
REAL LIFE. REAL NEWS. REAL VOICES.
Help us tell more of the stories that matter from voices that too often remain unheard.