(Adds statements from President Barack Obama, paragraphs 8-9)
MILFORD, Conn., March 26 (Reuters) - Connecticut's legislature on Wednesday approved a bill that would raise the minimum wage to $10.10 an hour, the highest statewide rate in the nation, following a call to action last month by Governor Dannel Malloy.
The bill passed by a vote of 23-13 in the Senate and 87-54 in the House, mostly along party lines with Democrats approving the move and Republicans opposing it.
Malloy, a Democrat, said he plans on signing the bill at a ceremony in New Britain on Thursday.
"I am proud that Connecticut is once again a leader on an issue of national importance," Malloy said in a written statement following the bill's legislative approval.
"This modest increase will give working families a boost, and it will contribute to our economy by getting just a little more money into the pockets of people who spend it," he said
Malloy's push comes at a time when Democratic politicians across the United States are raising concerns about the growing gap between the poorest and richest Americans.
On a visit to Connecticut earlier this month, President Barack Obama urged Congress to raise the federal minimum to the same $10.10 level, which has not gotten backing in the Republican-controlled U.S. House of Representatives.
Obama echoed his call to action in a statement on Wednesday that hailed the bill's passage as "an important step" in raising wages for state workers and praised lawmakers in New England and beyond for backing higher wages.
"I hope Members of Congress, governors, state legislators and business leaders across our country will follow Connecticut's lead to help ensure that no American who works full time has to raise a family in poverty, and that every American who works hard has the chance to get ahead," Obama said.
State Senator Gary Holder-Winfield, chairman of the legislature's Labor Committee, said: "We are proud to lead the nation in moving the minimum wage to $10.10 an hour."

"One of the nice things about raising the minimum wage is that we are finally paying attention to the Main Street end of our economy, not just the Wall Street side," said state Representative Peter Tercyak, the lower house's Labor-Committee co-chair. "Minimum wage workers spend every penny they earn, and most of it locally."
Connecticut's minimum wage currently stands at $8.70 per hour, and the bill would phase in the hike to $10.10 over three years. The current highest state minimum wage in the United States is Washington's $9.32, above the $7.25 federal minimum.
Patrick O'Neil, a spokesman for the state's House Republican Caucus, has called the proposal "pure politics in an election year." Malloy is up for re-election in November.
The Washington, D.C., city council late last year passed a measure raising its minimum wage to $11.50 per hour in 2016. Workers in Sonoma, California, have the highest entry pay rate, at $15.38 per hour.
Out of Connecticut's work force of 1.7 million people, economists estimate there are currently 70,000 to 90,000 workers who earn the minimum wage. Malloy's proposal means that an employee working 40 hours per week would earn $21,008 per year. Currently, the federal poverty guideline for a family of four is $23,850.
Neighboring New York and Rhode Island, as well as nearby New Jersey, also increased the minimum wage this year.
Advocates of raising the minimum wage argue that it stimulates the economy since low-income people spend a higher percentage of their income, while opponents contend that it could slow hiring at a time that the U.S. economy is still facing high unemployment. (Editing by Scott Malone, Gunna Dickson, Bernard Orr and Eric Walsh)

Before You Go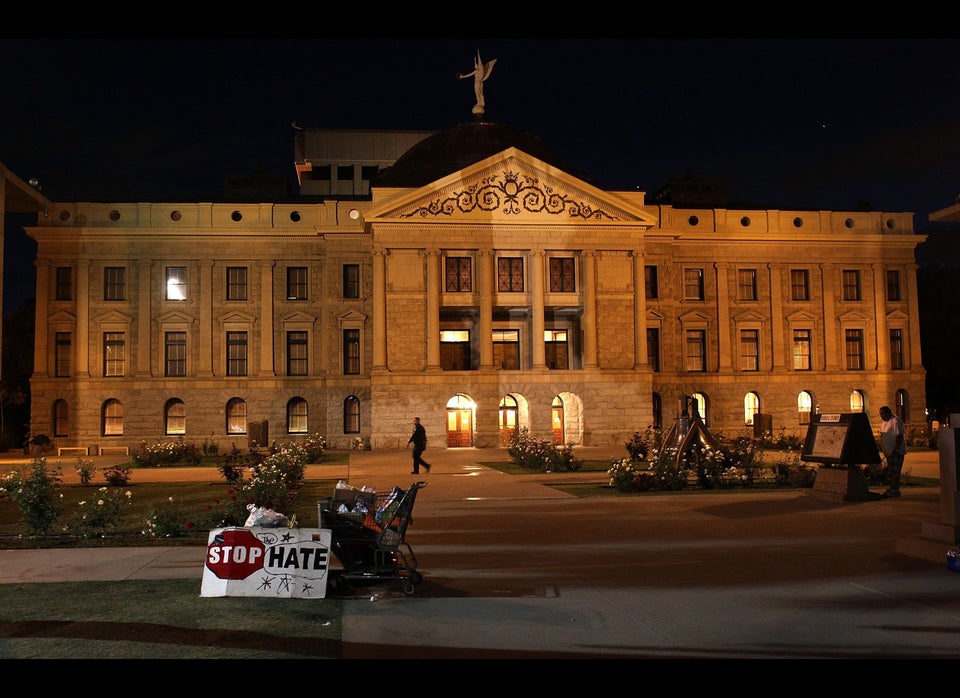 U.S. State Capitol Buildings
Popular in the Community