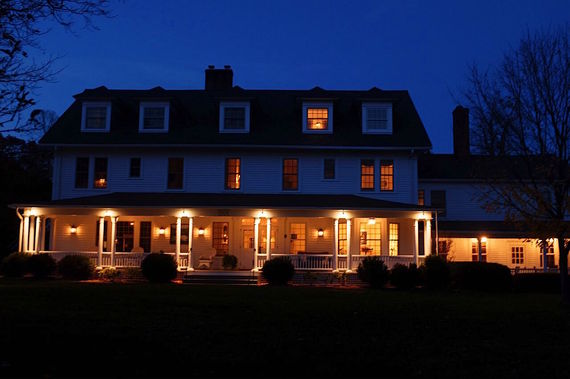 There seems little reason to encourage readers to visit well-known, upscale New England inns in early autumn because the leaf-peepers have already booked all the rooms. But right about now, with the foliage falling, the idea of a trip to a cozy Connecticut inn with excellent food seems a capital idea, with an eye towards the December holidays.
The White Hart Inn in Salisbury, CT, is open year-round, just two hours from NYC and about three from Boston and Providence. The structure dates back to the mid-19th century and was recently restored to a facsimile of its original décor, but with all modern amenities and a very fine restaurant. Its location allows visitors to shop antiques and bookstores, ski at Mohawk Mountain less than 30 minutes away, go ice and fly fishing, or hiking and biking the Appalachian Trail. There is also racecar driving at Lime Rock in Salisbury. And this fall the Inn itself is holding a series of talks by well-known authors.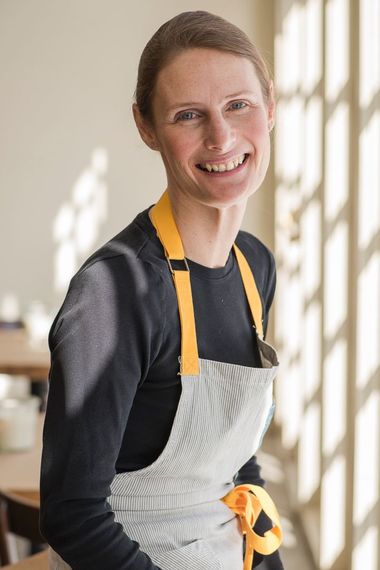 The small town of Salisbury grew around the Inn with little to suggest its colonial character, but the White Hart endured as a weekend getaway until a sudden closure in 2010, even as it was undergoing a renovation. Fortunately the new owners, Conley and Meredith Rollins, Malcolm Gladwell, and British chef Annie Wayte, have joined a line of caretakers that have included Edsel Ford and tea producer John Harney, and the renovations allowed the Inn to open just about a year ago.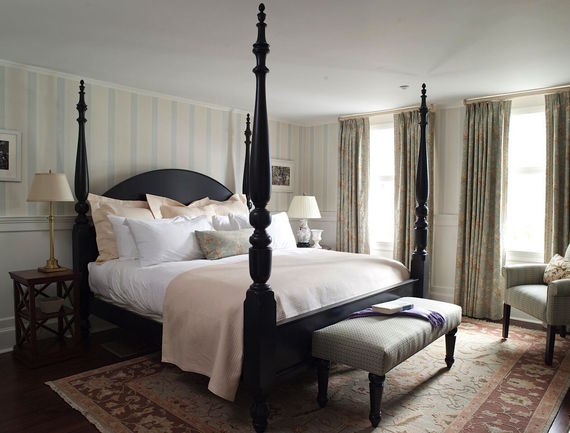 So the White Hart now has 16 beautifully furnished rooms, some adjacent to the main three-story whose porch overlooks the village green. Inside, amidst polished wood and painted wainscoting, an array of unexpected modern art by artists Jasper Johns, Frank Stella, Terry Winters and Tom Levine on the walls.
The casual dining option here is the Tap Room, a pub serving "British comfort fare (daily for lunch and dinner) that includes duck shepherd's pie, Scotch egg, tuna burger, and chili. There is also a breakfast room that, while sunny, could certainly use some color and décor, for it now has none at all.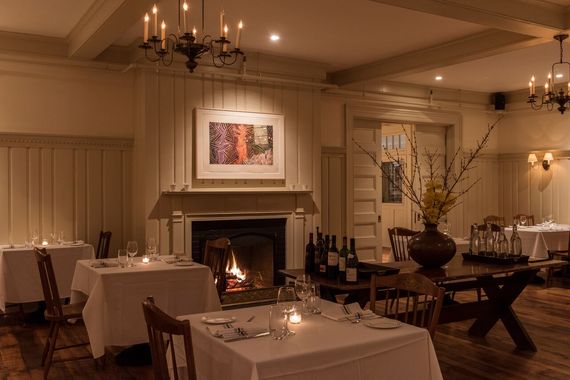 On the other side of the building is the restaurant, itself quite casual but with a more serious menu that shows off Annie Wayte's considerable finesse with both traditional and modern cookery. Paul Pearson is Executive Chef.
The 20-seat dining room mimics the colonial décor elsewhere, with a roaring fireplace and a long, centrally situated wooden table topped with seasonal bounty. They have sadly ditched white tablecloths in the photo for wrinkled, abbreviated gingham.
Right off the mark, Wayte's leek and goat's cheese raviolo with corn, chanterelles and brown butter ($14) seemed the epitome of autumn, well textured and luxuriant in its simple saucing. I hardly expected pastrami to be on the menu here ($14) but it was really very good, served with beets, cucumber-mustard crème fraîche and slices of pumpernickel.
Our main courses were a perfectly rosy breast of duck with a nice layer of fat and crisp skin ($34) enhanced with a rich foie gras custard, kale, and piquant raspberries. The big option here is the hearty confit of pork belly ($29) with cured cabbage, mustard-glaze kohlrabi and sweet blueberries--as really masterful marriage of disparate flavors, accents, textures, and heat.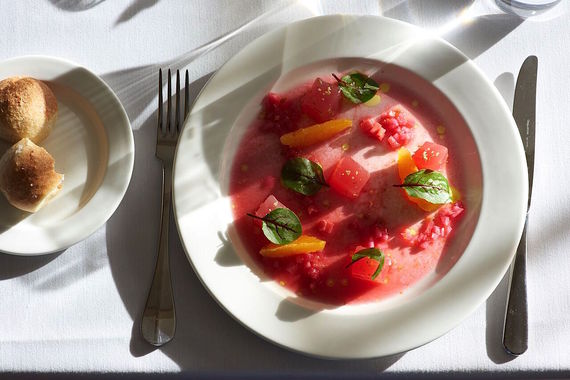 My wife and I could not refuse a cheese course ($16) from New England artisans, then ended our splendid meal with a warm plum clafoutis and hazelnut ice cream, served for two ($12), and an old favorite rarely seen much anymore--peach ice cream with a raspberry compote and Graham cracker ($8), all by pastry chef Gaby Rios, whose puffy Parker House rolls have been a big hit at the Inn.

It would be hard to come by a better meal on a cool November evening, each element based on what is seasonably and locally available. You go off to bed, perhaps after a glass of Port or Cognac, with a sure feeling of well-being. At the moment, however, you may only dine at the restaurant on Fridays and Saturdays.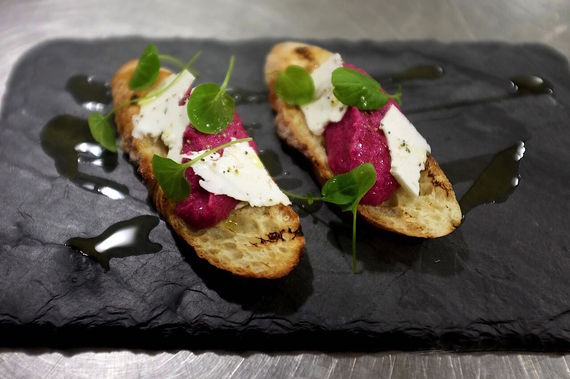 The guest rooms (starting at $225) are all lovely and all different, done by NYC designer Matthew Patrick Smyth, known largely for his residential work. The number of rooms has been reduced to provide far more space, ranging from standard rooms to suites with two and a half baths and a small living room area; the largest "John Harney" suite is composed of two private king bedrooms, a kitchenette and a living room area with a pull-out couch. All the linens are by Frette, which gives the White Hart a luxury few New England inns even attempt to match.
Cozy hardly does justice to the White Hart Inn. It is that, albeit in a very elegant way, but it's also representative of how likeminded people of finely tuned taste and respect for history can turn something quaint into something truly remarkable.
15 Undermountain Rd. Salisbury, CT 06068
860-435-0300
www.whitehartinn.com
Related