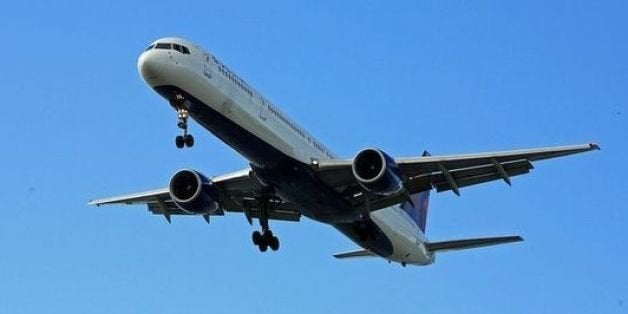 When in-flight Wi-Fi debuted in the U.S. in 2008, travelers lauded its convenience and cool factor, content to send work messages and catch up on the latest news while flying. But these days, travelers who were once giddy about the possibility of connecting at 35,000 feet are increasingly frustrated by steep fees and slow connections. But are consumers just being impatient? After all, maintaining an Internet connection on an object that's traveling at 500 miles per hour over the ground is no easy feat. To understand how in-flight Internet works, why improvements have been slow and what the future of in-flight connectivity looks like, U.S. News talked with Michael Small, president and CEO of Gogo, the in-flight Internet provider offered on more than on 1,000 flights daily. He shared the company's plans for the future, plus how in-flight Internet aids more than just the connected traveler.
How it works
To understand why the cost of in-flight Wi-Fi has steadily increased since its inception while connectivity speeds have gone down, it's important to understand how this technology works. In Gogo's case, its bandwidth is supplied from ground-based towers that communicate with directional antennas mounted on the bottom of the aircraft, meaning connection speeds are based on how fast the signal can reach the plane from its source below. This air-to-ground technology is the culprit for your slow connection since it delivers as little as 9.8 megabits per second (Mbps) for the entire plane, not per person. This bandwidth makes it possible to send emails and browse the Web, but it won't allow you to stream video. In fact, Gogo blocks most videos right now. Essentially, if one passenger streamed video, it would eat up all the plane's bandwidth capacity, making it impossible for everyone else to use the Internet.
While Gogo and other in-flight Internet providers have improved service and speeds with high frequency satellites, they've had trouble keeping up with the number of passengers accessing the service. Think about it: When the technology was introduced, smartphones, tablets, e-readers and laptops weren't as prevalent on planes. As the number of devices has increased over the years and congested the bandwidth, the connection speeds have remained relatively stagnant. In fact, this congestion is one reason why some travelers are actively rooting for higher prices to make room for faster connection speeds. According to Small, about 7 percent of travelers on any given flight connect through Gogo. That's not a staggering figure, but Small also pointed out that this number can fluctuate, with as much as 50 percent of the plane tapping into the service on long transcontinental flights (on the flip side, red-eye flights can see zero connectivity).
What the future has in store
In-flight Wi-Fi is about to get a lot faster. In April 2014, Gogo announced its new 2Ku technology, which uses two Ku-band satellite antennas to offer peak speeds of more than 70 Mbps. What does this mean for you? For one, you'll get more bandwidth for a lower cost and with less bottlenecking. As Small put it, "If you think of it like a road, the speed may stay the same, 70 Mbps, but the road will get wider." Higher speeds generally benefit business travelers the most, as they appreciate the ability to stay connected and complete work in-flight. Still, leisure travelers reap benefits, too, since this new technology opens up the possibility for streaming video (for a price). But don't expect to see 2Ku any time soon: According to Small, 2Ku will be in production in 2016, meaning you may not see it on a flight until 2017. It may feel like the release of this new technology is moving at a glacial pace but as Small put it, Gogo is working with decades-old aviation technology, and implementing these satellites and antennae takes time. But consumers aren't the only ones itching to use this new technology -- airlines need it, too.
Why airlines need the technology more than you
From a consumer standpoint, faster and improved in-flight Wi-Fi is a welcome amenity that makes travel that much easier, but it's a boon for airlines, too. According to Small, Gogo's 2Ku technology will usher in a wave of new apps that will not only allow passengers to text from the sky but also let flight crews better connect with one another in the air. Aside from improved communication, this increased bandwidth capacity would also supply additional real-time diagnostics and predicative maintenance to airlines, meaning mechanical problems for the enitre plane could be detected immediately. Plus, with a more connected aircraft, crash investigators can rely less on the black box -- the primary tool used to understand the cause of aviation accidents. For example, with improved bandwidth efficiency, Malaysia Airlines might have been able to locate Flight 370 and understand the cause of its disappearance, even without the physical black box.
Until this new technology is integrated, you'll have to keep surfing at slower speeds (or consider unplugging altogether).