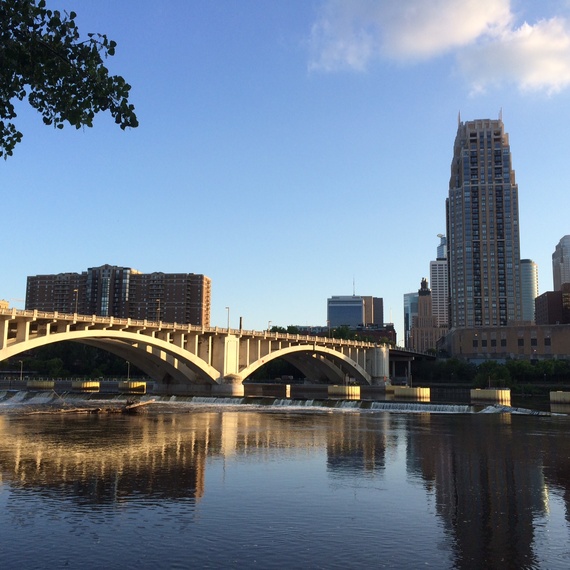 Citizen diplomats, municipal leaders and business innovators from around the world just finished a monumental convening of Sister Cities International's 59th annual conference. This gathering which was attended by delegations from around the globe took place in Minneapolis, a city famous for its sprawling lakes, hospitality, and most befittingly for the occasion, one of the most diverse and robust Diaspora populations in the U.S. As the hub of the mighty Mississippi river settled initially by European immigrants that found a vibrant native peoples and now home to more African immigrants than any other place other than their native homelands such as Djibouti and Somalia, Minneapolis personifies the globalization of America. Strolling through the massive Mall of America, I was impressed not just by the diversity of the shoppers but the products being manufactured and sold in this commercial Mecca.
Kicking off the annual celebration was fittingly the newest Sister Cities signing ceremony between St. Paul, MN and Djibouti, Djibouti. This emotional occasion which came to be because of young passionate leaders from the local Djibouti Diaspora, was the perfect start to the week as it tangibly manifested the power of citizen diplomacy in the 21st century. Along with listening to dignitaries from Minneapolis' Sister Cities in Chile, China, and Kenya, it was hard not to be re-captivated by President Eisenhower's vision for this organization dedicated to fostering world peace by building global relationships one city at a time starting here in America's heartland. Each attendee, awardee, and speaker helped highlight the importance of the grassroots relationships that are leading by example across this amazing global network of partnerships.
As I watched the Youth Summit participants wrap-up their sessions what was most striking to hear from the numerous young Chinese delegates who were visiting America for the first time, were their impressions and stories. These young leaders made me realize how a small investment at this critical development stage can yield a much bigger return as they turn from youth delegates to the future leaders of the world. Given that current Chinese President Xi Jinping began his first U.S. experience with a Sister City exchange, it's not a farfetched notion that one of these attendees could easily be like him in the future.
Cultural, educational and humanitarian exchanges continue to be Sister Cities International's hallmarks, but a new area is increasingly capturing the imagination of our business and elected officials, that of commercial diplomacy. Measuring the economic impact of Sister Cities' relationships and encouraging investment in both directions between these connected communities is a natural outgrowth of our mission and a critical component for our future. As academic research has shown and history has born out, countries that trade together and innovate together build lasting peace together. In a world in which new trade agreements are opening new worlds of possibilities, communities that can draw upon their international connections and diasporas are best placed to compete. As a result, Sister Cities are going from being "nice" to have as represented by the various signs placed when entering communities across the globe, to being truly necessary.
My personal favorite experience in Minneapolis did not happen at the conference, but rather in the ticket line to the Nickelodeon theme park within the Mall of America. I watched as a Somali father bought a ticket for his oldest daughter to ride while her other three sisters watched sadly with their fully covered mother. Having been granted several free unlimited ride tickets by the Mall of America, a conference sponsor, I knew that these tickets I would not have time to use could go to much better use. I approached the father and offered him my tickets so that his other daughters could ride with his oldest who turned out to be celebrating her birthday that day. In broken English he wanted to know why I was doing it. Knowing that it was the Muslim holy day of Eid which marks the end of Ramadan, I said it was a time of celebration and the joy I knew his daughters would get would be greater than anything I could get and I had no other motivation. The youngest shrieked with joy and gave me a big hug which was far more valuable than anything I had been able to give. As she joined her sister on the ride I couldn't help but think about what this little girl would grow up to be and the bridge that she represented for the future between Minnesota and Somali that is already over 80,000 strong.
Leaving Minneapolis, Sister Cities International is heading back to Washington for its 60th year celebration where it all began. However, as we look to our past with pride, we are even more energized about our future. As the world has changed so too has America's leadership role, where citizen diplomacy has never been more successful or necessary.
Joshua W. Walker, PhD is a National Board Executive Committee Member of Sister Cities International, former Senior Advisor at the US Department of State, and proud citizen diplomat.
REAL LIFE. REAL NEWS. REAL VOICES.
Help us tell more of the stories that matter from voices that too often remain unheard.