By: Max Wohlgemuth Kitslaar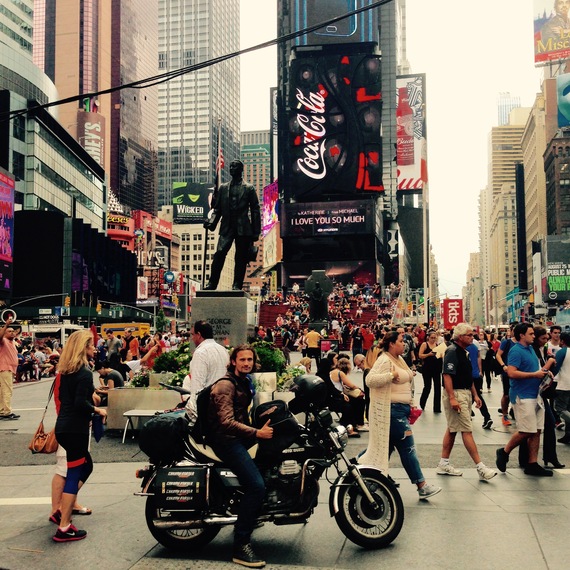 Late February 2015, I left the Chilean coastal city Valparaiso to set out on a 6-month motorcycle journey.
My bike: an old timer 1976 Moto Guzzi.
My destination: New York City.
My mission: document businesses that work towards a better world.
The idea for this journey came up while on holiday. The exact same day as I had an important assignment offer fall through, I finished reading a book by Paul van Hooff, a Dutch journalist who rode his old timer 1975 Moto Guzzi from the northern most point of Alaska to the southern most point of Argentina. Covering 60,000 km (over 37,000 miles) in 3 years.
Inspired by this incredible journey, I decided to do something similar. My journey though, I decided, needed a mission.
And so I started setting up Connecting Las Americas: a journey to connect and document social businesses that work towards a better world across the Americas. To give these businesses a stage to tell their amazing stories. To show the amazing people behind these businesses. And to inspire others all over the world by the incredible energy of these people.
Before leaving my beautiful hometown Amsterdam, I set up an interactive website. I found several partners - companies that believed in my trip and wished to contribute. Since I don't know anything about mechanics, I followed a workshop "how to patch a flat tyre" (just in case), and reached out to a couple of social businesses that seemed interesting to visit while on the road.
If anything, this journey taught me that each and every one of us has an idea in his mind to make the world a better place. An idea he or she would like to carry out, if only he/she had the time. Or the money. Or any other possible hesitation.
My goal with this trip is to inspire all these people to start acting upon those ideas. Because even the smallest thing can have a huge impact. Besides, what is small anyway? What is small to one person, can be huge to somebody else.
In northern Chile I met Don Leo, an engineer, who had worked at a polluting local power plant. After having spent 20 years with that company, he decided to quit, and opened a hotel. Helped by his knowledge and experience, on the roof of his hotel he installed several self-assembled solar panels. These solar panels now provide for all the hot water in his 60-rooms hotel. Next year, Don Leo plans on adding a couple of self-assembled wind mills to the roof. His aim: gain the whole energy consumption of the hotel out of these solar panels and wind mills.
In the history of humankind, it has never been easier to share stuff and connect people from all over the world. That's why all stories gathered during my trip are shared through the site Connecting Las Americas and five social media accounts.
Many of the companies that I visited know how to manage social media. One of the companies I visited in Peru recruits their people from the slums of Lima, solely through campaigns on Facebook.
The many encounters on this trip showed me that it isn't just big companies making PR moves or crunchy hippies that are trying to live sustainably, that are committed to building a better world. Rather, there are people and businesses of all kinds, all over the world, doing different things to make an impact. Every day, and with loads of energy and passion.
The biggest restaurant chain in Colombia, with over 4,000 employees and restaurants in 8 countries, is transforming its whole supply chain - lettuce, berries, fish etc. - into produce coming from small-scale, artisan, and local, Colombian farmers. This has a huge direct impact on the environment, but also on the lives of small-scale farmers in small and traditional communities.
On 11 August, my Guzzi and I made it to NYC, after 168 days and 10,000 miles on the road. I am so proud of my bike, and I feel thrilled that we did it together. The next step is to write an e-book about the trip. A road story of hope and about moving forward. Towards a better world.
If a dude from Amsterdam who doesn't know a thing about mechanics can ride his bike almost 20,000 km up north, crossing 6 countries, across many cultures and timezones: what would be your personal idea to at least try to do something to make this world a better place?
Pioneers for Change is a seed-bed for innovative thought. An activator of personal potential. A catalyst for collective energy. A community to drive social change.
Our annual, international Fellowship is open to anyone aged 28 -- 108 years old. We gather changemakers -- a business person, a community person, an investor, a thinker or doer -- who are willing to harness their talents, energy and resources as a force for good. 2016 dates available soon. Pioneers for Change is an initiative of Adessy Associates.
About: Max Wohlgemuth Kitslaar
When not traveling, Max Wohlgemuth Kitslaar (1983) lives in Amsterdam, the Netherlands. After earning a law degree and a masters in Latin America Studies, he helped a friend's technology business go multi-national. He imports organic cava, and is challenging soccer superstar Zlatan Ibrahimovic to gather his teddy bears, to distribute them to kids in need.
From February-September 2015 he rode his old timer motorcycle from Chile to New York, in search of business doing good. After making it to NYC, he started writing an e-book about the trip.
Related
Popular in the Community