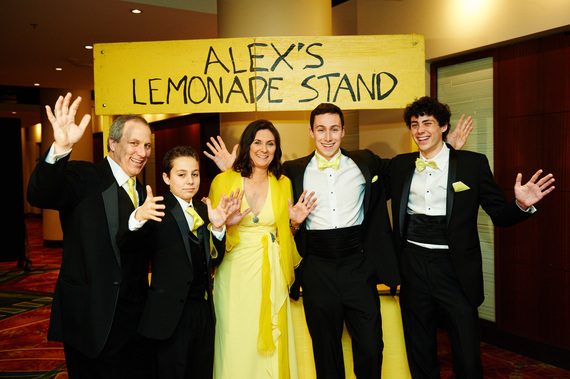 The Scott family at the 10th Annual Lemon Ball

Events are at the core of what we do at Alex's Lemonade Stand Foundation and our fight against childhood cancer. Our supporters hold events ranging from lemonade stands set up in front yards, schools and businesses all around the world to large-scale occasions that the Foundation hosts and plans.
From our survey research, one of the main reasons people say they want to get involved with ALSF to help kids fight cancer is they attended another ALSF event. Because of this and our desire to increase supporters, we strive to make that experience special. It reminds me of the time my daughter Alex held a lemonade stand in our front yard, in the pouring rain. People kept coming out in the rain with some of them staying in our front yard for hours. I remember people with umbrellas watching for hours what was happening in front of their eyes. Hundreds and maybe thousands of people were coming to this little stand on a little street to get a cup of that sweet lemonade from our daughter.
We recently had one of our biggest events, the 10th Annual Lemon Ball in Philadelphia. Timed around Alex's birthday, this event has raised millions of dollars over the years and people travel from near and as far as California to attend it. The event has grown in popularity and this year it sold out in record time.
For an event to be successful a couple of things need to happen. People need to be connected to the mission and truly feel that they are making a difference and are part of something bigger. They also need to have a good time so that they will remember the event and want to bring family and friends next time. Every year at the Lemon Ball the dance floor is full when the band finishes up their last song and stops playing. People aren't ready to stop. This is a sign of a good event.
We had many special guests this year at the Lemon Ball. Some of the special people we were lucky to honor this year are:
•Our Stand Host of the Year Maya Rigler, an 11-year-old childhood cancer hero who decided to give back by holding a virtual lemonade stand with a goal to raise $250,000 by the Lemon Ball. She reached her goal with days to spare!
•Volunteer of the Year and Kansas City Royal World Series winner Alex Gordon for his support in raising awareness and funds for childhood cancer. He has done so much for ALSF, ranging from holding a fundraising baseball tournament to hosting kids with cancer at Royals' games.
•Alex Scott Crystal Cup recipient Volvo, for being the original sponsor of Alex's stands and joining us in the fight against childhood cancer for over a decade. Their generous support has helped us fund hundreds of research projects dedicated to finding a cure.
Overall we raised $936,000 at this year's Lemon Ball to find a cure. And like every year, our guests kept dancing and left smiling. They know that our work is important and they are part of a bigger movement. They will tell their friends and family about it. And they know that if we all work together, we can help kids with cancer everywhere.
Related