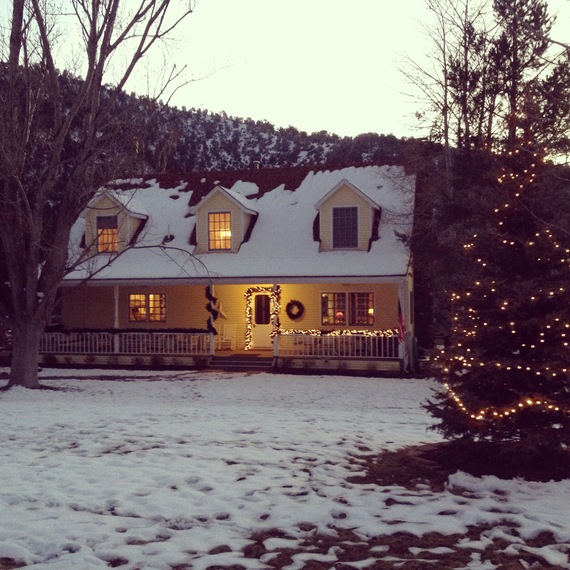 I get very homesick for Australia around Christmas. It is an odd style of longing because in Australia, during the festive season, the temperatures are in the hundreds and we while fend off sunburn, we decorate our plastic trees, and yearn for the kind of white Christmas settings depicted in Hollywood movies. A magical Christmas story book setting where all of that hot, oven roasted food makes sense and the cozy home envelopes us with its warmth and love. My humble mountain home in California offers such an experience. So if I stay and enjoy the white Christmas setting of my dreams, as I will this year, I cannot help but want share it with loved ones back home. While we may outgrow our hometowns we never outgrow the lifelong friendships formed, the home cooked meals of our Mums, Grandmas and neighbors, nor the sense of safety and love, that our hometowns uniquely offer. Especially during the holiday season which epitomizes the best of our childhood experiences.
What I find so poignant and particularly fabulous about the holiday season is that it's collectively agreed upon that we must stop and enjoy our blessings. Whether it is our health, the people we are grateful for, our homes, our communities, or the natural beauty around us. If we infuse all of those blessings together, its as good as it gets.
I think we can all agree that we have gotten off track. Our energy tends to be expended toward being the best we can (in our work and in our home) while trying (in vein) to keep up with the times. Whether its out of survival or ambition, it has made us exhausted and less connected. The fabulousness of the festive season is that we get a break from that, when we gather in a home, break bread, and truly connect with one another. Its when we create a setting out of love (versus what trends dictate), and we make food as a way to share our love. It is home brewed fun and goodness that penetrates and lingers long after we have returned to our routines. Imagine, if we did it every month? Or even better yet, every week? What better human beings we would be. To one another, our community, and to ourselves. We'd also have a lot more fun!
Tis the season to give back. Lets embrace it beyond the season, and seek every opportunity to give a little of our selves by creating a welcoming setting and cooking a meal that makes us remember our favorite food experience as a child. Even if it is gathering our neighbors to watch a sunset and enjoy homemade cookies. The experience binds us in that moment of beauty infinitely more than observing the sunset on our friends' social media sites. The simplicity of food enjoyed with others in an ambient setting is happiness. Its as real as we are.
In my holiday season webisode http://bit.ly/18OVhGO I touch upon the many ways we can make a difference with small gestures of human warmth through sharing home cooked, food. It's all about embracing life's simple pleasures, the beauty around us and wrapping that up in the gift of cooking for others. Happy Holidays and happy giving!