Eckhart Tolle's book Guardians of Being is a collaboration with Patrick McDonnell, the creator of the acclaimed comic strip MUTTS. This book explores nature, animals, human relationships, and the beauty in our world. In Guardians of Being, the bond between McDonnell's art and Tolle's words celebrates and reminds us of not only the oneness of all life but also the wonder and joy to be found in the present moment. McDonnell has created a new comic strip based on The Power of Now, and we sat down to interview him to ask him more about his work and his inspirations.

Tell us about your early inspiration for your work. How did you discover your path?
MUTTS is about my love for the art of comic strips and my love for all animals. From as early as I can remember, I had always wanted to become a cartoonist. Even before I could read, I would look at the characters in comic strips and feel as if they were alive on the page. I was mesmerized by that. I fell in love with Charles Schulz's Peanuts and, as a teen, George Herriman's Krazy Kat. These works have a spirituality and joy that touched me deeply. Like all good art, love shines through. When I began creating my own comic strips, I wanted to give back some of what I experienced by those works.When I started MUTTS I wanted my main characters (Earl, the dog, and Mooch, the cat) to be "true" to their animal identities and to show the world through their eyes. I was vegetarian before I created MUTTS and after doing the strip for a few years I became vegan. Knowing how tough animals have it in this world made me commit to doing as little harm as possible to them, and to try to do all I can to make the world better for all life forms.
What connects your own work to Eckhart's teachings about presence and the development of consciousness?
Art can connect you back to spirit. The Power of Now spoke to the artist in me. Creating art is the quieting of the mind and finding presence in the midst of creation. To me, my cartoons are like little prayers or sutras.
What is it about animals, and especially dogs, that makes your ideas come to life in your comics?
A good quality for a lead comic strip character is innocence. He or she can then see the world anew every day, living in the moment and observing life. Who better than a dog for that role? My comic strip dog was inspired by my own Jack Russell Terrier, Earl. I felt my job was to capture on paper his joie de vivre.As Eckhart has said, animals can bring us into the present moment. It is easier to be present with them because they meet us in the now. Generally speaking, cats and dogs are our companion animals and we have our closest relationships with those species. In my strip I try to celebrate that special bond we share with them.

What was the process that led to the creation of Guardians of Being?
I had done several MUTTS strips that were based on Eckhart's teachings and had been to a few of his seminars at the Omega Institute. My wife Karen and I had all his books and many of his audio recordings. In 2008, Eckhart was interviewed for Modern Dog Magazine. In it he said, "I believe that dogs fill a vital function in the collective consciousness of humanity. I would call them "the Guardians of Being." When I read that it resonated deeply with me. I felt that I could pair his thoughts on animals and presence with my MUTTS characters.
How does the comic strip medium uniquely add to the experience of understanding Eckhart's teachings?
My experience with comic strips is that they are little ephemeral moments in time. They quickly fade away. And comics are like poetry where less is more. Comic strips have such limited space; you need to quickly get to the essence, the heart of the matter. What drew me to Eckhart's teachings was his directness and simplicity (and his humour). Paring down a big thought to make it easy to understand - that's the art and language of comics.
You've created a new strip based on The Power of Now. Can you tell us about how this came about?
I was paying attention to my cat, Not Ootie, and observing how he lives in the now. As is the case every day, it was getting near dinner time, and he was letting me know "that the time is now." So I drew this silly and demanding kitty version of the power of NOW.
You are involved with animal and environmental charities. How has this consciousness emerged from your work?
Animals have always been an important part of my life. But after I started MUTTS, and tried to see the world through the eyes of animals, I realized how tough it is for them on this planet. Over the years my strip has become more centered on their reality as I see it. In turn, I have become more and more compassionate to their plight. Because of that awareness, and the changes that resulted in my strip, The Humane Society of the United States asked me to be on their board of directors. That opened my eyes further. I believe there is no finer organization, and their accomplishments in ending animal cruelty are phenomenal.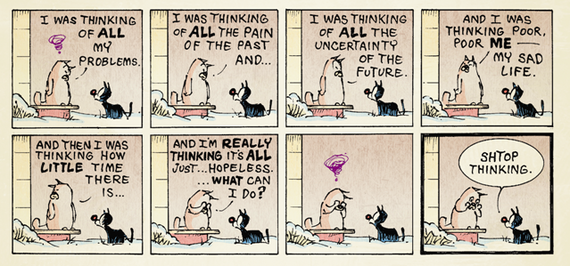 What's next for your work? What are your new inspirations?
I am writing a children's play for the Kennedy Center based on my children's book The Gift of Nothing. Of course I am continuing to do the daily newspaper strip MUTTS which can also be seen on Muttscomics.com, and I just handed in the final script for a MUTTS movie for Fox Animation. I have a new children's book, A Perfectly Messed Up Story, about learning to love what is, which will be available in October. Two new spiritual book projects are in early development.
What would you like to pass on from your own life experiences to others?
Follow your heart, have empathy, be kind, and go vegan.