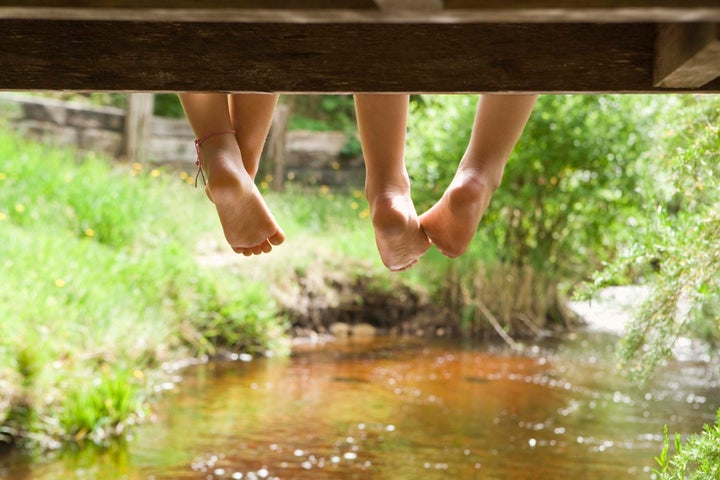 When is the last time you heard the voice of a friend or loved one who you don't see regularly? How often do you find yourself thinking, "I need to give (fill in the name) a call" and then days, weeks, even months later you have the same thought because you never made the call?
One of the main reasons we don't make the call is because "life" gets in the way -- family obligations, kids ballgames or concerts, household tasks, to name a few -- and we let those friendships slide. While we have good intentions to get together, to share a meal, we unintentionally keep delaying and delaying that get-together or phone call, putting it off to tomorrow, the next day, and then the next. And as the old maxim goes: The road to hell is paved with good intentions.
Time slips past us much too rapidly. I learned this lesson all too well and too painfully a few years ago. I had a lovely friend named Lydia. She didn't live that far from me -- about seven or eight miles away. Whenever I would bump into her at the grocery store, or see her at a gathering, I'd relish our brief time together.
Lydia was one of the most remarkable people I had ever met. She was intelligent, compassionate and steadfast. And she was one of those people who "did it right." She didn't drink alcohol, didn't smoke cigarettes (or use any other substance). She was a vegetarian, and she meditated daily. I, on the other hand, have never met a piece of chocolate (glass of wine, pepperoni pizza) I didn't like.
During our last brief encounter, Lydia told me about her trip to Paris. "You would love Parisian boulangeries and patisseries," she remarked, knowing I was a baker.
"How fabulous! You must have eaten your way across Paris," I said a bit jealously.
"No," she answered. "I just looked in the windows! I don't eat that kind of food." (Like I said, Lydia "did it right." She treated her body like the proverbial temple.)
As always, we ended our brief visit with my saying, "Let's get together. I'll look at my schedule and call you. I'll plan a dinner." And, as always, "life" got in the way and I didn't make the call.
A few months later another friend telephoned me. "Did you hear about Lydia? She has cancer." Lydia passed away seven weeks later. I never got to see her again.
Connectedness to others is one of the characteristics of resilient people. Studies of resilient children and adults have repeatedly underscored the significance of strong social relationships. Friends meet our basic human needs for love and connectedness, for respect, challenge, meaningful involvement and belonging. Conversely, other studies have shown that a lack of connectedness to others may be a risk factor in suicidal behavior.
Friends share our joys and help us get through the tough times in life. They help us to get tasks done (clean up after a tornado, for example); they listen and validate our feelings. It is important to remember, however, that no one person can be expected to be the "be all and end all" of support. Often it takes several friends, each of whom provide different types of support. Resilient people are good at making friends and keeping them.
So, if keeping in touch with those special friends in your life has diminished to a quick e-mail, text messaging, or 140 characters on Twitter or Facebook -- stop. Instead of booting up the computer, pick up the telephone. Hear the sound of your friend's voice. Meet for a 30-minute cup of coffee if a two-hour dinner date doesn't fit into your hectic schedule. Make a face-to-face connection ... at least once a month, every month.
Rita Schiano is an adjunct professor at Bay Path College, where she teaches philosophy and stress management courses. She is the founder of Live A Flourishing Life™, which melds her three professions: philosophy instructor, stress management instructor and resilience coach, and freelance writer. Her book, "Live a Flourishing Life," is used for the college program and in private training programs.
Rita also conducts stress management and resilience-building workshops funded by the Massachusetts Dept. of Industrial Accidents. She is actively involved with Maine Resilience, a program coordinated with the effort, materials and information offered by the American Psychological Association and the Maine Psychological Association through their Public Education Programs. Rita is an Associate Member of the International Positive Psychology Association (IPPA). Visit her online at her personal website and atRed Room, where you can read her blog.

Support HuffPost
A No-B.S. Guide To Life
Related
Popular in the Community