One in five children—a full fifth of the world's child population—don't get all the vaccines they need to be protected against deadly diseases like measles, pneumonia, and whooping cough.
Did I pique your interest with that statistic? Did you feel something? Did it move you? Sometimes that simple stat is powerful enough to convey both the urgency of the problem and vaccines' priceless promise to improve the lives of millions.
Other times, a different vehicle might generate more conversation around vaccines and the impact they have on our world—one that invites emotion, incites curiosity, and encourages imagination. With the goal of provoking fresh conversations around vaccines and global health, the Bill & Melinda Gates Foundation asked some of the world's leading artists to show how vaccines have and continue to transform the world, life by life and country by country.
On January 7, we introduced a digital gallery of these artists' creations called The Art of Saving a Life. Here, you can experience—through film, literature, music, photography, and visual art—each artist's unique and poignant interpretation of immunization. I think you'll find there is something for everyone in this compelling collection. Perhaps you'll feel inspired to share the ones you like best. I've listed a few of my favorites here:
For those who like animation: Christoph Niemann animated a series of energetic GIFs that tell the story of how vaccines stay cold in hot climates. The vaccine cold chain is a great public health achievement but it can be complex and even seem a bit dry. I like that Niemann's tale uses upbeat birds to keep the narrative engaging and modern.
For the history buff: Evgeny Parfenov produced a spellbinding portrait of James P. Grant, the pioneering man who led UNICEF from 1980 through 1995 and propelled historic increases in immunization in the developing world. Evgeny likened the birds in the portrait to children, and used the lines in Grant's face to signify his wisdom.
For kids, moms and dads: Through bright colors and happy faces, Mauro Perucchetti's eye-catching sculpture sends the message that vaccination helps keep families safe, healthy and together.
For the news junkie: In late 2014, Ebola drove the vaccine narrative. Through her photo compilation, photographer Fatoumata Diabaté provides us with a front row seat to see researchers, health workers and volunteers hard at work testing a candidate Ebola vaccine in Mali.
For the visionary: Mia Farrow recounts her son's memorable moment in the spotlight kicking off the countdown to eradicate polio. She also shares an image that captures the determination of an awe-inspiring South Sudanese woman paralyzed by the disease.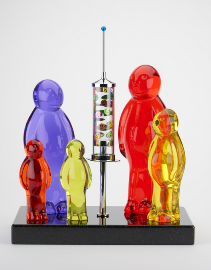 © Mauro Perucchetti
For the rest of the month, the Gates Foundation will continue unveiling new works of art in the gallery, so I hope you will keep checking in. We will also feature select works at an event in Berlin on January 27, where global leaders are coming together to pledge their continued support for immunization programs led by Gavi, The Vaccine Alliance.
With such fresh, creative and diverse voices lending their collective vision to this effort, we have the power to catalyze action and engagement on January 27 and beyond. Statistics tell us how many more children need vaccines. Our passion, innovation and collaboration will accelerate how quickly we reach them.
Let us know how the Art of Saving a Life makes you feel. Do they help you think about the issue in a new or different way? Or maybe even for the first time? Let us know on Twitter with the hashtag #vaccineswork or go ahead and share the Art of Saving a Life webpage with friends or family who might like it.