Dana Holliday is POWERHOUSE! Her story and message is so inspiring and her company is literally changing the world.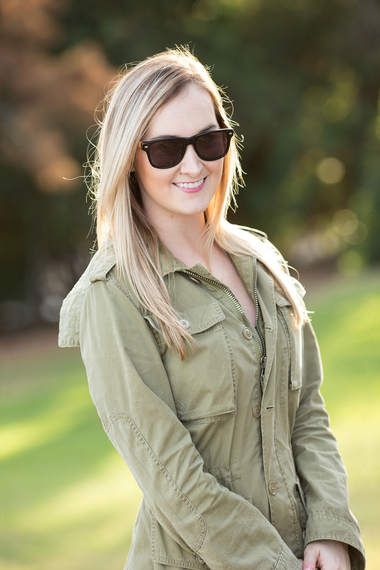 Dana Holliday is the Co-Founder and Creative Director of SOLO Eyewear, a social enterprise that creates environmentally friendly sunglasses that fund eye care for people in need. SOLO's global impact has resulted in an economic impact of $3.6 million, with more than 11,000 people across 32 countries receiving prescription eyeglasses or cataract surgeries as a direct result of SOLO's #MissionToGive.
As SOLO's Creative Director, Dana is responsible for concepting new designs that integrate SOLO's trademark recycled material temples (which are made from recycled bamboo and plastic). She also manages the company's marketing efforts, including their latest Kickstarter campaign, website, email engagement and social media channels. When she's not forwarding SOLO's mission or working for private graphic design clients, Dana enjoys backpacking, kayaking and traveling the world with her husband.
What does IMPACT mean to you?
Impact is sustainable and positive change that works to create a legacy and leaves this world better than you found it for future generations.
After learning that 1 billion people do not have access to eye care and that 80% of the world's blindness is preventable, we saw opportunity for huge impact. Addressing global blindness and visual impairment is the mission of our company, SOLO Eyewear. We fund prescription eyeglasses, eye exams and cataract surgeries through the sales of our eco-friendly sunglasses so others in need can lead more fulfilling, productive lives.
We also encourage and inspire our customers to take on their own personal Mission to Give. Whether it be ethical consumerism, volunteering, activism, charitable donations, voluntourism, or acts of kindness we want to ignite passion in the people who purchase our products.
What gives you the drive/passion to do what you do? In other words, what is your WHY?
Our mantra at SOLO Eyewear is "One idea, one person, one action can change the world." I strongly believe in this mantra and the power of one. It gives me strength and motivation.
Looking back, I didn't always know what I wanted to do. I realized graphic design was a skill that I had, but it never felt like the complete picture. Throughout my childhood, my parents instilled in me the importance of giving back. My mom and I volunteered frequently. Through those experiences, I developed a passion for being a part of something bigger than myself and I was able to see that even small acts of kindness or charity made a deep impact. It wasn't until starting SOLO Eyewear that I felt my passion and my skills align. I could channel my experience and skill set to build a socially-conscious business that helps thousands of people in need and creates lasting change.
How do you get your mission out into the world?
We share our mission through grassroots efforts. Most of our efforts are focused online via email and social media. We also have an incredible team of brand ambassadors and influencers that help spread our mission to their audiences. We're always on the lookout for brand partners that align with our mission and customer base, and we often collaborate with other socially conscious brands to spread awareness about our mission to give.
It's been five years since we launched SOLO Eyewear and it's been really incredible and encouraging to see that our customers are some of our most active and vocal advocates. It's inspiring to see complete strangers coming together to join in our company's mission to restore vision to 1 million people in need. People taking action together can change the world.
What is the best, most fulfilling experience you've had in business?
In the fall of 2015, we had the privilege to go to one of our non-profit partners in India and tour their facilities and efforts. Watching someone come in, completely blind, unable to work or provide for their families, and then walking out 15 minutes later with their vision completely restored is pretty powerful.
In underdeveloped countries, restoring someone's vision can yield a $250 annual increase in income. In places where families are living on less than $2 a day, restored vision has the potential to double their annual income. These are the reasons why we exist and why we keep charging on. By restoring someone's vision we are empowering them to lead more productive, fulfilling lives. And that creates a chain reaction - not only is that person's life forever altered, their family benefits as well. And in the case of children, having proper vision will help them reach their full potential in school, which can lead to limitless opportunity.
Who do you look up to the most?
I don't have one specific person I look up to, but I find myself paying close attention to other socially conscious business owners. While our collective generosity is increasing, advocacy and awareness can be hard to fuel. Meanwhile, a passionate consumer base is critical to sustained success for any business owner. I admire anyone who goes the distance to create a social enterprise. It means dozens of hours of ideating and executing, and hoping that the cause that means so much to you will spark joy and dedication in others.
What trait do you admire in others? In yourself?
I admire others' ambition. Through SOLO we've seen some incredibly driven individuals, regardless of circumstance. One of our most rewarding experiences was seeing a 9 year old boy travel alone to an eye clinic we set up in Mexico. His life hadn't been easy and he was essentially taking care of himself every day. That day, he received an eye exam and prescription eyeglasses so that he could see the board and participate in classroom learning exercises. His determination led to restored vision, and now he is able to reach his full potential.
I value my persistence. Start-up life can be a roller coaster, but it's my persistence that keeps me motivated, positive, and able to continue working hard, moving forward and focused on making the greatest positive impact on the world.
Where are you the happiest?
I'm the happiest when I'm exploring the great outdoors and traveling the world with my friends and family. We've built a brand that simulates our passions. We encourage our fans to live limitlessly and give abundantly and our sunglasses are the perfect product for those who want to explore the world and give back. We believe everyone should be able to SEE the world. It's our mission to restore people's vision so that they may be able to see the world, the faces of their loved ones, and ultimately lead a fulfilling and productive life. It isn't lost on me that I am so privileged to be able to do that every day, so I make sure to work tirelessly and enjoy the free time and opportunities I've been given.
Andi Wickman is on a mission is to help elevate women. To lift them into the entrepreneur world. To hold their hand when they think they can't go bigger. To help them realize the fire within themselves. To help them share their mission with the world.
REAL LIFE. REAL NEWS. REAL VOICES.
Help us tell more of the stories that matter from voices that too often remain unheard.