Tracy Timberlake captivates people. She certainly captivated me. I heard her speak a few weeks ago at a conference in San Francisco, and I went on a mission to become her friend. She is a force to be reckoned and truely is a YouTube sensation.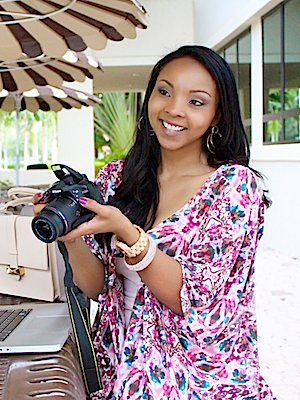 Tracy Timberlake started making videos on her bathroom floor. Today, Tracy is an award winning Beauty Vlogger and Video Visibility Expert. She has worked with big brands like L'Oreal, Marc Jacobs, and Cosmopolitan Magazine, but now she works with entrepreneurs helping them increase brand visibility, credibility and profitability with power of video! When she is not coaching or talking to a camera lens you can find her nose in a book. She is currently pursuing a Doctorate Degree in Organizational Leadership. Her area of research: Female Entrepreneurship of course!
What does IMPACT mean to you?
Great question! I think impact means influence and influence is leadership. Impact is so powerful! When you realize that you have that kind of power, this power to persuade or habituate change in others - it becomes this special gift that you need to steward well! So many people can abuse this, especially in the online world.
Having said that, I believe in order to make impact, you have to first make contact. So relationship building is key!
What gives you the drive/passion to do what you do? In other words, what is your WHY?
From a very young age I always knew I was mean to impact the world. I just didn't know how - this makes a ton of sense now, of course because when I was a little girl, my way of impacting the world did not exist yet! So, here is my WHY: I want to use my skill set to help others use theirs!
HOW do you get your mission out into the world?
Video! Video! Video! Its no secret video is my jammy jam! I wouldn't be where I am without it! YouTube and online video really gave me the platform to share my message.
Who do you look up to the most? Why?
This might seem cliche, but I look up to my mom. My dad died when I was 7 and my brother was 3. She was this widow from a foreign country (my mom is from the Philippines) who had to figure out how to raise us on her own. She gave so much, all she had, sometimes more! She has always given us the freedom to chase our dreams - no matter how unrealistic they may be. My brother got to realize his childhood dream, and I got to figure out mine! I definitely DO NOT think I would be where I am without her. She provided such a safe place to land so that I could approach the world fearlessly. She is the strongest and most compassionate person I know. God knew I needed her to be my mom. She is my hero.
When was the last time you belly laughed until you cried?
Today!!! Simple things make me do this - and I think thats a good thing. I am pretty easily entertained.
I was on the phone with a friend who did a weird impersonation. It was hilarious!
What do you value most in people?
I value courage. Courage to be different, courage to take the road less traveled, courage to stand out. It takes an incredible amount of courage to OWN who you are, who you were meant to be, and to walk in that authority!
I also value generosity - especially when that generosity is with intangibles. Sure you can give money, but time is so much more valuable! And love is so much more powerful. I really admire when people give freely of those sorts of things.
Where are you the happiest?
I am the happiest when I get to be with my family in the Philippines. They all live there now - and I am in Miami. I don't get a chance to travel there often, but when I do its always the best!!!!
Andi Wickman is on a mission is to help elevate women. To lift them into the entrepreneur world. To hold their hand when they think they can't go bigger. To help them realize the fire within themselves. To help them share their mission with the world.
Popular in the Community