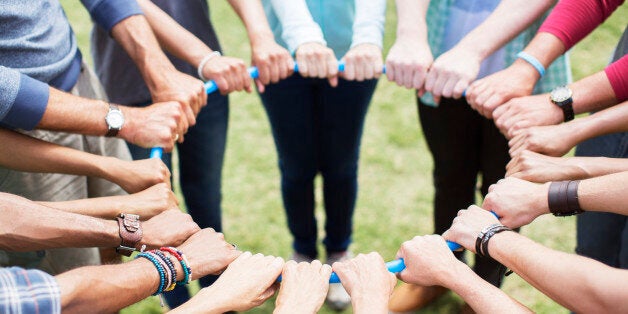 The national conversation on poverty and income inequality is welcome and long overdue. But there's something missing in many of the potential solutions on the table. Solving income inequality for the long term requires using all the tools we have available. It has to be, in part, about restoring our connections to each other.
A big part of the solution has to be about creating better paying jobs, more effective schools and more widely shared opportunity. These are big issues that require national commitment.
But a key part of achieving real progress in promoting economic opportunity hinges on how we build our communities. We have growing evidence that when people are physically separated from one another, its harder for them to learn, form networks and relationships, and tap into opportunity where it exists.
In a landmark study of economic mobility which looked at whether kids who grow up in poor families could make it to the middle class (or higher), Raj Chetty and his colleagues at Harvard found that the kind of community you live in plays an important role in determining your future. Kids growing up in metropolitan areas with higher levels of economic integration -- where the rich and poor aren't widely separated geographically -- were much more likely to progress economically than those living in metropolitan areas starkly divided by class.
This work, and lots of other social science research, underscores the key role that neighborhoods play in amplifying the negative impacts of poverty. It's tough to be poor in any case. But poverty is especially toxic when you live in neighborhoods where large fractions of your neighbors are also poor.
All of this evidence points out the importance of strategies that break down barriers and build connections in our communities to counteract the negative effects of economic segregation. There's a lot to be done to address fair housing, improved transportation, and better schools. But some important steps in every community must include building more common ground.
The Pop Up Pool in Philadelphia is a small but powerful recent example. The city of Brotherly Love is home to more public pools than any other city in the country. But for years they have failed to attract diverse audiences. While abundant, many of these spaces are also charmless and bleak, composed mainly of poorly-maintained concrete structures surrounded by chain link fences. They have come to be just another symbol of historic racial and class divides in the city. One Philadelphia children's advocate recently told Philadelphia Magazine that the pools looked like they belonged in the Soviet Union.
The Pop Up Pool project has proven that even a space like this, with a tough history of race and class, can change the narrative of a neighborhood. This past summer, urban planner Ben Bryant teamed up with landscape architecture firm Sikora Wells Appel and took over the city's Francisville pool. Where locals once saw bare, cracked concrete there were suddenly umbrellas, patches of bright green astro-turf, plants, and lounge chairs. In spaces that were once lifeless, residents joined Zumba or yoga classes and gathered in the evening for concerts. According to Philadelphia Magazine, "the effect has been completely transformative, like Extreme Makeover touched down on a gritty slab of the city."
The results are localized but remarkable. The Pop Up Pool saw a 50 percent surge in attendance following these changes. A broad slice of the community who had written off the pool or never knew it existed started to visit. Local media gushed about the project, and groups of people who may have otherwise been estranged from each other instead spent the summer months together, escaping the heat and enjoying some fun in the sun.
Nobody thinks a pool will change the world, and we need many other approaches to breaking down barriers and creating economic mobility. But reimagined spaces like these, and programs that connect people to the distinctive places in their city, are crucial to getting people across the economic spectrum invested in a community and creating new opportunity in neglected neighborhoods. And they also tap into the bigger issue of how we solve problems as a society.
Two decades ago, cycling and walking were not priorities on the urban planning agenda. Farmers markets were few and far between. Sidewalk cafes were rare in most cities. These trends -- and the overall renaissance in city living -- can be read as signs of this very basic human desire to connect with other people. Those connections are the starting point for solutions to our big problems. To make those connections, we need to have spaces that we enter as equal members of a shared society.
Demonstrating the power of those spaces to build connections is one of the key goals of the John S. and James L. Knight Foundation, which made the Pop Up Pool possible when it named the project one of the first winners of the Knight Cities Challenge last spring.
Cities aren't built today from the top-down. They're built from the bottom up by the people who live in them, and often the best ideas for use of our public spaces don't come from city hall. We had no idea that a pool would wind up being a powerful vehicle for bringing people together and breaking down divides. But we knew that we didn't have all the answers. We're excited to learn what innovative ideas for cities are out there as we open this year's challenge.
With smart investments, bold ideas, and a true dialogue with the community, we can disrupt the cycle and help build cities that thrive.
Carol Coletta is the Vice President for Community and National Initiatives at the John S. and James L. Knight Foundation, which is now accepting applications for the second year of its Cities Challenge at www.knightcities.org.
Calling all HuffPost superfans!
Sign up for membership to become a founding member and help shape HuffPost's next chapter