A Tale of Two Apps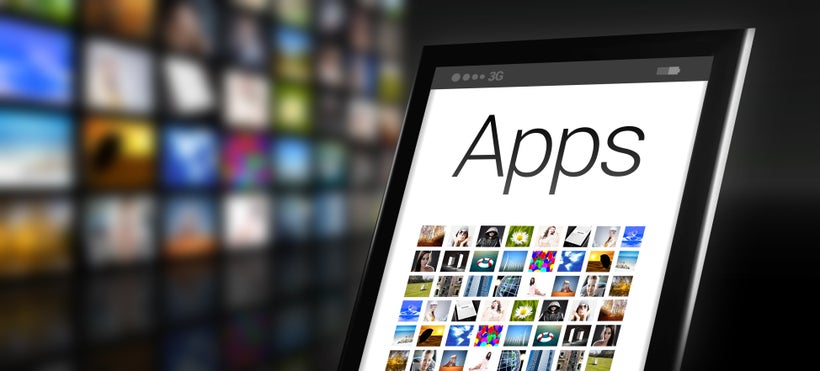 Stop a moment and think about your online presence. How many places across the internet hold a profile of you? Do you have a website? A blog? Are you a contributor to any publishing platforms? Do you have a YouTube, Vimeo or Vine channel? Are you on Facebook, Twitter, Snapchat, Instagram, Linkedin, Pinterest or Periscope? Do you use apps like Slack, Evernote, Trello, Asana, Mailchimp, Infusionsoft, Active Campaign, Ontraport, Contactually, Constant Contact or something else to connect with teams, colleagues, and customers? How many email addresses and phone numbers do you have? How many ways are there for people to see you, interact with something you do and potentially contact you? Does it ever make you feel a little scattered? Or maybe even seriously schizophrenic? It's hard enough trying to update all your platforms and check the DMs, but just deciding which contact information to give to someone you want to keep in touch with can make you feel batty. It can also make you long for the long gone days of internet anonymity.
Within the span of a couple of days I connected with two app startup founders who have created apps to address issues at opposite ends of the connectivity and anonymity spectrum of online presence. First I spoke with Ashkan Kouchak who is addressing the issue of our multiple profile personalities across all different social media platforms along with all the different modes of direct connection like phone, skype, zoom, email, website etc. The app he has created is called Spectrums for this very reason. Personally I so appreciate what he has done with Spectrum because for someone like me who has a podcast and interviews a wide range of people regularly, just collecting and sharing their social media and contact links in the show notes turns into a massive pain when someone has 10 different ways that they want made available for people to connect with them. Here is my Facebook page, my twitter handle, my Instagram account, my Snapchat code, my YouTube channel, my Flickr account, my Vimeo channel, my Tumblr blog, my website, my email and if they want to get a discount on my program, they can use this URL with this discount code. Just listing all of that stuff takes up half the real estate on the page! What Ashkan has done has created a place where all of your contact info and social media platforms can be shared through the use of a single numerical code. I was intrigued and signed up for my SID or Spectrums Identification number immediately. It took only a few minutes to attach most of my social media profiles through my phone. Several went through immediately with just the click of an "allow" button because I was already signed in on my phone. A few others I had to go and look up my password because I usually only use them on my laptop (like Linkedin) and Last Pass signs me in so I no longer remembered the passwords. But after just a few minutes nearly all of the ways I interact with my audience were connected to the app.
"So, what now?" I asked Ashkan. Now he told me, all I have to do any time I interact with anyone that I want to connect with me is share my SID number and they will get all of that information.
"Even my phone number?" I asked, feeling a bit nervous about that. I already get way too many unsolicited calls from places like The Democratic Senatorial Campaign and people who think I still own my 2011 Jeep Liberty and want to sell me a new warranty. The last thing I want is for my cell phone number to be readily available to online marketers and other sales people. Ashkan explained how I can remove my phone number for now and how in the next iteration I will be able to specifically select who can and cannot see my different contact information. You will be able to make some information public and other private, only to be shared with people who you specifically select to get it.
Personally I love this idea and want to tell all of my podcast guests to go download Spectrums before they come on the show so I can share their Spectrums ID # in the show notes and won't need to spend a dozen lines on all the ways people can follow and interact with them. If you want to give it a try you can download the Spectrums app from the iTunes store and find me! My SID # is 1000254. I already removed my phone number, but feel free to follow me in any or all of the other ways listed!
On the other end of this connectivity and anonymity spectrum, I also connected with Sachet Gagwani, one of the founders of Covert.ly, an app that allows totally anonymity in a twitter like stream. When I first heard about this app, I had two reactions. The first was to think about the times I have wondered what it must be like for kids growing up in this digital age. When I think back to some of the really unfortunate things I did and said as I was growing up and figuring a few things out about life, I am so glad that no one was there to document every awkward and unfortunate moment. And even more grateful that I didn't have some device on which I could personally document everything I probably would have thought was profound enough to broadcast to the world. This especially goes for my hair and fashion choices. I was in middle school at the end of the 80's and totally rocked the poodle perm with bangs hair sprayed so high and so hard that they could have been a deadly weapon if I lowered my head and ran at someone. Kids these days don't have that advantage. They also don't have the protection from ill-wishers and predators who today can more easily locate and stalk the young and naive.
The other reaction I had when I first heard of Covert.ly was that I couldn't help but think of the use it could be put to in countries where free speech is not protected by law and where expressing political views contrary to the current regime could easily result in the loss of jobs, freedom, and sometimes even life. I thought of the way Twitter was used in the Arab Spring. Here was a mode of communication that is completely anonymous, but can be targeted by location. For instance on the homepage of the app you can adjust the radius in which you want to interact. At first I tried a 1000 mile radius. And then I pulled it down to a 5 mile radius to see what people are saying right here in my home town. Given that I live in rural Arizona, not too much was going on right around me in the app, but it does have more than 100k users at the moment and is growing all the time.
I asked Sachet what he saw as the highest and best use of the app. His vision wasn't quite the political tool that I envisioned, but he did talk about how, during the 2016 election, he saw friends and family members divided and openly fighting on other social media platforms like Facebook. He envisions Covertly as a place where anyone can voice their true feelings and opinions without fear of repercussions from bosses or family members. He also expressed his desire for it to be a place where no one has to take any personal responsibility for their statements. So what does a world in which no one has to take responsibility for their words look like? Scrolling through the most recent updates I immediately notice the very free use of expletives and sexual propositions. However, as I narrowed down my radius to closer to home I saw people debating topics like the best burrito in town, where to hike and mountain bike, and where to drink and listen to bands. And I did even see a few political posts about Jeff Sessions and Trump tweets. So who knows, maybe it will grow into a true tool for democracy and free speech? It definitely has a lot of potential.
It is nice to see app startup founders working hard to streamline and simplify the massive profile and contact confusion in our online lives and also providing us with a truly anonymous space in which to air our potentially divisive views without ruining family, friend or work relationships. I hope to see both of these apps flourishing and getting further funded as they grow in the future. If you want to check them out, you will find them in the iTunes store.
This post was published on the now-closed HuffPost Contributor platform. Contributors control their own work and posted freely to our site. If you need to flag this entry as abusive,
send us an email
.