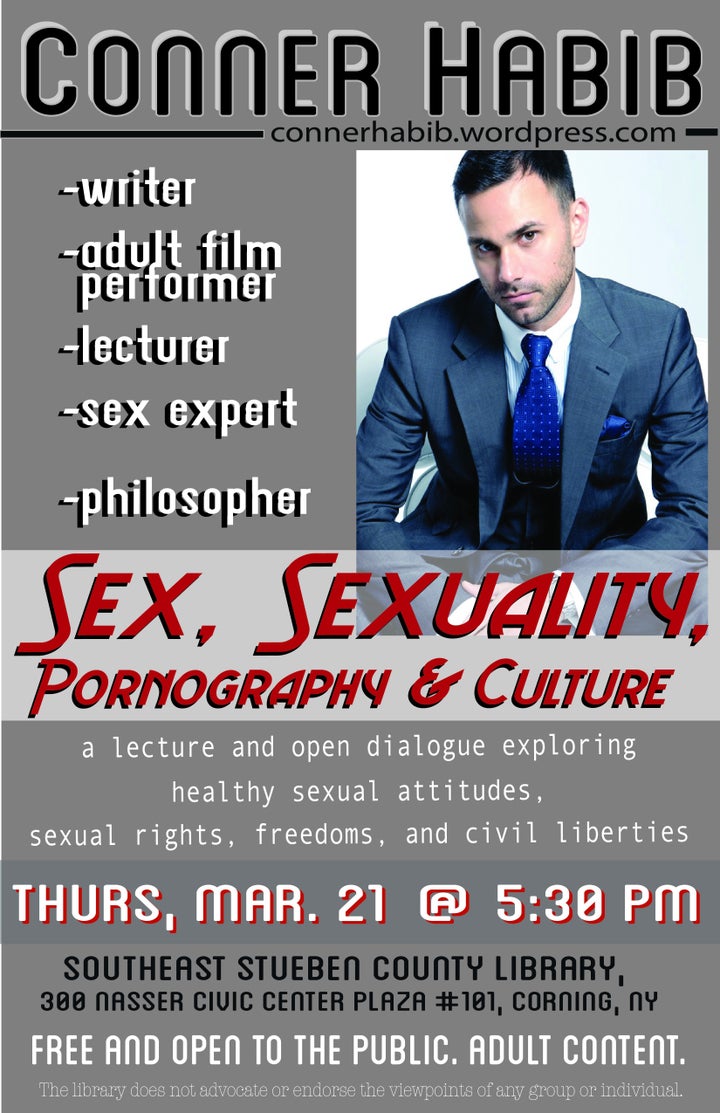 College president Katherine Douglas told members of Equal, a lesbian, gay, bisexual, transgender student group, she was canceling Habib's scheduled "Sex Week" talk. The cancellation was first reported by BuzzFeed. Douglas said she didn't want gay rights to be linked to pornography, Habib told the Post-Standard.
"Mr. Habib's celebrity status as an adult film star is inconsistent with the educational theme of this program," Bill Little, the college executive director of the office of institutional advancement, told the Star Gazette.
Since Habib still planned to travel to the area, he was scheduled to give a talk at a nearby library:
Griewank, who had sought Habib out and invited him to campus, says he was pulled into an impromptu meeting by an administrator last Friday. Griewank told BuzzFeed that Dean of Student Development Donald Heins told to him not involve himself with any further plans for Habib's visit. It was an "absolutely intimidating conversation," Griewank says. "He told me I wasn't allowed to speak to the press, told me I wasn't allowed to help Conner. He told me this in a closed room, there was no advisor to Equal there, and it wasn't scheduled, so I had no time to prepare." Griewank says he intends to file a complaint with the school over Heins' alleged actions.

Habib also alleges that Douglas and Heins spoke to a hotel and local businesses to find out whether Habib was coming to Corning, and Griewank says Heins told him that he couldn't go to Habib's talk even if it was off-campus. "He said, 'I hope you grasp this, Brandon, that this issue is bigger than you and bigger than Equal.'"
The college denied it pressured any student to avoid the off-campus discussion.
Related
Popular in the Community