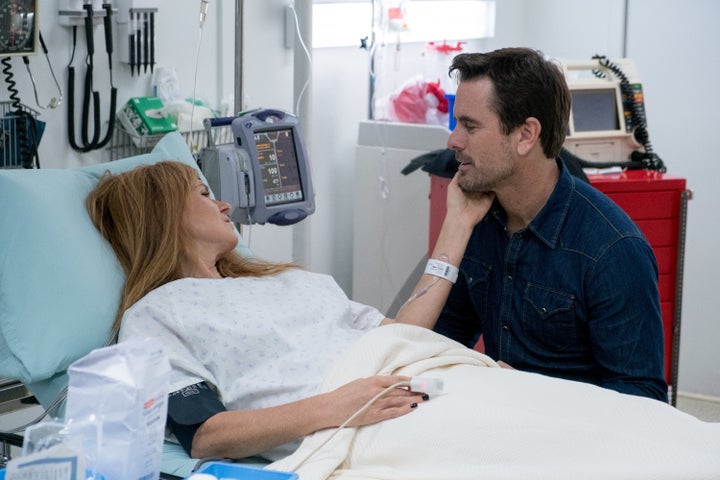 WARNING: Many spoilers ahead for "Nashville" Season 5, Episode 9. 
In a heartbreaking twist, after Rayna survived a stalker attack, a car crash and emergency surgery, everyone's favorite on-screen country singer, mother and friend died following medical complications in the final moments of Thursday's episode. Surrounded by her longtime love Deacon (Charles Esten) and her daughters Maddie and Daphne (Lennon and Maisy Stella), Rayna peacefully, but prematurely, said goodbye ― and Nashies everywhere lost it. 
But Britton herself made sure to let the fans know right away how much playing Rayna has meant to her over the years, and how their support allowed this story to be told. The actress took to Instagram after the episode aired to share the following note and photo: 
Thank you Rayna Jaymes. For your magic and your dignity. And thank you to all the creators of Rayna Jaymes, for there were many. Callie Khouri, who gave her life. Deacon, Maddie, Daphne, who shaped her as her family. Teddy, Tandy, Lamar too. Juliette, Scarlett, Bucky and the ones who crafted her into a business woman. Along with countless other compatriots and combatants. And then of course the crew of "Nashville" who brought her to life, every crew member in every department who made Rayna live each week.

And then there's the music. T Bone, Buddy, Tim, Frankie and all the brilliant songwriters who gave Rayna a voice. There was no music, and no Rayna, without you.

But finally and most importantly, the fans. You made Rayna. You supported her and loved her and gave her inspiration just as she was able to inspire you. You were the energy source, the power behind her heart and soul and life. Rayna lived for you. And, from the depths of my heart, I thank you, for her and for me. It has been an honor to be a part of that creation. And as I know she would want it, the show must, and will go on. Long live Rayna Jaymes. #RIPRayna #NashvilleCMT
"It really felt like we would be in a good place and this would be the time to start talking about Rayna's departure," she said. "[Showrunner] Marshall [Herskovitz] came up with this story and it felt right. I told him, 'I want to do justice to this character, this character she's so special to me.' I'm kind of choked up even talking to you. Rayna means so much to me and so does the audience of 'Nashville' and to me that was priority number one. Whatever we did had to honor the character and honor the show and feel like we were doing it right." 
Although it was reported that salary was a factor in the decision, Britton totally shot down that idea. 
"No, money was not a factor. I think [the length of time] had something to do with it," she said. "As actors we always want to keep challenging ourselves. Let me just say there were a lot of reasons. Some of them were personal and some were creative, and I'm probably not going to get much more detailed than that. There were a lot of things at play, and ultimately it was about making sure the show was in a good place." 
"Nashville" will, of course, continue on without Britton, as stars like Hayden Panettiere, Clare Bowen, Sam Palladio, Jonathan Jackson, Chris Carmack, Esten and the Stella sisters are still on board. But Rayna Jaymes, the heart and soul of the show, will be sorely missed.
Britton's co-stars made sure to remind the fans of that by posting tributes to Rayna on social media. 
Calling all HuffPost superfans!
Sign up for membership to become a founding member and help shape HuffPost's next chapter
BEFORE YOU GO