And Going, a social worker with over 2,000 adoptions under her belt, lives by that mantra: She recently adopted a child that she has been trying to place with a family for over 10 years.
The journey to that point, however, was anything but easy.
Ten-year-old Taylor Diaz and his two sisters entered the foster care system in 2003 after social services took them from their drug-addicted parents. A few years later, Going met Taylor when he was 3, the Tampa Bay Times reports.
Going attempted to keep the siblings together, and almost succeeded when a family adopted them. Due to behavior and personal conflicts, though, the father placed Taylor back into foster care. Over the course of 10 years, he weaved in and out of different group and foster homes and eventually was rejected by a second family.
"It was always somewhat my fault, but I didn't realize that, you know, when I was growing up," Taylor told CBS.
"All I could think about was how he was feeling and how he was blaming himself, again," Going added.
And so, she dropped Taylor as a client and went to court to adopt him as her own.
"You know that ache you get in your chest when your child is crying?" Going told the Times. "I felt that. At that moment, he became my child."
Clarification: An earlier version of this story stated that Going met Taylor in 2003 when he was first placed into the system. The pair met three years later.
Related
Before You Go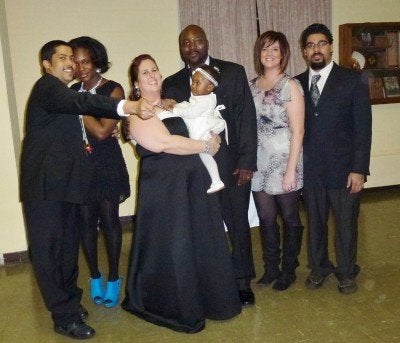 Adoption Portraits