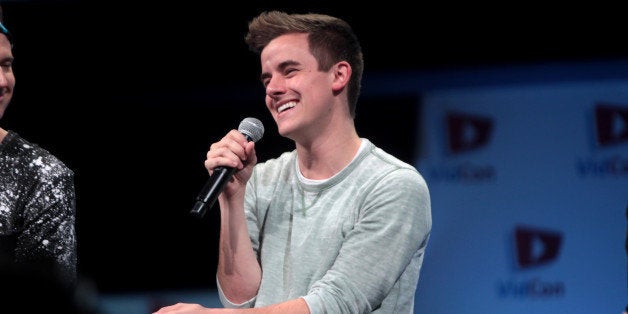 HuffPost Teen chatted with Connor and got exclusive details about his new memoir, "A Work in Progress," what it's like to be a YouTube star and his heartfelt advice for his fans. Check it out below.
HuffPost Teen: You're releasing your first memoir -- congratulations! How was your process of writing this memoir different from your routine of creating YouTube vlogs?
Connor Franta: With YouTube, everything is incredibly quick, so I can write, shoot, edit and produce everything within a day if I want. With a book, it took an entire year -- which is quick for a book -- but just the process itself is incredibly slow compared to YouTube videos. It was kind of hard to allow myself to sit down and take time on a project!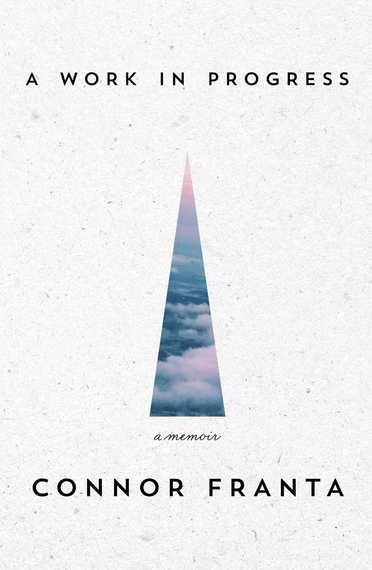 What inspired this memoir?
Just my life. I felt like I wanted to go beyond the five minutes a week I do with YouTube videos and kind of put more thought and more effort into putting out my message into the world.
Being on YouTube, your fans know a fair amount about you. Is there anything you discuss in your book that you haven't really gone into in your videos?
There's a million new things that I talk about [in my memoir], but a lot of it is just going more in depth on things, so I talk about coming out in more detail and kind of describe the process that I went through with that, like the ups and downs of it.
What advice do you have for HuffPost Teen readers about self-esteem and identity?
I would say just it's just about finding confidence in yourself. It's cheesy, but everyone has flaws and everyone has things they don't like about themselves. But the sooner you can allow yourself to accept those, those imperfections about yourself, the sooner you can be happy and move on. It's easy to focus on all those "negative" things you see about yourself, but you know, to most people they're not a big deal. They just seem like they're a big deal to yourself.
How, if at all, has being a YouTube megastar changed your day-to-day life?
I've never been this busy and I've never been doing this many things. With all of those YouTube videos comes a lot of stuff that I do behind the scenes like writing books. But also it's made me a lot more fortunate in that I've been given lots of opportunities, again, like writing books, that I probably would have never gotten before YouTube. So it's been truly a blessing and truly amazing.
Have you dealt at all with "haters?" What has that been like, and how do you bounce back from that kind of feedback?
Making YouTube videos while I was in school, I was fortunate enough not to really have any negative repercussions from it. I had a lot of positive feedback from my friends who thought they were great and thought they were funny and that what I was doing was really cool. As for online, yeah, I mean I get a couple hate comments now and again, but they're mixed in with thousands of more positive, supportive comments, so I try to just ignore them and focus on the good things.
What would you say is the hardest part about being a YouTube star?
The hardest thing, at least for me, is just being so public about everything 'cause I'm a pretty personal guy. I'm a little bit shy and from the Midwest, so to be so open and honest with millions of people is pretty difficult. To have people constantly having an eye on you and very interested in what you're doing at all times -- it can be a little stressful at times. But that's also simultaneously the thing I like the most about it. So it's kind of like a weird love/hate thing.
Would you say YouTube has been a creative outlet for you?
Oh, definitely. It started off and it still is today my creative outlet. It's exactly how I express myself and get my thoughts and opinions out into the world -- whether it's in a silly challenge video, or a well thought-out creative poetic video, it doesn't really matter... it's just me expressing myself. I think [a creative outlet] is an important thing for anyone to have -- to be encouraged to share their thoughts and be able to just in general, create things. I think it's great and such a positive thing.
We hear that you're really into coffee. Tell us more about your coffee brand!
Yeah, I am! One of the fun, really cool projects that I've done this year is that I launched a coffee line. I've always enjoyed coffee and I've always wanted to do something with coffee, and I figured why not just make my own? So, I partnered up with this company in LA called LA Coffee Club and essentially, I got to pick my own coffee beans from this farm in Guatemala -- not like physically pick them, but look at different ones and say, "I want that one" and I created my packaging and the design for everything. I launched it and did a 48-hour sale and it went incredibly well.
What is your favorite coffee shop?
I'm actually like a hole-in-the-wall coffee shop kind of guy. So I love the local shops that are kind of like one-off chains in Los Angeles, and I usually get a soy flat white.
If you could collaborate with one other YouTube star, who would you pick?
I haven't done any collabs in a while. I usually do them with my friends, but I feel it's only fitting that I would love to collab with the amazing John Green and his brother Hank. The Vlog Brothers would be great. Now that I wrote a book, maybe I can talk to John about books! [laughs]. I'm a huge fan of his work in general. They're absolutely amazing.
What is one message you would send to HuffPost Teen readers and your fans?
Never think you can't do something. I definitely never thought I could write a book, and even after I started writing it I was like, "Oh my God, how am I gonna write a book?" Just set your sights high and reach for the stars. Go live your dreams, and never think you can't.
Check out Connor's book tour here.

PHOTO GALLERY
19 John Green Quotes From Tumblr
REAL LIFE. REAL NEWS. REAL VOICES.
Help us tell more of the stories that matter from voices that too often remain unheard.
BEFORE YOU GO
PHOTO GALLERY
19 John Green Quotes From Tumblr