A 7-year-old's dream came true on Tuesday when a social media campaign allowed him to meet his WWE hero.
It all started with a YouTube video of cancer patient Connor Michalek making a plea to meet his all-time favorite WWE wrestler, Daniel Bryan.
Michalek, of Shaler Township, Penn., was diagnosed with cancer of the brain and spine when he was just 3 years old. In the four years since then, he has had brain surgery, several other intensive surgeries, nine full rounds of chemotherapy and six full weeks of full spine and brain radiation.
The viral video made its rounds on various social media platforms like Facebook and Twitter and eventually made it all the way to Bryan. In less than a day, WWE and Bryan confirmed that he and Michalek would meet.
"It kinda brings a tear to my eye to know somebody like Connor wants to meet somebody like me, so that's kinda cool," said Bryan to CBS Pittsburgh.
Story continues after photo Bryan invited Michalek to attend a WWE Raw event as well as the taping of the Christmas Eve episode of WWE Superstars.
"Well, they call me 'Stone Crusher,'" Michalek says in the video.
"I'm here," Michalek replied with a smile.
Bryan gave Michalek some wrestling T-shirts and signed autographs for him. According to CBS Philadelphia, Bryan even allowed Michalek to put him in his infamous move, the "No Lock."
"It's unbelievable. I'm so touched," Michalek's mom, Brittany, said in an interview to WXPI. "I can't even describe how happy we are for him," his dad Steve added.
"It's actually a very humbling experience as far as all of the struggles he's going through, and for him to want to meet me, I mean, I'm just a small town guy from Washington. Anything you can do for someone like Connor, oh my gosh, I'm equally as thrilled to meet him," said Bryan.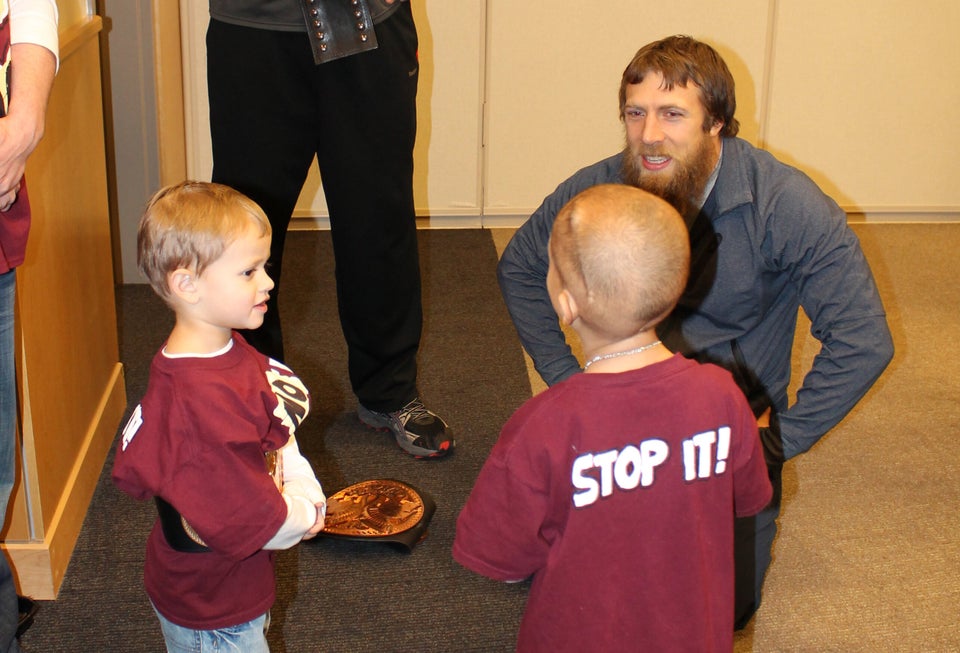 WWE Star Daniel Bryan Meets With Pittsburgh Boy Battling Cancer